Danielle Van De Kerckhove, 20, from Thompson, Man., is studying in the College of Kinesiology. She recently studied abroad in Australia and took three classes: Nutrition and Exercise, Health Psychology and Marine Biology.
Van De Kerckhove recently answered some questions about her time abroad and showed us a few photos, too.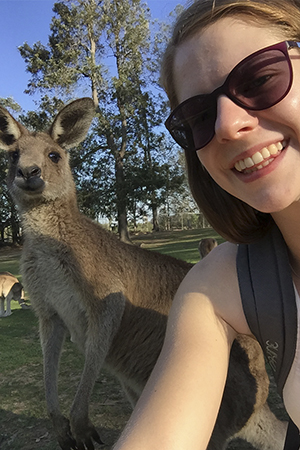 What was one of the best moments of your trip?
Sky diving. I've always had this "unrealistic" dream of going sky diving in Australia. But I thought that by the time I would've been able to make it over there (after I finish my undergrad and masters, then I would have to save up money, etc.) I would be too old/lose my fearlessness. I'm proud to say that I achieved that goal WAY earlier than expected. Once I hit the ground I was ready to drop out [of university] and becoming a tandem skydiver as a career!
Tell me about one person you met.
My best friend I made in Australia was surprisingly not even Australian! She was South African. I was able to learn about an entire new culture and language I didn't even know existed! She taught me so much about being a true friend and what it's like to have someone that genuinely wants the best for you. She was the type of person that could light up a room, always a smile on her face no matter what and dealt with stress way better than me! I'm thankful to have met her and am lucky to have a place to stay at in either South Africa or Australia.
What did you learn about yourself?
I learned a lot about myself on this trip. The most valuable thing I learnt is how independent of a person I am! I had never really travelled due to never having a travel partner. While I was in Australia I had many trips with a bunch of different people, but also got to do a couple trips on my own. I appreciated being able to explore on my own time and do whatever I wanted without having to have a group discussion! This has fueled my passion for traveling and I can see many other trips in my future! 
What would you recommend to someone who is planning a trip to Australia?
I would recommend to travel the whole east coast, start at the top and back pack all the way down. Head to Uluru (central Australia) then to Perth (western Australia), then back home!