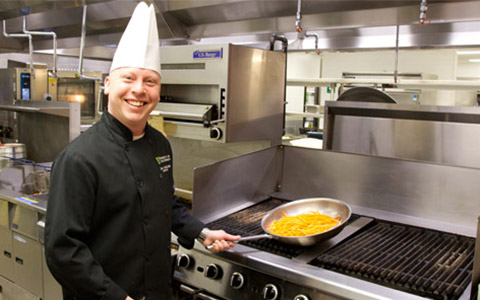 Chef McFarland went head-to-head with six of Saskatoon's finest culinary masters at the prestigious culinary competition. He will go on to compete at the Canadian culinary championships, the Gold Medal Plates Finale, next February in Kelowna, B.C.
Inspired by his mother's love of cooking and passion for hosting family gatherings, McFarland began professionally preparing cuisine for others at a young age. He has shared his talents in many areas of the food industry including restaurant, hotel, and resort kitchens throughout Saskatchewan, Alberta, and British Columbia.
In 2001, James accepted his position of executive chef at the U of S where he has been integral in developing and leading one of the province's largest food service operations, transitioning it from a once very institutional cafeteria to one of the most innovative culinary operations in Canada. He has co-ordinated many large and high profile events that have included menu design, cuisine preparation and team mentorship.