Even though McFarland did not come home with the top prize, his team created some delicious and beautiful dishes that demonstrated why he is the first university chef to win the regional competition in order to move onto the national level.
"Overall it was in intense but great competition that we felt good about," he said. "There were no missteps or mistakes and we really stood behind all of our dishes."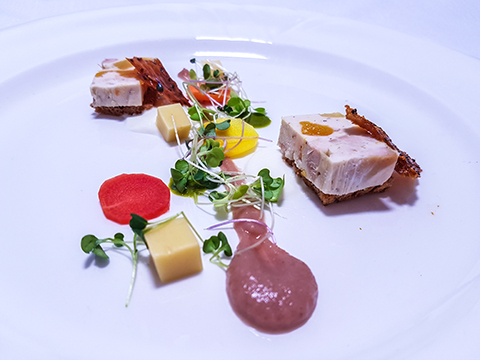 In the mystery wine event, the chefs used the 2006 pinot gris from Fort Berens, and McFarland created a textured chicken terrine dotted with apricot and tiny morsels of chicken leg that had been confited in duck fat. This was presented on crisp buttery crostini and was topped with morsels of the crisped chicken skin. A line of tangy red onion marmalade crossed the plate, flanked by thin discs of rainbow carrots that had been lightly pickled in champagne vinegar. A white mousse of pear and viognier and two cubes of peach coconut gelee were also included. Dots of green sauce had the herbal, garlicky tang of a green goddess dressing, and the dish was finished with a scattering of microgreens.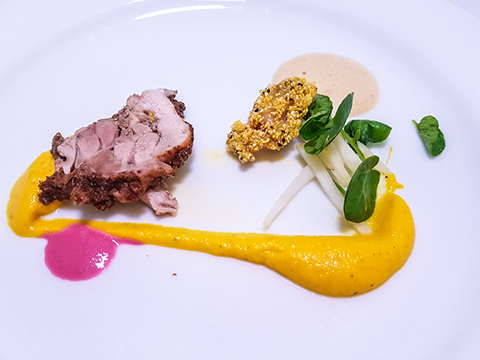 The black box event had the chefs required to use: a whole skinned rabbit, a bag of frozen zweigelt icewine grapes, cripps pink apples, kohlrabi, Balkan-style feta, a bag of milled flaxseed, and 18 beau soleil oysters. There was also a generous communal pantry upon which the chefs can draw.
McFarland made splendid use of colour on his plate with a bold, bright yellow stripe of deliciously tangy purée made with apple, feta, and carrot, accented with dot of beet purée and a sabayon made with the icewine grapes, shallots and egg yolks. He made a mousse with the rabbit liver and used it to stuff the loin which he coated with flax and pan-fried. The oyster was also fried, delectably crusted in cornmeal. He then julienned the kohlrabi and lightly pickled it, its crunch added another lively texture to the dish.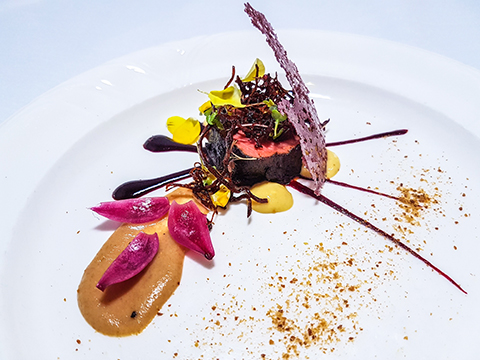 The grand finale saw the 11 chefs cooking their own signature dishes for the guests. McFarland used his featured spirit—the 2013 grand vin from Osoyoos LaRose—to create a tenderloin of bison, wet-cured in espresso coffee and smoked salt, air-dried, marinated in a spiced smokey espresso paste, cooked sous vide and finally flashed in a brown butter sear. On top of it was more bison—the flank, marinated in fish sauce and soy then shredded, was crisped and infused with birch syrup vinaigrette. The accompaniments were dots of French onion essence enriched with comté cheese and fish sauce, tangy petals of pickled pearl onion, a smoked corn purée and a dusting of smoked corn powder. Black currant appeared as a tart gastrique and an ethereal coral tuile. 
"The mystery wine was probably the hardest but also my favourite. The night before, we were given a mystery bottle of wine. After breaking down the notes and flavour profile of the wine—and brainstorming a dish until the wee hours of the morning—we had to set out on an hour and a half of sleep and start shopping Kelowna on a limited budget of $1.25 per person and preparing 400 plates of your dish that evening that paired with the wine."