Now she is heading overseas to explore the culture and countryside, the history and mystery, of the British Isles.
The day after walking across the stage at TCU Place on June 5 to be awarded her Bachelor of Arts Honours degree at University of Saskatchewan Spring Convocation, Mooney will celebrate by boarding a flight to London to begin a three-week tour of England and Ireland, after earning the prestigious U of S Hannon Travel Scholarship.
"I am really looking forward to it," said Mooney, who earned the $7,000 scholarship based on her academics (85.87 per cent average overall), her character, her involvement in university/community activities and her detailed travel proposal. "My application focused on English and classic literature, medieval courses, all the things that I have been studying. So, I am excited to go to Stratford-upon-Avon to see Romeo and Juliet at the Royal Shakespeare Theatre, and I am also going to see the Book of Kells, which is a (thousand-year-old) manuscript that I am excited to see in Ireland."
Mooney's travels will also allow her to trace the roots of her family tree back to the Irish county of Monaghan, as well as a part of the history of the Saskatchewan town of Southey where she grew up.
"I am quite interested in genealogy and my aunt has sent me all sorts of things that I need to go find in Monaghan where a lot of my ancestors are from, so that will be great," said Mooney. "And even just being from the town of Southey, it is named after the English poet Robert Southey, so hopefully I can learn a little bit more about him while I am in England."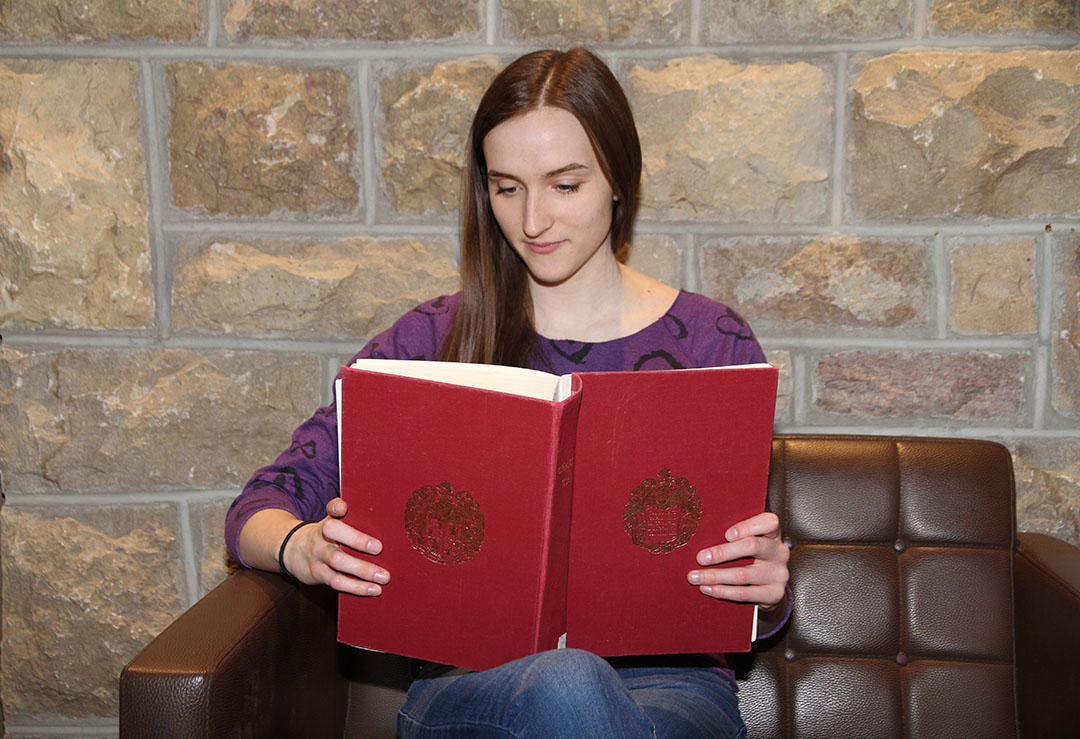 The Hannon scholarship is one of a number of financial awards that Mooney has earned over her four years at the U of S, including the Roscoe Miller Scholarship for highest academic average in Honours English. She said the financial support allowed her to take full-time studies without needing to work part-time, while also having the time to do volunteer work with the likes of Global Gathering Place and take part in campus activities such as singing and dancing in the Newman Sounds Glee Club.
"I could really focus on my schoolwork and get involved in a lot of extracurricular activities, and I think volunteering is really important, too," said Mooney, who is now looking for a writing position in the field of communications following graduation. "It was great to really become a part of the university and to get involved in the city of Saskatoon, too. I have really enjoyed that aspect of attending the U of S."
And as a third-generation U of S student, coming to Saskatoon for university was an easy decision.
"My mom and dad and all four of my grandparents went here, plus my older sister was here, too, so I think it was all definitely a big part of my reason for coming here," said Mooney, who quickly became a fan of the Huskies women's basketball team, which her sister Alyssa (a 2016 kinesiology graduate) worked with as a student trainer.
"I grew up outside of Regina, so most of the people that I went to high school with went to the U of R. But when I was growing up, I kind of always wanted to go to the U of S because when my parents talked about university, they talked about the U of S. So, there was never really a doubt in my mind that I would come here. And I just think it is a great university. And it's been great for me."