"We are at the tipping point, so it is a critical time," said University of Saskatchewan climate change researcher Yanping Li. "What we are going to do now will have great significance."
With greenhouse gases causing global temperatures to rise and polar ice caps, mountain glaciers and permafrost to melt, rapid climate change is resulting in more extreme weather events, including increasingly damaging floods and droughts, creating the tinderbox fuel for wildfires. Li is part of the large team of U of S researchers who are studying the effects of climate change on Canada's water security in the Global Water Futures (GWF) project, the world's largest university-led water research program.
"Water is life," said Li, an assistant professor in the School of Environment and Sustainability who is based out of the National Hydrology Research Centre on campus. "Clean freshwater is the most important, irreplaceable resource for the economy and environment. The apparent abundance of water and the water cycle often give the false impression that we have an unlimited source of water. However, the availability of freshwater for a semi-arid region such as the Prairies, in a changing climate, is highly variable and uncertain."
Li's latest study—Short-Term Extreme Precipitation in Future Climate—is one of the 21 new GWF research projects that were part of a $10-million funding announcement on Dec. 11.
"We are studying what has happened in the past 15 years and we use climate models to project what is going to happen until the end of the century in 2100 and we compare them to see the differences," said Li. "We can't tell you that a specific (weather) event is going to happen, but we can tell you the trend in general and what the possibilities are."
Li said the data confirms how climate change is altering Prairie precipitation patterns, with storms becoming more severe as they are fueled by a warmer atmosphere that traps more water vapour. While supersized hurricanes and destructive tornados get most of the attention, violent downpours and flash floods are also causing costly damage to crops and infrastructure and threatening water security for farms, cities and communities.
"Recent studies have found that storms are becoming larger, moving slower and lasting longer," said Li, who received a $298,000 federal grant for her three-year study. "All these factors combined together lead to more water volume (rain) falling to the ground per hour. This significantly increases the possibility of flash flooding affecting creeks and rivers, homes and streets … So, either it is going to rain a lot in a short period of time, or it's not going to rain for a long time and we will have drought."
That is already happening more frequently across the Prairies, with damages in the billions from recent flooding, particularly in 2013 in Calgary and across southern Alberta. At the other extreme, drought conditions have helped spark wildfires ranging from the 2016 devastation of the city of Fort McMurray to the 2015 mass evacuations of northern communities like La Ronge. In the south, drought conditions are affecting the agriculture economy, with parts of Saskatchewan classified in 2017 by Agriculture and Agri-Food Canada as facing exceptional drought, which occurs only once every 50 years.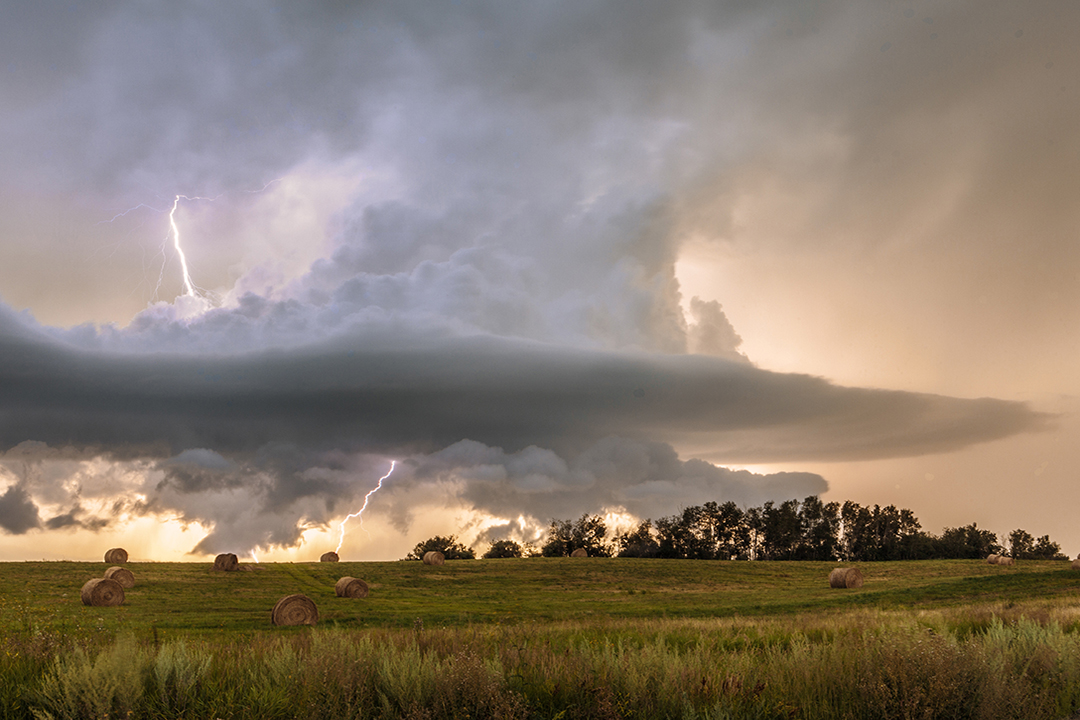 Around the world, the drought in California—a significant source of fruits and vegetables for Canada—has dragged on for years, while Cape Town in South Africa is on the verge of becoming the planet's first major city to run out of water. In light of the global picture, preserving and managing Canada's precious water resources has taken on increased importance and urgency.
Li's work analyzing rapidly changing precipitation patterns to predict future climate models will support other experts exploring water and land management strategies in research initiatives at the U of S, which was ranked first in the country for water resources research in the 2017 Academic Ranking of World Universities.
"We know the future is going to be like this and we should be prepared and start to change our habits," said Li, who is originally from China and came to the U of S to join the Global Institute for Water Security in 2013, after earning a PhD at Yale University and working for the United States National Centre for Atmospheric Research. "For example, we could start to grow crops which do not consume a lot of water. And other hydrologists in our institute are working on water management in dams, to better manage the water that we do have."
And with or without the support of the United States—the only country to reject the Paris climate accord—Li said Canada and the rest of world can take concrete steps to reduce the amount of carbon dioxide in the atmosphere to keep the planet from passing the tipping point of a two-degree Celsius rise in temperature by 2050, which climate change researchers believe could be catastrophic. Incorporating more renewable energy is one solution to reducing CO2 that also provides the promise of economic benefits.
"The price of wind and solar power is decreasing by the day, so as technology advances, renewable energy becomes more competitive and efficient," said Li. "Switching to renewable energy makes great sense for the environment and for the economy. The renewable energy sector provides millions of new job opportunities."
Li's work is one of 33 projects underway across Canada supported by $170 million in funding for GWF, which is led by director John Pomeroy of the U of S and features a network of 388 Canadian researchers, 15 universities, and 172 partners around the world.