"In the end, all six dragons bought in, which was pretty cool," said Foley, an associate chemistry professor in the College of Arts and Science, whose team has developed an innovative method to extract gold from electronic waste. 
Foley was convinced until almost the very end that their pitch to the Dragons' Denpanel had been "a train wreck," especially when panelist Lane Merrifield got up to confer with others.
"I thought that was it. We were getting the boot quickly. Then they came back to say they all wanted in for three per cent each for 18 per cent of the company. It was overwhelming." 
Dragons' Den provides opportunities for aspiring entrepreneurs to pitch their business ideas to the panel of Canadian business moguls who have the money and connections to bring the ideas to fruition.
Foley said he pursued the opportunity as "a lark" and applied online because Excir needed investors. By coincidence, some producers of the show came through Innovation Place the following week, and he pitched his concept successfully to the producers.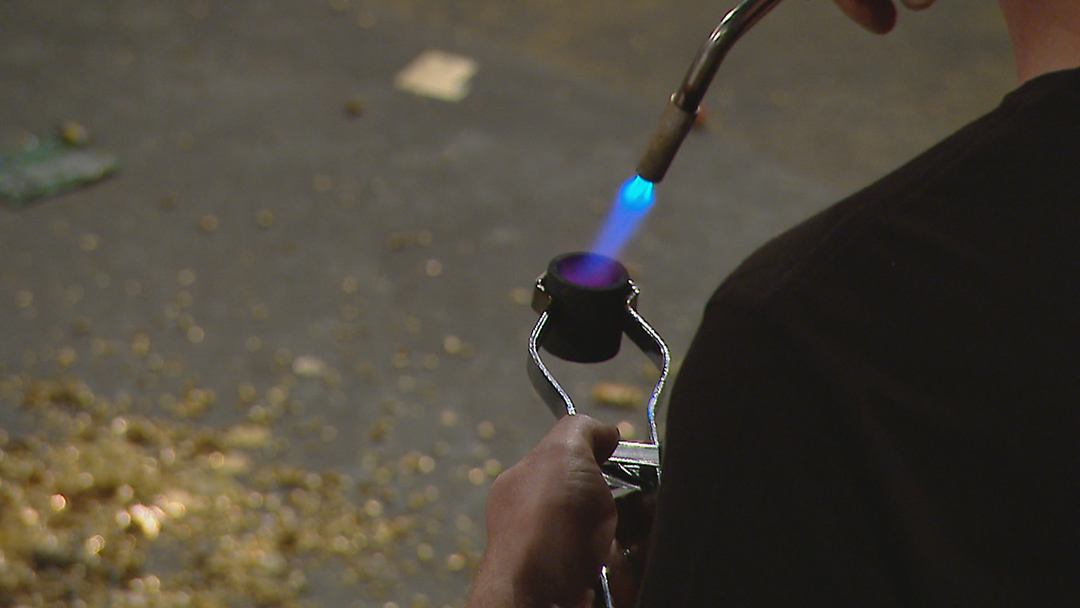 Excir, a U of S-incubated start-up, was founded in 2017 with Foley, former students Loghman Moradi and Hiwa Salimi, and investor Graham Fritz as partners. 
The company is based on an innovative, cheap, and environmentally benign solvent that Foley's laboratory team developed in 2016 to rapidly and selectively extract thin layers of gold from circuit boards and other hardware components in electronic waste.
Based on scaling up lab results, it's anticipated that 100 litres of the recyclable solvent can process up to five tonnes of e-waste at a cost of $200, yielding about a kilogram of gold worth $50,000, Foley said. The new technology is expected to replace standard recovery and recycling methods that use toxic chemicals and heat. 
Innovation Enterprise (IE), a U of S commercialization office, has been involved from the inception by handling the patenting, company formation, holding a board seat, and working with the scientific founders to connect them with high-profile investors.  
Foley describes Chris Bowman, IE's engineering and physical sciences portfolio manager who has been working closely with Excir, as "the fifth Beatle in our group" for his role in showing them the ropes, talking to investors, travelling with them to locate a plant and providing support.
Financial details from the dragons' offer are still to be worked out, Foley said, with due diligence required by all. Whether it's the dragons or other investors, Excir needs money to hire an engineering company to design and build the reactors so that the processing facilities can be scaled up.
"When we get the money, we'll put our heads down, focus on getting this technology off the ground and go silent for the rest of 2018," said Foley. "Then we will explode with it in 2019."
To watch the episode, visit https://www.cbc.ca/dragonsden/
More on Foley's research can be found here: Gold diggers