Being a student-athlete is not an easy lifestyle, challenged to perform exceptionally both on, and off the court. However, the fifth-year Huskie understands the rewards that come with staying determined. As a recipient of scholarship support through the Sylvia Fedoruk Award, Ahlstrom is thankful that she had the opportunity to attend the University of Saskatchewan (USask) to study in the College of Kinesiology and play for the Huskies.
Ahlstrom is graduating this spring, and despite not being able to walk across the stage to accept her degree, with convocation ceremonies postponed due to the COVID-19 pandemic, Ahlstrom is excited to now start her master's in physiotherapy here at USask.
"I want to continue my passion for physical activity and be able to work with athletes," she said. "The physios who work with us student-athletes are what I aspire to be because I think it would be great to stay involved in university sports. It would also be a full circle for me because I did have a lot of injuries where the physios kept me on the court and encouraged me to stay optimistic. That's what I would love to do for other university athletes."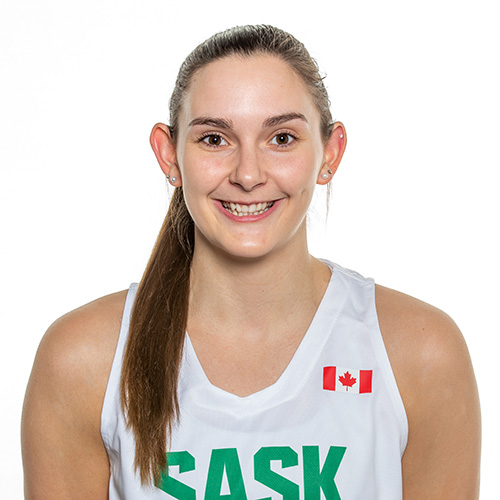 After winning the 2016 U Sports women's basketball national championship in her rookie season with the Huskies, Ahlstrom was determined to bring the trophy back to the Prairies one more time. Four years later, Ahlstrom and the Huskies team earned the national title this spring for the second time in program history.
"It was really special to see the things that have to go right to win a national championship. Now, I got to show what I learned and have a bit of a bigger role," she said.
Off the court, Ahlstrom is recognized for being a role model for youth. Despite the hectic schedule of being a student-athlete, Ahlstrom volunteers along with other Huskies at community events like Fast and Female, which promotes safe space for girls to play sports, as well as with Hoops for Hope, an annual basketball tournament that raises money for Cystic Fibrosis research. She also commits time to helping kids with intellectual impairments at Hugh Cairns Elementary School in Saskatoon and the Autism and Asperger's Friendship Society in her hometown of Calgary.
Ahlstrom's dedication to physical activity and community was recognized at the Canada West conference awards this spring, when she received the Sylvia Sweeney Award. Huskie Athletics also awarded her the Valerie Girsberger Trophy for being the top all-around female athlete.
"It's fulfilling to see younger kids look up to me and want to be like us on the court. Being a positive role model in their life is really special for me," Ahlstrom said.
"I wouldn't have been able to excel in sports, school, and volunteering in the community without the support that I received," she added.
Ahlstrom noted that the funding that she received from donors helped ease her transition in moving to Saskatchewan.
"I don't think I can put enough words into how thankful I am receiving the scholarship. It relieved a lot of financial stress that comes with attending post-secondary and having to move away from home. This scholarship is also the reason I got to play basketball and have all these memories and championships these past five years," said Ahlstrom. "I hope to give back the same way that donors have helped me because I would love to be able to make someone else's university experience as good as I had."