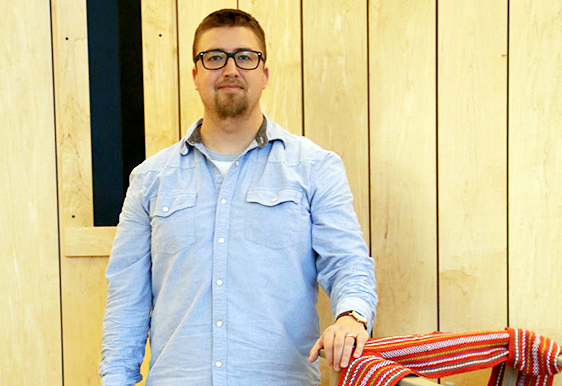 Smith, in his first year of studies, is pursuing a degree in computer science in the University of Saskatchewan (USask) College of Arts and Science. He is involved in many cultural events on campus and within the community. Smith takes on leadership opportunities and works extremely hard in his studies. He is a proud Métis father who is raising his children in a culturally engaged environment.
Smith will receive an award for academic excellence at this year's Indigenous Student Achievement Awards on Feb. 6. Indigenous students from across USask will be honoured at a ceremony to recognize their academic excellence, leadership, research endeavours or community engagement.
The award ceremony is part of Indigenous Achievement Week (IAW), which celebrates the successes and contributions of Métis, First Nations and Inuit students, staff and faculty. The festivities include a public art project, speakers and celebrations in various locations across campus.
We asked Smith a few questions about his time at USask and what motivates him.
How important is it for you to be involved in cultural events on Campus?
Cultural events, whether it is your culture or not, are very important to get involved in. Learning of others and their struggles and achievements opens the doors to new problems and solutions. You can make friends, build professional networks that last longer than school or simply open your perspective to a different way of thinking. The saying always goes, too much is better than not enough, this is definitely true for diverse cultural experience.  But most important and the thing I think that goes unnoticed the most is that you become an ambassador of your own culture.
Parents often want to set the best example for their children. If you could pass on one piece of advice to your children that you have learned in your first year of studies, what would it be?
Find balance in your life.
What plans do you have for the future?
I have three kids and a wife so my plan is to follow a lifetime of orders and responsibility. But if I get some input you will likely find me in a big metro outside of Canada.
Has there been someone in your life who has inspired you to get to where you are today?
My wife Isabel is the one who's behind me, my rock. She does more than I could have ever asked to help me live this dream, there is absolutely no way I would be where I am today without her.
This year's Indigenous Achievement Week theme is Indigenous knowledge systems. How can Indigenous knowledge systems improve the world we live in?
I'm not sure how to answer this question so I will just point out that many modern breakthrough practices in non-Indigenous knowledge systems that are saving lives and increasing efficiency is coming from traditional practices.