The driving force behind USask's new seven-year plan unveiled in the fall of 2018 to be The University The World Needs, Stoicheff will see it through to completion in 2025 after receiving unanimous support from the Board of Governors to serve a second five-year term as president beginning July 1, 2020. As the university begins the new year and a new decade, Stoicheff is firmly focused on the future of innovation at USask.
"This university has a huge potential to contribute to a provincial and a national innovation agenda and my focus in a second term will be on that," said Stoicheff, who was installed as the 11th president and vice-chancellor of USask back on Oct. 24, 2015.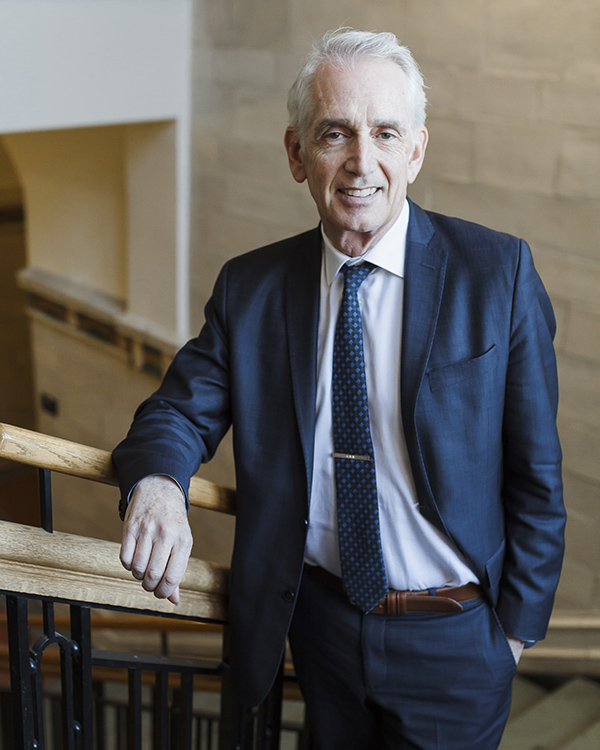 "The research that we do here and the graduates that we produce here have an enormous impact on the region and far beyond it. The expertise that comes out of this university contributes to innovation and I would like to focus on making that more deliberate and strategic. We have all the pieces in place to be a driver of innovation and I want to build on the work that we are already doing here."
Stoicheff wants USask to build on a successful 2019 that included record enrolment, an innovative new branding strategy, and campus-wide implementation of the university plan. USask researchers were at the forefront of climate change analysis and food security discoveries, including helping international teams crack the code to sequence durum wheat and pea genomes. The university also strengthened its community connections through a series of innovative new memorandums of understanding (MOUs) signed throughout the province.
"It has been a very successful year again for the university and there are many research accomplishments that I point to, many faculty accomplishments that I point to, and community initiatives that I point to, that were all extremely important for the university," said Stoicheff. "We have a strong research agenda here that is engaged with issues that have an impact locally and internationally."
Enrolment is on the rise for the fifth straight year, bolstered by increases in the number of Indigenous students (up 6.1 per cent) and international students (up 5.5 per cent) that have put the university on pace to reach a record 26,000 students by the end of the 2019/20 academic year.
"I think having record enrolment again is an accomplishment on everybody's part because it tells us that people are confident in the university and that they want to study here, parents want their children to study here and graduate students from around the world want to undertake research here," said Stoicheff. "Everybody at the university should take pride in the fact that our enrolments are going up, because they are not going up at every university across the country."
Stoicheff said the continued increase in enrolment is an indicator that the university's reputation is also on the rise, bolstered by a rebranding initiative designed to better tell the USask story to a wider audience.
"There are so many terrific things going on here and so many people who are working so effectively in their disciplines in the teaching and learning space, in the research and discovery space, and in the community outreach space," said Stoicheff. "And branding is one way of ensuring that people beyond the university know at least something about the wonderful things that are going on here."
The university's brand is driven by the commitment to be The University The World Needs, a plan that Stoicheff said is being implemented across campus.
"We are making a lot of progress on the plan," he said. "There is a large amount of activity in our 17 colleges and schools and many examples of how they are each moving forward on the plan. So, it is extremely exciting to see. We are only one year into a seven-year plan and as we progress through future years, we will be able to refine our assessment and it will be important to identify not only those areas that we are moving well in, but also to identify those areas where we need to move more, faster, or differently in."
The university announced a number of research initiatives in 2019, from areas of Indigenous health, cancer, climate change and cybersecurity, to renewable and northern energy, while also receiving renewed funding for USask's world-class research facilities—the Fedoruk Centre, VIDO-InterVac, and the Canadian Light Source. The university also basked in the international spotlight in 2019 in its signature areas of research in water and food security, with USask scientists front and centre in global genome research breakthroughs.
"Mapping the pea genome, mapping the durum wheat genome, those were great research accomplishments in the year," Stoicheff said. "And some of the work that the Protein Industries Canada supercluster is doing now involves USask researchers, so I think that is terrific, too."
In addition to focusing on finding local solutions to global issues, Stoicheff said the university is increasing its commitment to community throughout the province, signing MOUs to work on new initiatives with the City of Saskatoon and the Saskatoon Tribal Council, as well as with Métis Nation of Saskatchewan, Prince Albert Grand Council, Cumberland House Cree Nation, and the Northern Lights School Division.
"They are more than just words on a page," Stoicheff said of the MOUs. "These are public commitments signed in a very public way to build these relationships, so they are extremely important. You can't imagine a university like this one, that is deliberately outward-facing, not engaging in partnerships. This shows how deliberate we are being in our desire to be The University The World Needs."
Among major appointments and awards in 2019 was the installation of Grit McCreath as the university's new chancellor, Dr. Jane Alcorn (PhD) named dean of the College of Pharmacy and Nutrition, Dave Hardy hired as chief athletics officer of Huskie Athletics, and Dr. Chelsea Willness (PhD) announced as university secretary and chief governance officer.
Meanwhile, Dr. John Pomeroy (PhD) and Dr. Irena Creed (PhD) were honoured by the Royal Society of Canada, while Dr. Maud Ferrari (PhD) earned the prestigious Steacie Fellowship, one of a number of major research awards received by USask scientists last year.
"All of these things speak to the terrific research that is going on here that is being recognized far, far beyond the university," said Stoicheff.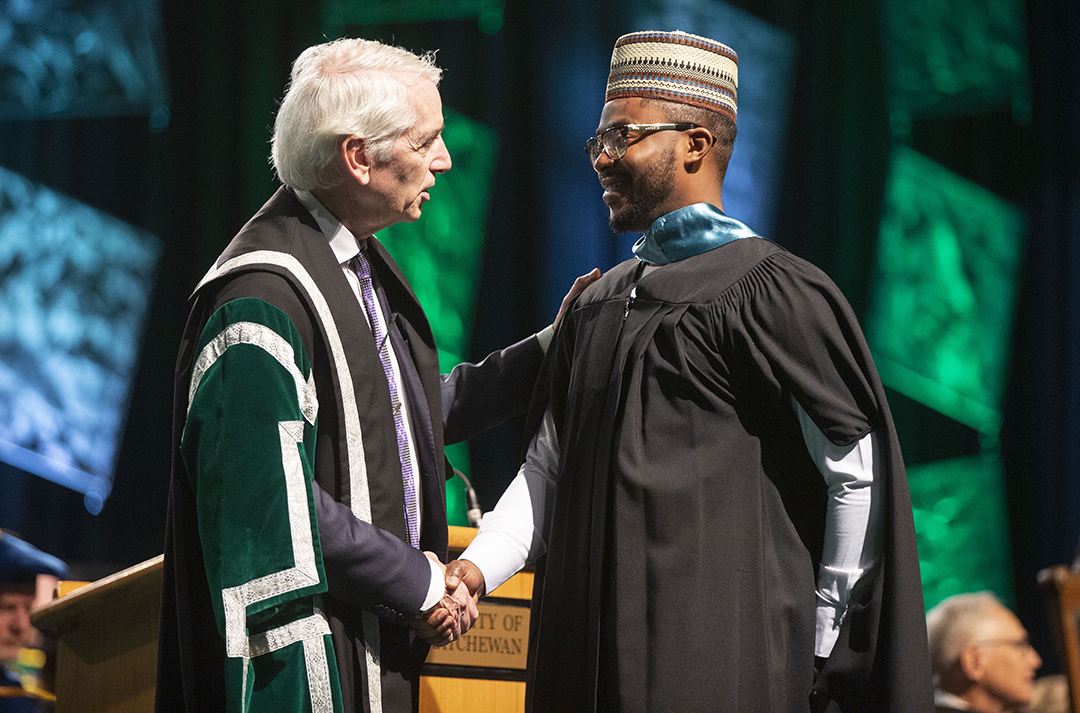 In 2020, Stoicheff is looking forward to this fall's official grand opening of the new Prince Albert campus, reaffirming the university's commitment to northern and Indigenous education.
"It is a real indication of the positive impact that we can have and I'm very gratified that we can extend our reach northward and that we can have a strong and sustainable and coherent presence in the great city of Prince Albert," he said.
Funding USask's major plan priorities while balancing the budget remains an ongoing challenge, as the university awaits this year's provincial education funding while the government grapples with a sluggish economy. However, Stoicheff is optimistic about the province's new plan for growth, an innovation-driven agenda that aligns perfectly with the university's focus moving forward.
"I am encouraged by what I see in the province's new plan for growth because a lot of it is about innovation and the government knows that we can help drive a provincial innovation agenda," said Stoicheff. "I see ourselves in that plan for growth in many encouraging ways. We are in a province that recognizes the value that we add, particularly on the research and innovation side, and many other sides as well. While I can't predict what the next provincial budget will look like, I can say that we are valued by our government because of the nature of the work that we do."