After competing at the highest level, the former University of Saskatchewan (USask) Huskies student-athlete has since transitioned to a new pace and is teaching a new generation to reach for their dreams.
Hendry (BA'04, BEd'09), now a Grade 9 and 10 teacher at Tommy Douglas Collegiate in Saskatoon, is using her experience as a former Olympian to share stories of resilience, perseverance and dedication.
"I learned so much from Dr. Kevin Spink (PhD), my sports psychologist at USask, and from my experiences as an athlete," said Hendry. "I talk a lot about the mental component with my students."
Hendry was a gymnast as a child and pursued that dream for 10 years.
"As a gymnast, I was too tall to reach that elite level," she said. "I always wanted to, and I was so passionate about the sport, but my physical limitations wouldn't allow me to reach that Olympic level."
Instead of giving up that dream, she pivoted to pole vault.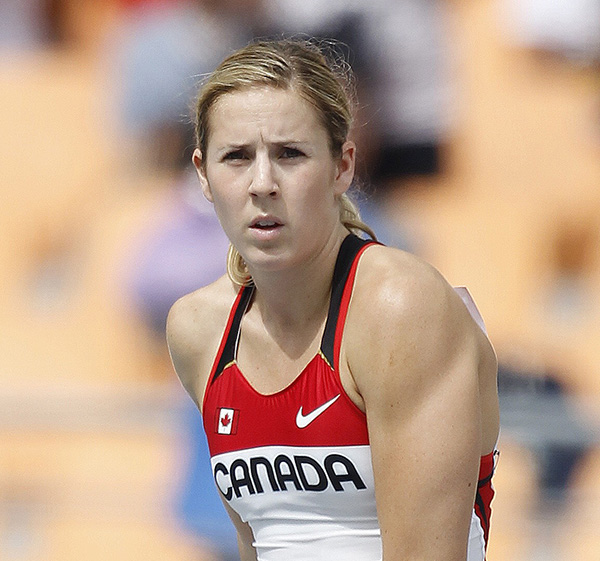 "One of my girlfriends who did gymnastics with me tried pole vault and she had some quick success," Hendry said. "Because she had that success, I decided in my last year of high school, that I would try pole vault. My intention was to do it for fun, but it clicked and I moved forward with it."
Hendry went from training 25 hours a week as a gymnast and switched over to training those same hours in her new sport. In a few months, she qualified for junior nationals and ultimately made it onto the national team.
"I competed for Canada in Argentina and won a silver medal. I feel like those couple of months and having success, I fell in love with the sport," she said.
After high school, Hendry joined the Huskies track and field team. Throughout her time at USask, she was a member of four national championship teams and four Canada West championship teams, while becoming a three-time national pole vault champion.
She credits her time at USask in helping her achieve the level of success she had.
"So many people supported me. The USask team was led by Lyle Sanderson, who left a big legacy," she said. "I was with these strong, committed, and fierce women who were working towards something on the track that had never been done before."
While studying and competing for USask, that Olympic dream became her focus.
"That dream came alive again and I thought it was my chance. Everything was clicking for me and I had the ability in the sport," said Hendry. "It was a childhood dream for me."
Hendry broke the Canadian pole vault record and represented the country at the 2008 Olympics in Beijing, placing 18th in the world. She carried high hopes into the 2012 Games, but failed to clear the bar, which halted her shot at a second berth.
At the age of 31, Hendry knew it was time to move on from competition.
"I was ready to transition into that life," she said. "I knew that being a homeowner and mother was going to be an important part of my next chapter."
Bringing what she learned as a student, athlete and Olympian into the classroom has been key for Hendry in helping her students work towards their goals.
"I love inspiring the younger generation," said Hendry, who was inducted into the Huskies Hall of Fame in 2011 and the Canada West Hall of Fame in 2020. "I want to make young people feel good about themselves and providing them with skills and tools that they will be able to utilize in their life."