Extraordinary circumstances have brought out extraordinary responses from members of our USask community. From frontline health-care workers to researchers looking for a solution to this global health threat, there are so many stories about people are working to make our home communities safer and healthy. Here are a few of the inspiring stories of our students, staff, faculty and alumni.
Saskatchewan food banks are still supporting the most vulnerable during the COVID-19 pandemic. And staff at the University of Saskatchewan (USask) are stepping up to do their part.
Culinary Services at USask has donated nearly $3,000 worth of fresh produce and food to the Saskatoon Friendship Inn, donations that will ultimately be used to help prepare meals for community members.
George Foufas, director of consumer services, said that culinary staff, along with Executive Chef James McFarland, began compiling a number of food products that were in storage on campus.
"We reached out to the Friendship Inn and they were happy to take them," said Foufas. "We had our people put all these items together, and we were able get these donations out on Saturday."
Among the items are fresh fruit and vegetables and eggs.
While the Marquis Culinary Centre is currently closed to ensure the health and safety of staff and customers, Foufas said he is proud of the kitchen staff for being able to pitch in and help out where they can during this time of need.
"I appreciate that the staff had the foresight to put this together," said Foufas. "The Friendship Inn is vital to the community, and we thought it was a good idea to support them the best we could."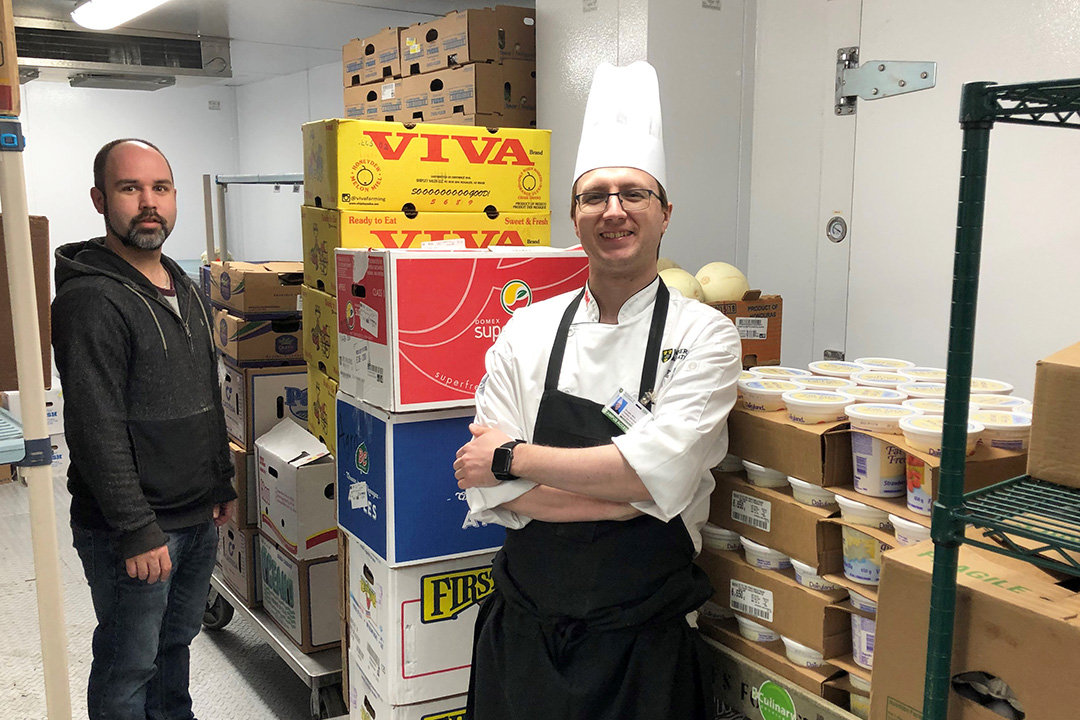 Share your stories with us: We are collecting the stories of resilience and good spirit from our USask community. Please send story ideas and photos to news@usask.ca.
As a community it is critical that we support each other and remain respectful during what is a difficult time for all of us. Please follow all guidelines and take all precautions to prevent the further spread of COVID-19 in our community.
How you can help our students during the COVID-19 pandemic: https://alumni.usask.ca/news/2020/covid-19-how-you-can-help-our-students.php
For the latest developments and information about the University of Saskatchewan's response to COVID-19, please go to www.usask.ca/updates.
The University of Saskatchewan is undertaking critical research and contributing to global efforts to combat COVID-19. The University of Saskatchewan's Vaccine and Infectious Disease Organization (VIDO-InterVac) is a world leader in developing vaccines and technologies to combat infectious diseases. Your support of the COVID-19 Research Fund supports the increased efforts of researchers at the University of Saskatchewan to develop vaccines and treatments for COVID-19. Donate now.