As the CEO and owner of Proteus Waters, a company that specializes in wastewater treatment and water recovery, Tratch is no stranger to introducing new technologies across Canada. While studying at the University of Saskatchewan (USask), Tratch dutifully earned degrees in both the College of Arts and Science, and the College of Agriculture. Once he graduated, he immediately set out to make a name for himself in agriculture and the environment.
After working for global companies and starting and managing a business in Eastern Canada, Tratch returned to Saskatchewan and drew upon his background in biology and agtech to build a company that treats sewage and recovers clean water for agriculture and industry. He said it's a process that has a proven track record, with other major cities around Canada successfully making use of this technology.
"These cities are treating their sewage water and they are selling it to refineries and businesses for process water, and there is a need for this," said Tratch.
But once the pandemic hit, Tratch, like so many other business owners, knew he had to pivot.
"I began to research the presence of COVID-19 in sewage and I realized if it was in sewage that was quite concerning and I better learn more about this," said Tratch. And the more he learned, the more he realized that he had to protect his family and employees.
"I knew I had to get better respirator masks," said Tratch. "I started looking at what was out there on the market, and the safest stuff to wear are respirators, but they are also very bulky and heavy. It gets very uncomfortable after an hour."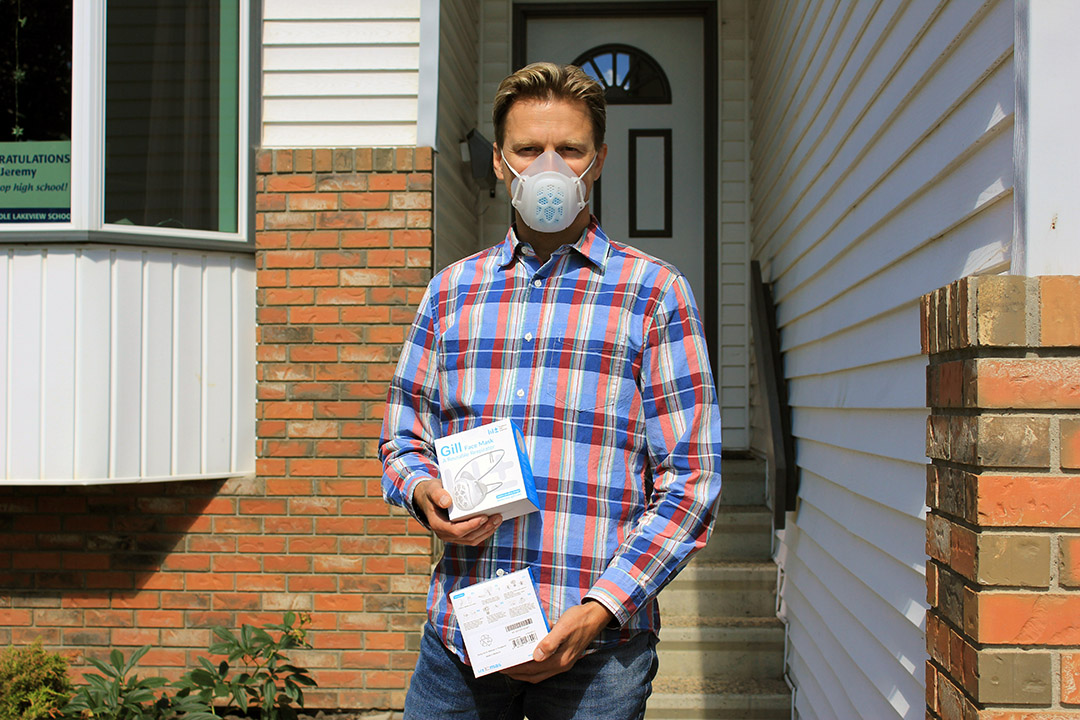 When the pandemic initially hit, there was a lot of promotion for disposable personal protective equipment (PPE), all of which were suddenly hard to come by as demand for personal and professional use skyrocketed. Tratch said there had to be a better way, at least from an environmental and sustainable point of view.
That's when he launched another business, EcoLibra PPE, and introduced another new technology to the province—an innovative respirator made from a silicone material. Tracking down a Singapore-based distributor that adapted a lighter version of industrial-strength respirators, the PPE adapts to the contours of the face and is air-tight, explained Tratch. It's made from a soft, flexible silicone and has a hybrid plastic filter cartridge, so it's more comfortable to use but still provides a high level of protection. It also allows easy replacement of various types of air filters.
"From an engineering perspective, disposable masks are barriers from droplets and splashes, yet so many people are using these for protection from an airborne virus," he said. "So I knew I needed to find my own products."
Tratch said he is in discussion to partner with the USask academic community in order to improve the mask, which would include building biodegradable filters and creating a sensor in the filter. He is also hoping to partner with USask researchers as well as the government to start working on a method of using data analytics to pick up COVID-19 when it appears in sewage—a method that could be used to pinpoint potential outbreaks.
Having come full circle from studying agriculture and science, to working in the technology and the financial sectors, Tratch said he's always been passionate about sustainable models. It's an expertise he's more than happy to bring back home.
"I build purpose-driven organizations to promote well-being. When you look at better living, we all need to understand the environment better. And water is number one when you are looking at how we live and the food we eat.
"I believe you can make money and hug trees," said Tratch. "I've lived that model and I believe you can do both."
Originally published in The Green&White.
---
Share your stories with us: We are collecting the stories of resilience and good spirit from our USask community. Please send story ideas and photos to news@usask.ca.
As a community it is critical that we support each other and remain respectful during what is a difficult time for all of us. Please follow all guidelines and take all precautions to prevent the further spread of COVID-19 in our community.
How you can help our students during the COVID-19 pandemic: https://alumni.usask.ca/news/2020/covid-19-how-you-can-help-our-students.php
For the latest developments and information about the University of Saskatchewan's response to COVID-19, please go to www.usask.ca/updates.
The University of Saskatchewan is undertaking critical research and contributing to global efforts to combat COVID-19. The University of Saskatchewan's Vaccine and Infectious Disease Organization (VIDO-InterVac) is a world leader in developing vaccines and technologies to combat infectious diseases. Your support of the COVID-19 Research Fund supports the increased efforts of researchers at the University of Saskatchewan to develop vaccines and treatments for COVID-19. Donate now.