Extraordinary circumstances have brought out extraordinary responses from members of our USask community. From frontline health-care workers to researchers looking for a solution to this global health threat, there are so many stories about people are working to make our home communities safer and healthy. Here are a few of the inspiring stories of our students, staff, faculty and alumni.
While staying at home can make many feel helpless, it is one of the most effective ways to support our community's health.
However, there are still many University of Saskatchewan (USask) alumni who are part of the essential service workforce that are helping to keep us safe and healthy. This is what working means to them, when we are all being what the world needs.
Catherine Drackett, who graduated from the USask College of Nursing in 2008, discusses staying positive while working on the frontlines in health care.
Tell us about yourself.
I have been working as a registered nurse in Regina since graduating in 2008. I currently practice in emergency, medical ICU and critical care transport. I love the work I do and I get to work alongside some incredible people. Being a nurse has given me the opportunity to care for and meet individuals from a variety of social backgrounds. When I am not working, I enjoy staying active outside, and in the gym, coffee and drinks with friends, traveling, playing board/card games, and hanging with my dog.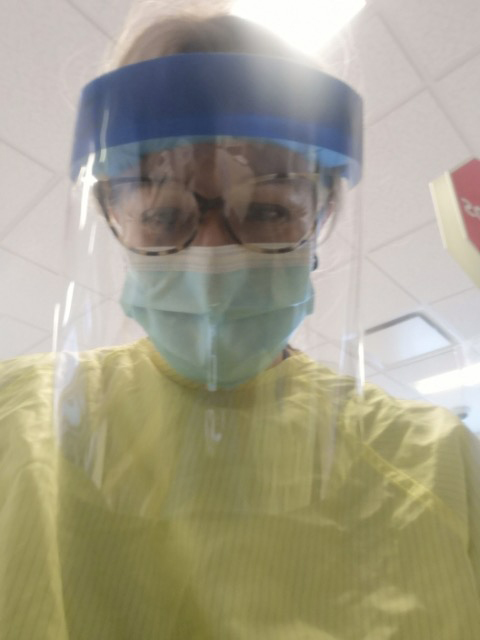 What does "social distancing" mean to you?
Social or physical distancing is as new to me as it is to everyone else since the arrival of COVID-19 to Saskatchewan. I consider myself to be someone who has an active social life, so it has been very challenging. My daily routines have been turned upside down. I have been unable to do the things which typically keep me healthy, active and engaged. I do not spend time in the same space as friends or family, for fear of spreading or contracting illness. I have learned new ways of trying to stay active and in touch with people in my life, which is a work in progress. My colleagues working in health care and as first responders have done our best to set a good example for citizens of this province by following the government's guidelines. If we can do anything to soften the blow of the COVID-19 pandemic on the health-care system, it will have less of an impact on people of the province. Lifestyle changes done now that decrease the spread of illness will mean we can get back to doing what we enjoy sooner.
What do you look forward to once this is over?
Once the pandemic passes, and it will pass, there is so much I am looking forward to. I cannot wait to have ongoing fear and paranoia lifted from people in our community, replaced by joy and hope. I want people in Saskatchewan to receive the medical care our great facilities and clinicians are capable of providing, instead of encountering limited resources and canceled surgeries. I cannot wait to meet a friend for a coffee or beer, meet up with friends at the gym and spend time in the presence of my family I care so much about.
Share your stories with us: We are collecting the stories of resilience and good spirit from our USask community. Please send story ideas and photos to news@usask.ca.
As a community it is critical that we support each other and remain respectful during what is a difficult time for all of us. Please follow all guidelines and take all precautions to prevent the further spread of COVID-19 in our community.
How you can help our students during the COVID-19 pandemic: https://alumni.usask.ca/news/2020/covid-19-how-you-can-help-our-students.php
For the latest developments and information about the University of Saskatchewan's response to COVID-19, please go to www.usask.ca/updates.
The University of Saskatchewan is undertaking critical research and contributing to global efforts to combat COVID-19. The University of Saskatchewan's Vaccine and Infectious Disease Organization (VIDO-InterVac) is a world leader in developing vaccines and technologies to combat infectious diseases. Your support of the COVID-19 Research Fund supports the increased efforts of researchers at the University of Saskatchewan to develop vaccines and treatments for COVID-19. Donate now.