Extraordinary circumstances have brought out extraordinary responses from members of our USask community. From frontline health-care workers to researchers looking for a solution to this global health threat, there are so many stories about people are working to make our home communities safer and healthy. Here are a few of the inspiring stories of our students, staff, faculty and alumni.
During his final year of high school, Tyrel Kostyk wasn't sure what path to take, but he knew that his heart was set on mathematics and physics. When he attended an open house event at the University of Saskatchewan (USask) during his senior year, he found the area of study he was looking for and instantly fell in love with the College of Engineering.
Entering his fifth year of studies this fall in computer engineering, Tyrel is inspired by the opportunities he's had in the college and what it means for his career, such as being a part of the University of Saskatchewan Space Design Team (USST), a student group dedicated to building and designing space technology.
"USST has changed my life because I've found the career I want to do. I've gained so much experience that I wouldn't have had otherwise had I not joined the team," said Kostyk, who has been on the team for the last four years.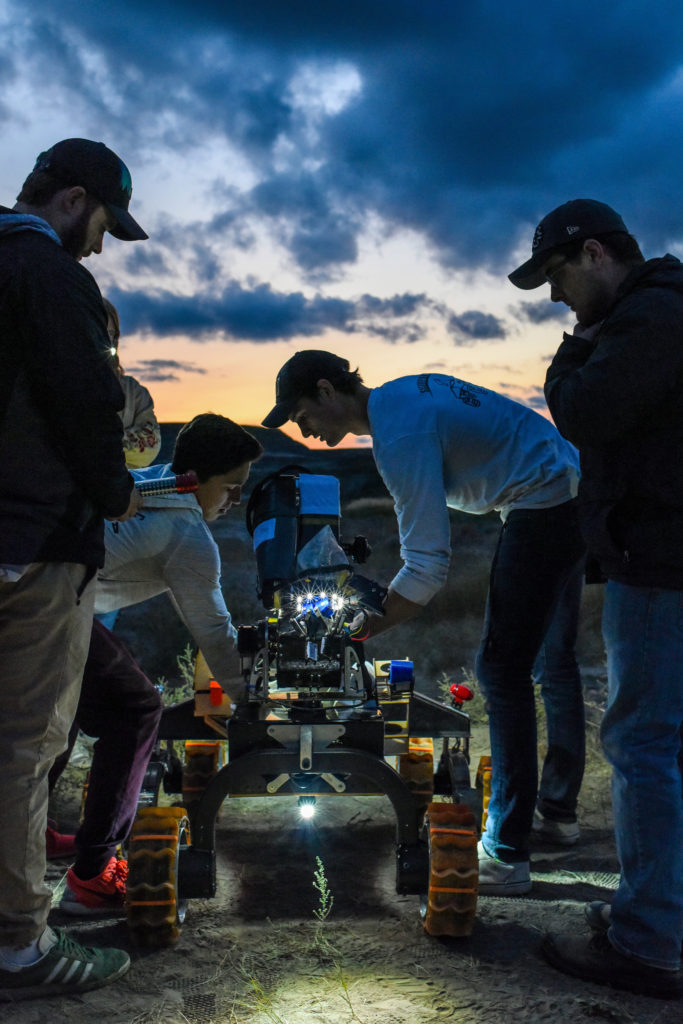 Currently the science and engineering project manager for the team, Kostyk has had many memorable experiences with USST, but said the one that sticks out to him was travelling to Utah and Alberta to compete in international competitions with their Mars Rover robot.
This Rover project was designed and built from carbon fibre to explore the Mars terrain. It features a custom software, named RoboCluster, which is used to detect images, control motors, and read data from various sensors.
He was also involved in developing the RADSAT-SK, a research cube-satellite. Called a CubeSat, the RADSAT-SK is designed to be cheaper and smaller— it's the size of a Rubik's Cube—yet function as efficiently as a regular satellite. Working collaboratively alongside the Canadian Space Agency (CSA) and Saskatchewan Polytechnic, the USST is revolutionizing access to space by creating this research satellite.
The RADSAT-SK is a student-led project with over 50 students with various backgrounds who design, build, research, conduct experiments, and oversee the satellite project. After receiving a grant from the CSA in 2018, the project is now 50% complete, and has received $285,800 in funding, which is halfway to their funding target. By late 2021, the RADSAT-SK is projected to launch to orbit and become Saskatchewan's first space satellite.
"Honestly, it was so much fun to work with the team and do our best showcasing our project," said Kostyk, as the USST had the opportunity to fly to Victoria and present the RADSAT-SK for a design review with the Canadian Space Agency.
"By joining the USST, I realized there are tasks such as software electronics that I never thought I would be interested in and work with even though I had no previous experience. I love it because I'm able work on a variety of projects, honing my skills further," said Kostyk.
In recognition of his accomplishments in academics, involvement with USST, and being a tutor and mentor for kids, Kostyk received the Bernard Michel Scholarship Program, which recognizes community-minded Indigenous students in science and engineering, as well as the Nasser Family Award in Engineering, an award for his academic achievements.
Kostyk said he sees the importance of alumni and donors' role to the university, especially to Indigenous students.
"I think that there's a lack of Aboriginal students represented in the College of Engineering and STEM fields. Donor support can raise awareness for students who might otherwise have not thought that engineering is for them, making it better known to these communities," said Kostyk.
Kostyk said he can't thank donors enough for allowing him to learn skills both inside and out of the classroom.
"Donors are helping me gain that extra experience, allowing me the chance to hone my skills and direct my passions. I remember thinking back in high school that I wanted to be successful, but I didn't have anywhere to direct my passion. But now, I work 12 to 15 hour days, while combining school and work with the USST. I can't complain because I love every minute of it!"
Support the University of Saskatchewan Space Design Team today. Click here to make a donation.
---
On May 5, 2020 USask joins organizations around the world on #GivingTuesdayNow, to celebrate generosity in our community in response to the COVID-19 pandemic. We would like to thank all of our alumni and donors who have supported our students during this incredibly difficult and stressful time, and who have made a difference in students' lives, helping them to continue to achieve extraordinary heights through education.
For more inspiring stories of our USask community, as we stand together in unity, please see our USask Unites story series and join us on social media by sharing your own uplifting stories using #GivingTuesdayNow.