Extraordinary circumstances have brought out extraordinary responses from members of our USask community. From frontline health-care workers to researchers looking for a solution to this global health threat, there are so many stories about people are working to make our home communities safer and healthy. Here are a few of the inspiring stories of our students, staff, faculty and alumni.
Jackson, 14, and Grayson Peddle, 9, turned their hobby of playing online video games into a fundraiser, raising $900 to COVID-19 research.
Like many kids and teens around the world, the Peddle siblings had to adapt to the new "normal" when the COVID-19 pandemic was declared. Their routines and activities abruptly changed to attending their classes online in the comfort of their home, hanging out with their friends through video chat, and even attending their karate training through Zoom. Despite the difficulties that come with a digital lifestyle, Jackson and Grayson have remained positive and began thinking of how they could fight COVID-19.
By streaming video games online, Jackson and Grayson raised $900 to donate to the University of Saskatchewan's COVID-19 Research Fund.
Both Jackson and Grayson have been playing video games since they were five years old and their experience helped them create their first fundraiser by playing a battle royale game called Fortnite.
Inspired by YouTubers and video gamers, they decided to host the fundraiser on YouTube, and on a live streaming platform called Twitch. This interactive platform allows an audience to watch a live stream of the game, then connect and donate to the player's channel. Funds are then directed towards a cause that the player is promoting.
"My brother had a link in his stream to PayPal and then from there you donate the money to the PayPal," said Grayson. "Some of our friends and other gamers watched the stream, and were able to help that way."
With an initial goal to raise $500, the brothers reached out to family and friends for support. But much to their surprise, support after the stream helped propel them far beyond their goal. "I didn't think that we would be able to do it, but we got donations after the stream as well," said Jackson.
Their mother, Andy Peddle, who is a pharmacist in Saskatoon, was amazed that her sons were able to achieve their goal through streaming video games, "They came up with that idea [fundraising] on their own. We talked about vaccines and they know that the development of a vaccine is so important—we are very proud of them for taking the initiative and supporting a good cause."
Although there were a few glitches at the beginning of the stream, the siblings were able to overcome the technical difficulties quickly. "The boys were able to take away a valuable learning experience, and it all turned out really well. I believe that if you set your mind to something and you decide you want to do it, you can make it happen—and that's what they did," said Mrs. Peddle.
Determined to help find a solution to the outbreak, Jackson and Grayson conducted their own research and donated the funds they collected to USask's COVID-19 Research Fund.
This funding supports the continuous research efforts of the USask's Vaccine and Infectious Disease Organization (VIDO-InterVac), one of the world's most advanced infectious disease labs, to find a COVID-19 vaccine. VIDO-InterVac is the first lab in the country to isolate the virus and have a vaccine candidate in animal testing. The funding received will help the researchers to continue sharing their life-saving work with Canadians and people around the world.
The Peddle siblings hope that their contribution will help in the effort to develop a vaccine and slowly return to their regular activities before the pandemic. Both are staying positive that they will soon be able to hang out with their friends, visit their family members often, play sports with their teammates, and enjoy the outdoors.
 Jackson, who is looking forward to his Grade 8 Farewell—which was also moved online due to the pandemic—hopes to celebrate it with family and spend more time with his friends this summer before he moves into his first year of high school this fall.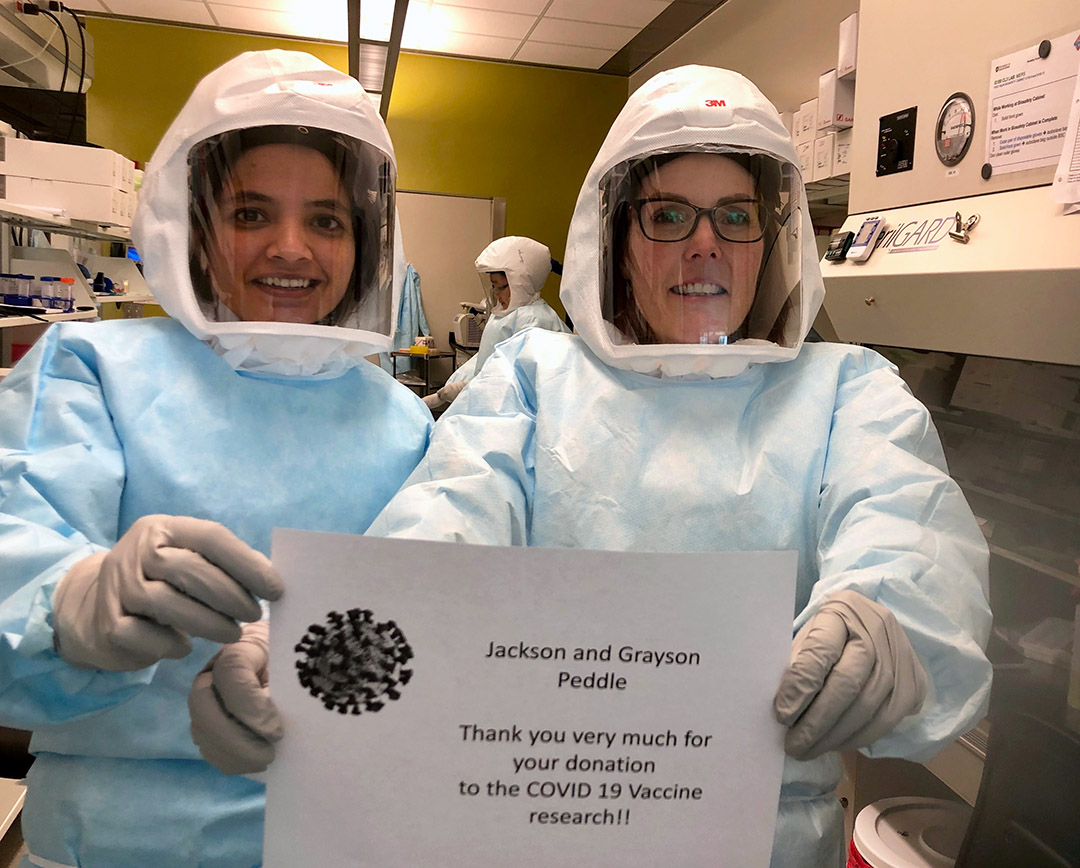 Generous support from the community and fundraisers like Jackson and Grayson are significant in the development of vaccines and treatments for COVID-19. "Our whole team is always pleased to see a great level of support in the community, especially from two young boys going out and raising that much money," said Dr. Volker Gerdts, VIDO-InterVac's director and CEO.
Dr. Gerdts and the VIDO-Intervac researchers are thankful for all the continued support they receive from supporters and donors. "We have strong support from the government, but it really means so much for us to see the support that comes from the community—there's a personal element to it," said Dr. Gerdts. "It shows that the community is behind us and that they're willing to help and make an effort to support our research."
---
Share your stories with us: We are collecting the stories of resilience and good spirit from our USask community. Please send story ideas and photos to news@usask.ca.
As a community it is critical that we support each other and remain respectful during what is a difficult time for all of us. Please follow all guidelines and take all precautions to prevent the further spread of COVID-19 in our community.
How you can help our students during the COVID-19 pandemic: https://alumni.usask.ca/news/2020/covid-19-how-you-can-help-our-students.php
For the latest developments and information about the University of Saskatchewan's response to COVID-19, please go to www.usask.ca/updates.
The University of Saskatchewan is undertaking critical research and contributing to global efforts to combat COVID-19. The University of Saskatchewan's Vaccine and Infectious Disease Organization (VIDO-InterVac) is a world leader in developing vaccines and technologies to combat infectious diseases. Your support of the COVID-19 Research Fund supports the increased efforts of researchers at the University of Saskatchewan to develop vaccines and treatments for COVID-19. Donate now.