For Elizabeth Plishka (BASc'19, CCA'20), getting her ideal job right out of university was like a dream come true even though it required her to pack her bags, leave the safety net of her family and home in Saskatoon, and make the long trek north to Whitehorse, Yukon. 

"This is exactly what I wanted right out of university. I cried multiple times after moving up here," Plishka recalled in a phone interview. "I have to stop pinching myself because I couldn't believe I got my dream job right out of university."

That big move did come with the realization she was heading out into the world alone.

"I lived with my parents all through university. It was easier that way," said Plishka, who attended Walter Murray Collegiate in Saskatoon. "I went from living in the same house my entire life to running away to an isolated corner of Canada."

For Plishka, the decision was easy when she accepted the position in Whitehorse as the health education co-ordinator with Blood Ties Four Directions Centre. Blood Ties' mission is to eliminate barriers and make health and wellness services available to all in a non-judgmental setting.
When she graduated from the University of Saskatchewan (USask), she told herself she would go anywhere in the country if a job in a harm reduction educator role was the right fit. So for Plishka, her decision had already been made. 
Plishka had already been going down this path even before her time at USask, of which both of her parents are fellow graduates. She said her family is very health-care oriented and she felt a pull in that direction from an early age.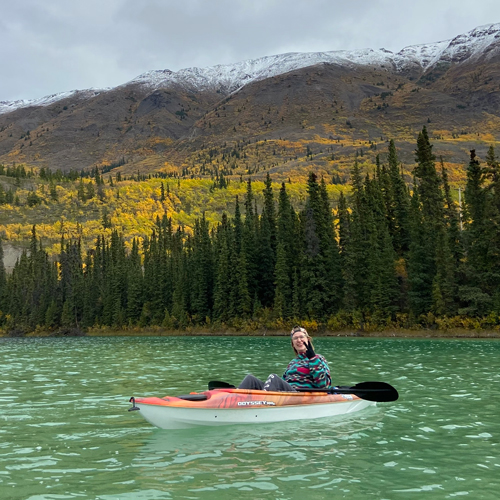 "Back in high school, I asked my family where a good place would be for me to volunteer and to start dipping my toes in health care," said Plishka, who won the award for most outstanding graduate in health sciences in 2019 from the College of Arts and Science. 
Plishka took a volunteer position at the Student Wellness Initiative Toward Community Health (SWITCH) in Saskatoon, a place where the city's core residents can find information on culturally safe health care, nutrition and education. SWITCH also provides future health-care professionals with somewhere to learn more and augment their own training. 
"I became very passionate about what I was doing there and I learned a ton about myself through volunteering at SWITCH." 
Plishka also made a connection with Jason Mercredi (BEd'09), the executive director at Prairie Harm Reduction, formerly AIDS Saskatoon. Learning about the HIV crisis in Saskatoon really drove her desire to help more. 
Mercredi could see Plishka's passion to understand harm reduction and offered his time and guidance to help her learn and solidify her intent in her career choice.
"Learning about that crisis is kind of what ignited my passion for harm reduction as a line of work. And then all the way through university, I found myself getting more and more involved in harm reduction." 
That involvement also included Plishka assuming the role as University of Saskatchewan Students' Union (USSU) Help Centre co-ordinator, a position she occupied while attending university. 
Armed with a plethora of experiences from Saskatoon, Plishka headed north and has already added to her role as the health education co-ordinator at Blood Ties by creating awareness for Queer inclusiveness training, a first in the city and territory. 
"We're working really closely with Queer Yukon, which has been amazing. They reached out to us and asked for some Queer and trans-specific training." 
As in many places in Western Canada, Whitehorse is also seeing a rise in overdoses and overdose deaths. This is an area of deep concern for Plishka and she hopes that her work will eventually lower these numbers.
Despite the hard work ahead, the sudden move to Whitehorse still seems like a no-brainer now for Plishka, who is settling into her role by starting to implement programming she feels necessary. Working with Queer Yukon, Plishka said the partnership will benefit even more people in the territory for years to come.