Dr. Ashley Tshala (BSc'16, MD'20) still feels the sharp sting of racism she felt as a youngster growing up in a predominately white Saskatoon neighbourhood.
It's a feeling she likely will never forget, and for her, those memories don't simply wash away or fade over time.
"Having grown up in Saskatchewan, I was often one of the only, if not the only, person of colour in my class," says Tshala. "So a lot of times, the stereotypes fell on me to fulfil where people saw me in a stereotypical way."
The 26-year-old cites examples where classmates would want to touch or play with her hair or expected her to play basketball or ask her if she loved to eat watermelon.
"I dealt with a lot of what we would call now, microaggressions," she says. "Looking back, at times I did feel like I was almost an outcast. Or certain opportunities wouldn't be afforded to me because people assumed because of the colour of my skin, I wouldn't be able to do them."
Tshala, now living and working in a Montreal hospital as an obstetrics-gynaecological resident, recalls one incident in her childhood that particularly hurt. She was playing with a good friend who invited her to her grandparents' house. When the grandfather arrived to pick the two up, plans changed instantly.
"As soon as they saw me, they were like, 'Nope.' I just remember the look on the grandfather's face. It was very much like a look of disgust. That is something that really stayed with me."
Instantly, the playdate was over and she was left wondering what had just happened.
Despite these microaggressions, this isn't to suggest Tshala's formative years left an indelible scar.
"Overall, growing up in Saskatchewan, it was a pretty good life," she recalls.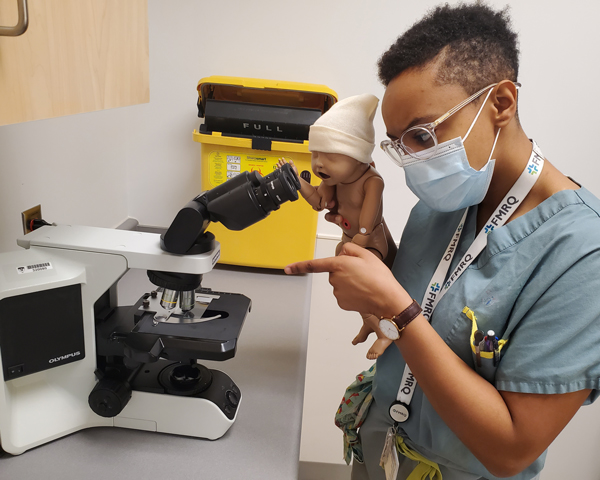 But those memories are part of what drives Tshala now as she pursues a career in medicine. She wasn't going to let skin colour dictate otherwise.
"I think as far as I can remember I have always wanted medicine as a career choice," she says.
When Tshala arrived at USask, she recalls being just one of two persons of colour in her year and didn't think there were that many Black medical students across Canada.
She was alerted about a proposed conference for Black medical students in Canada and knew she needed to participate and get involved.
"When I found out there was a lot of us and we are going to have a conference, I was blown away. I never imagined this level of representation. I thought I was the only one," she says.
Her participation in the conference filled her with encouragement and enthusiasm when she returned to USask. Last spring, she wrote an essay published in the USask College of Medicine magazine, Connective Issue, calling for a Black medical students' association on campus.
"Going [to Toronto] and seeing what they have been able to affect on their own local level … and feeling that encouragement, I feel like I actually have a voice now.
"That's why I wrote that essay because I felt so empowered in that moment, and I thought, we are going to do something. There's a new generation of young Black medical students who are here and I want to make sure that any student of colour has a voice."
The timing of Tshala's essay could not have been better since it coincided with the eruption of the Black Lives Matter movement across North America this spring.
Tshala says she already has observed a shift in how people of colour are treated. Indeed, she has witnessed a higher level of acceptance within the medical community across Canada.
"The face of medicine is changing. I see it right in front of me," she says.
Tshala is quick to say that there is still much work to do in educating the medical community, as well as the general public, especially during the difficult COVID-19 landscape.
"If we want people to understand us and to understand the power of our word and the power of our actions we need to go out there and be vocal, visual parts of the community."
With restrictions on gathering, Tshala and her Black colleagues haven't been able to gather together, so they have relied on social media to help maintain their momentum.
While Tshala has been working hard on her education and her advocacy efforts, her parents have watched her evolve and are proud of the route she has chosen.
"My mom is definitely ecstatic. She's always been super proud of me and med school is like the cherry on top," she says.
Tshala is now using those difficult childhood memories as motivation to create a positive world for herself and other Black people in the province, a place she expects to return.
"Honestly, at some point, I will probably end up back in Saskatchewan. There's a peacefulness, a calmness to Saskatchewan that you don't get out here."
---
February is Black History Month. Throughout the month, USask Alumni will feature Black USask alumni who are inspiring our communities through perseverance, change and leadership. Make sure to check out @usaskalumni on social media throughout the month of February to read more about our influential alumni.