Coakwell helped Justin Kripps' four-man bobsled team with Ryan Sommer and Cam Stones race to a third-place finish Sunday, Feb. 20, on the final day of Olympic competition. Coakwell was competing in his third Winter Olympic Games, serving as the brakeman on Canada's top sled piloted by Kripps, which raced to a combined time of 3:55.09 over four runs to capture Olympic bronze.

For Coakwell, winning his first medal in his third Olympic Games is a moment he will never forget.

"It's crazy. I did some reflecting last night about our journey and it's just like I feel like everything just lined up for us," Coakwell told Bobsleigh Canada Skeleton. "When we came together as a team four years ago, I had a feeling in my gut and I think the program did, too. And they kept us together. We performed early and got better and I just feel like everything sort of came together. We've proved what a team can do when it's allowed to grow together and I feel like that's a good lesson for Canada moving forward in the sport of bobsleigh. It's just a great feeling to have this happen and for everything to come together at the time it needed to."

Now in his 10th season in the sport after completing his Huskie football career, Coakwell made the most of his third shot at an Olympic medal after coming up short in the 2014 Winter Games in Sochi, Russia and the 2018 Olympics in PyeongChang, South Korea.

"In my first Olympics we crashed, which was my first crash ever, so that was pretty tough," said Coakwell, a former five-year Huskie football player and track and field athlete who studied science at USask. "We were in a position to win a medal, but we crashed, so that was pretty much a disaster. Except for the overall experience, which is not something that I look back negatively on. And then in PyeongChang, we were 10th and it is just one of those things where, on that given day, we just were not as fast as we wanted to be. But, after that, our four-man team came together and we have been winning medals ever since."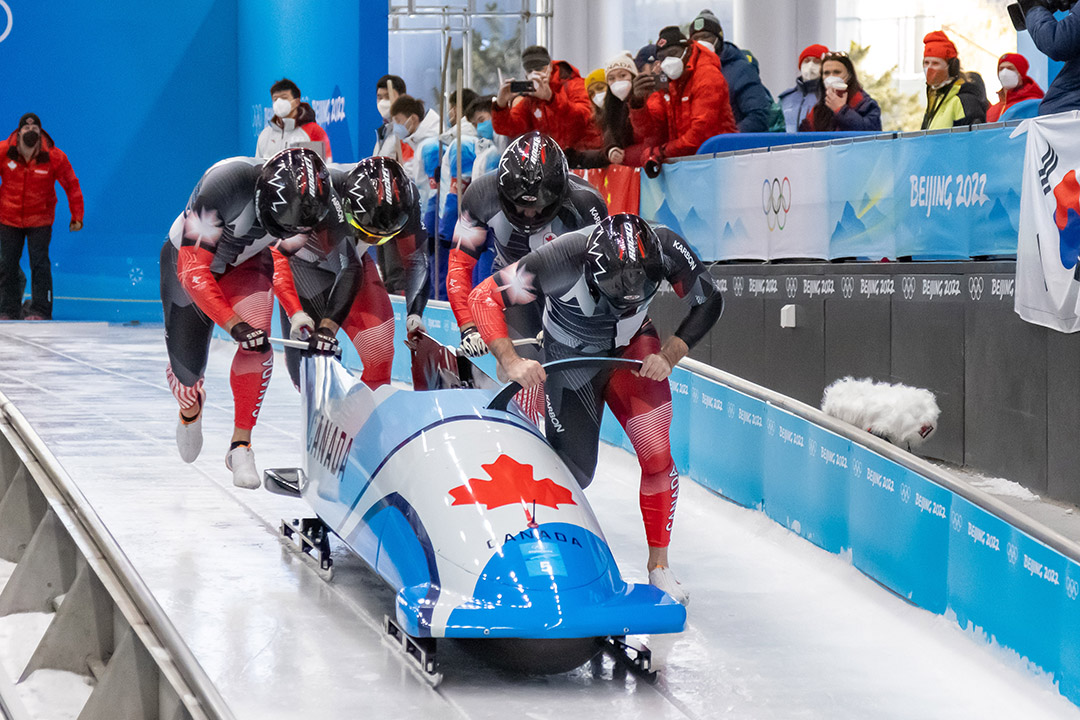 This season, Coakwell tied Lascelles Brown for the record of most career World Cup medals (17) in four-man bobsleigh by a Canadian brakeman, earning the nod as Sask Sport's December Athlete of the Month. Coakwell and Brown are the only brakeman from Canada to earn an Olympic medal in four-man competition.

"Lascelles is somebody that I have looked up to since I joined the sport," Coakwell told Bobsleigh Canada Skeleton. "If anybody has ever met him, he's an imposing figure and he's a positive role model for bobsleigh … It's just amazing to have an Olympic medal like he does and I'm excited for these guys and for it to be four-man and it's like a dream."

Born in Regina and raised in Moose Jaw, Coakwell headed north to Saskatoon in 2005 to play five seasons of Huskie football, competing in two Vanier Cups in 2005 and 2006 and etching his name in the Huskie record books with the fifth-most career rushing touchdowns (16) and leading the team in rushing in 2010 and 2011.

Meanwhile, fellow former Huskie football player Lyndon Rush, who was born in Saskatoon and raised in Humboldt, was a member of the Bobsleigh Canada coaching staff in Beijing, serving as the driving coach for Kripps. Rush, who also played five seasons for the Huskies while earning a bachelor's degree at USask, has taken part in four Olympics, earning bronze in bobsleigh as the driver of a four-man sled in the 2010 Winter Games in Vancouver. Like Coakwell, Rush was recruited by Bobsleigh Canada after he completed his Huskie career in 2003 as a Canada West conference all-star.

In addition to Coakwell and Rush, USask alumna Cianna Lieffers served as a referee in the women's hockey competition at the Olympics. Lieffers earned kinesiology (2017) and education (2018) degrees at USask.

Meanwhile, USask alumnus Ken Babey is off to Beijing this week to serve as head coach of Canada's Para hockey team for the second straight Paralympic Games after earning a silver medal in 2018. Babey, who was born in Saskatoon and earned a Bachelor of Education degree at USask in 1979, was the winningest coach in Canadian college hockey history with 534 victories over 27 seasons at the Southern Alberta Institute of Technology in Calgary.

"The Paralympics is a once-in-a-lifetime experience and I am very fortunate to get to experience it twice in my lifetime," said Babey, who is scheduled to head overseas with Team Canada on Friday, with the Para hockey competition slated to begin on March 5.