Theodocia Quagraine is passionate about sharing her leadership lessons and her lived experiences as a Black woman on the Prairies.
Quagraine, a University of Saskatchewan (USask) graduate and current USask employee, is one of 13 contributors to a new book set to be launched on Feb. 24 during Black History Month. The book, titled Courage, Change & Faith: Inspiring Narratives of Black Women Leaders, documents the personal leadership stories of members of the group Black Women Leaders Saskatchewan.
Quagraine said she met most of the women involved in Black Women Leaders Saskatchewan in 2021 during a course facilitated by leadership coach Betty Mutwiri, a USask PhD candidate in the College of Education who also compiled the narratives for the new book as the project lead. Through their writing, the co-authors aimed to inspire their peers and the next generation of Black women leaders, and to contribute to a diverse and inclusive community by sharing their unique experiences with others.
"We do have a very diverse group," Quagraine said. "Some people have been entrepreneurs for years; some people have just started. Some people recently immigrated to Canada; some people have been here for a very long time. We all come from different countries, so there's a lot of diversity there."
The co-authors' professional backgrounds are wide ranging, with experiences in the tech sector, education, health care, business, fashion and more. In addition to Mutwiri and Quagraine, the book's contributors include Bukola Udefiagbon, USask graduate Halima Mela (BA'09), USask graduate Hannah Chukwu (MA'06, CTESL'08), USask College of Medicine PhD candidate Isabelle Dena, Johaine Thomas-Miranjie, Josephine Rwankuba, Oyin Steve, Paula Collins, Petunia Bolwe, Portia Manzini, and Rose Kumbu.
Quagraine said her own narrative in the book focuses on "rising above doubt" and talks about how she overcame challenges related to self-confidence, self-esteem, and bullying to become the leader she is today.
"The main objective of all the stories is to inspire people to pursue leadership, to become more confident, to really challenge themselves," Quagraine said. "I know a (theme) that's similar in a lot of people's stories is imposter syndrome and how they overcame that, and just navigating being in a different environment—because we all immigrated here to Canada."
Quagraine, who moved to Canada from Ghana with her family at the age of four, began her studies at USask in 2011 after graduating from Estevan Comprehensive High School. With an interest in technology, Quagraine enrolled in the interactive systems design program offered in USask's College of Arts and Science, earning a four-year Bachelor of Arts and Science degree in 2016. After working as a user interface developer for several years, she joined USask's Digital Strategy team as a UX content co-ordinator in November 2022.
"It's been really great so far," Quagraine said of her new role on campus.
Outside of her work at USask, Quagraine is active in the community as the co-founder of BIPOC Coffee Talk Inc., a Saskatoon-based non-profit organization. Through its events, the discussion group connects BIPOC (Black, Indigenous, and People of Colour) community members and allies, and provides a platform for educational and enriching discussions on topics focused on anti-racism and lived experiences.
BIPOC Coffee Talk began in 2020 after Quagraine and Dyana Castillo, a clinical psychology PhD student in USask's College of Arts and Science, had a candid conversation about race and found comfort in their shared experiences. After their talk, Quagraine reflected on how she had enjoyed the conversation and texted Castillo the next day about forming the discussion group.
"We started it because we felt like there wasn't something present in Saskatoon where we could discuss things we went through as BIPOC in Saskatoon," Quagraine said.
BIPOC Coffee Talk's inaugural event was held virtually in November 2020. Quagraine said the discussion group has helped combat some of the feelings of isolation and loneliness that people experienced during the COVID-19 pandemic.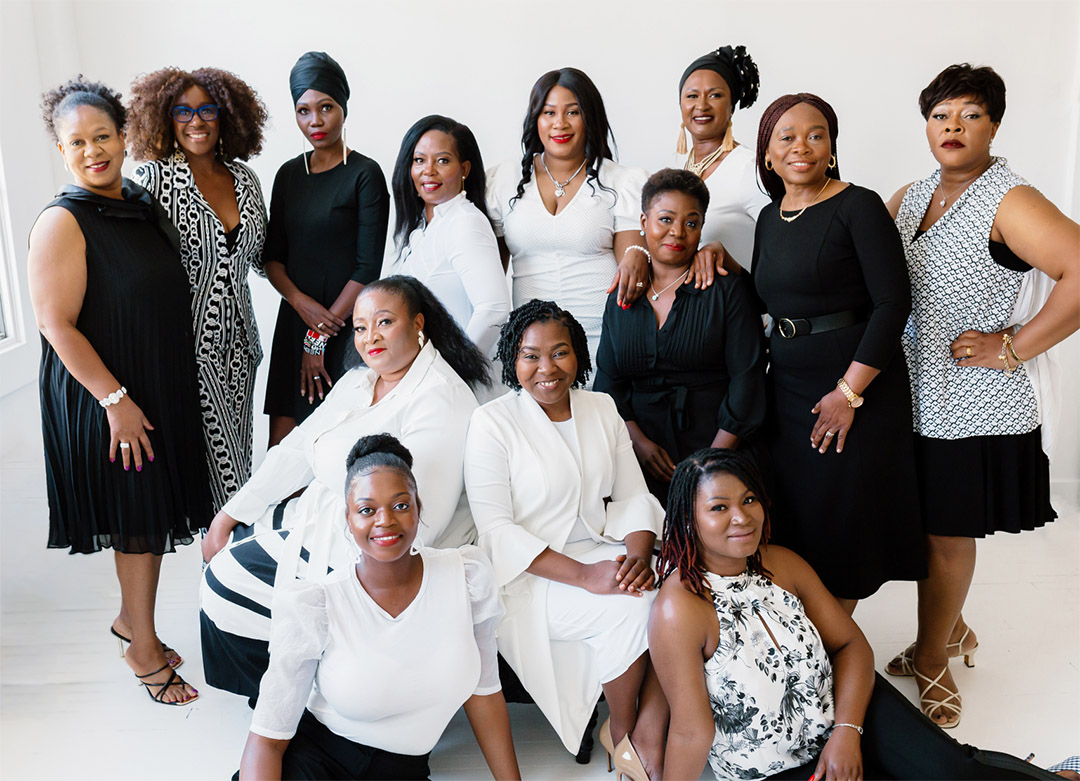 "We wanted to create a place where people could come together and connect," she said, noting her sister, USask graduate Theresa Quagraine (BA&Sc'16), is also involved in BIPOC Coffee Talk.
Since 2020, the non-profit organization has held numerous events—both online and in person—including The BIPOC Lens: An Anti-Racism Forum and Social Gathering in July 2022. BIPOC Coffee Talk's website also hosts a blog, which examines topics such as Zero Discrimination Day, a global day dedicated to ending all forms of discrimination that is observed each year on March 1.
For Theodocia Quagraine, sharing her personal stories through the new book and through the discussion group has resulted in meaningful experiences. She has enjoyed connecting with the other book contributors from Black Women Leaders Saskatchewan, and she hopes that their stories inspire others—especially the next generation of leaders.
"We feel like oftentimes the Black narrative is not told by Black people, and we wanted to really change that—so that was what motivated us to write this book," she said.
Visit USask's Black History Month website for more information on the Feb. 24 book launch and other events happening on campus and in the community during the month of February.