An exhibition currently on view at the University of Saskatchewan (USask) is showcasing the work of Dorothy Knowles, an award-winning USask graduate and one of Canada's best-known landscape painters.
The show, titled Dorothy Knowles: by the water, celebrates Knowles' remarkable career and highlights some of the outdoor places and spaces that inspired her during her decades of artistic production. Curated by USask graduate Leah Taylor, the exhibition is on view until Dec. 15, 2023, at the Kenderdine Art Gallery in USask's Agriculture Building.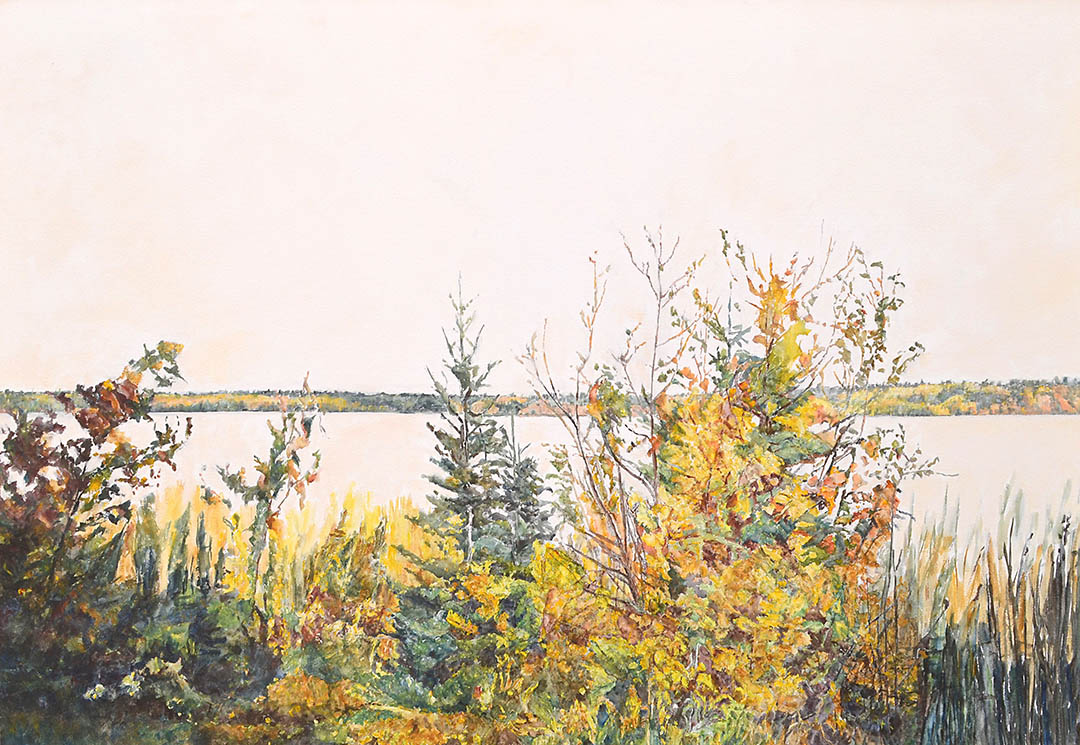 Taylor said her own interest in the history of prairie painting—specifically female prairie painters, and the impact of their work on Saskatchewan—prompted her to curate the show focused on Knowles' artwork.
"Bringing her work forward, it's been very evident just how influential she has been on this art community," said Taylor.
Taylor selected 16 paintings—mostly from Knowles' studio holdings—that depict Saskatchewan landscapes near bodies of water, such as lakes, rivers, streams, and ponds, throughout the changing seasons. The paintings, chosen by Taylor from among the thousands that were created by Knowles throughout her prolific 70-year career, offer insight into Knowles' relationship with the natural world, and how that relationship informed her artwork over time.
"A few of them have never been shown before, and I think that's exciting," Taylor said of the artworks.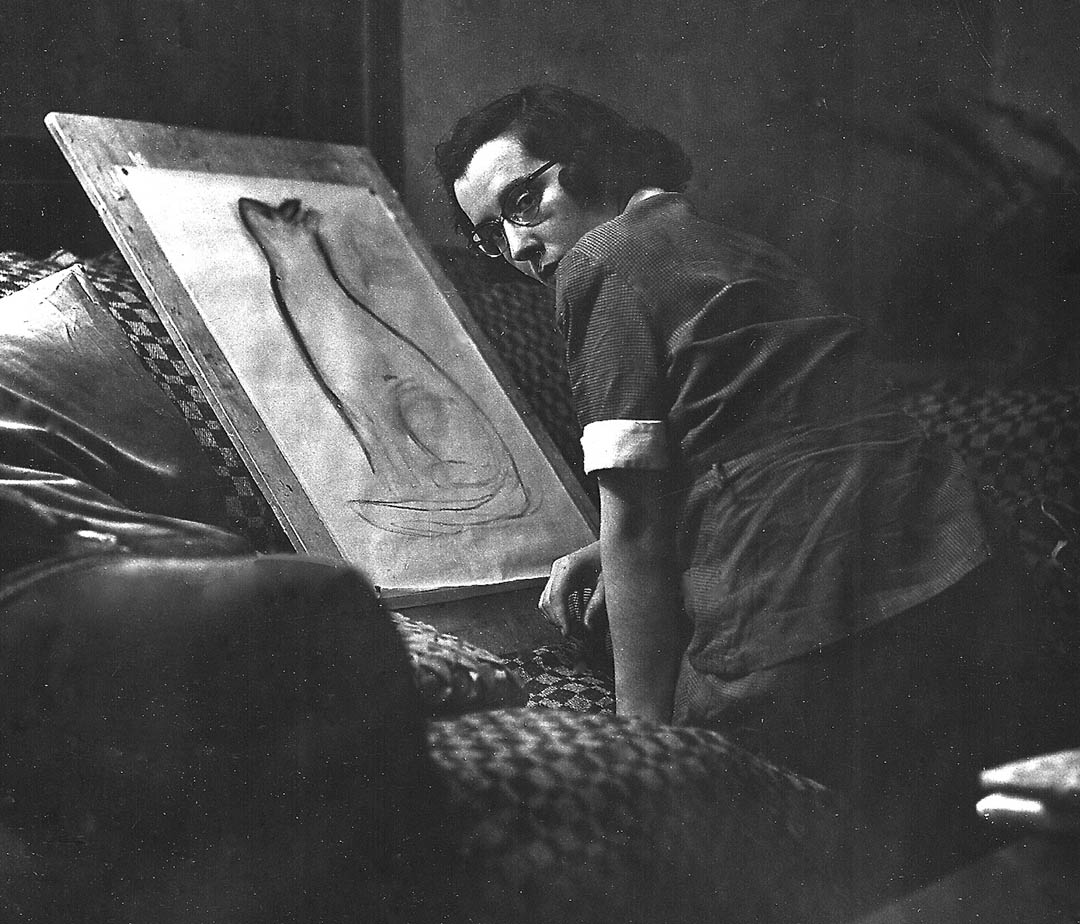 Born in 1927 in Unity, Sask., Knowles' roots as a painter can be traced to USask's famed Emma Lake Artists' Workshops at the Emma Lake Kenderdine Campus. In a 2019 interview—when Knowles was honoured as a USask Alumni Achievement Award winner—she credited USask, and the workshops, with sparking her interest in landscape art.
"The university, in a way, started my whole life in art. I owe a great deal to the University of Saskatchewan," Knowles said in the 2019 interview. "I learned to paint at the Emma Lake workshop. That workshop was up in the woods; I had never seen the woods, and I was so inspired by the lake and the trees—just the whole wonderful expanse of virgin forests was wonderful at that time. And I learned to paint, and I knew that was what I was supposed to do, and I've been painting ever since."
Knowles, who first studied biology at USask and ultimately earned a Bachelor of Arts degree from the College of Arts and Science in 1948, was encouraged by a friend to enrol in a summer art course that year at Emma Lake. In 1969, Knowles and her husband, the acclaimed abstract painter William Perehudoff, purchased a cottage at Emma Lake and set up artists' studios there.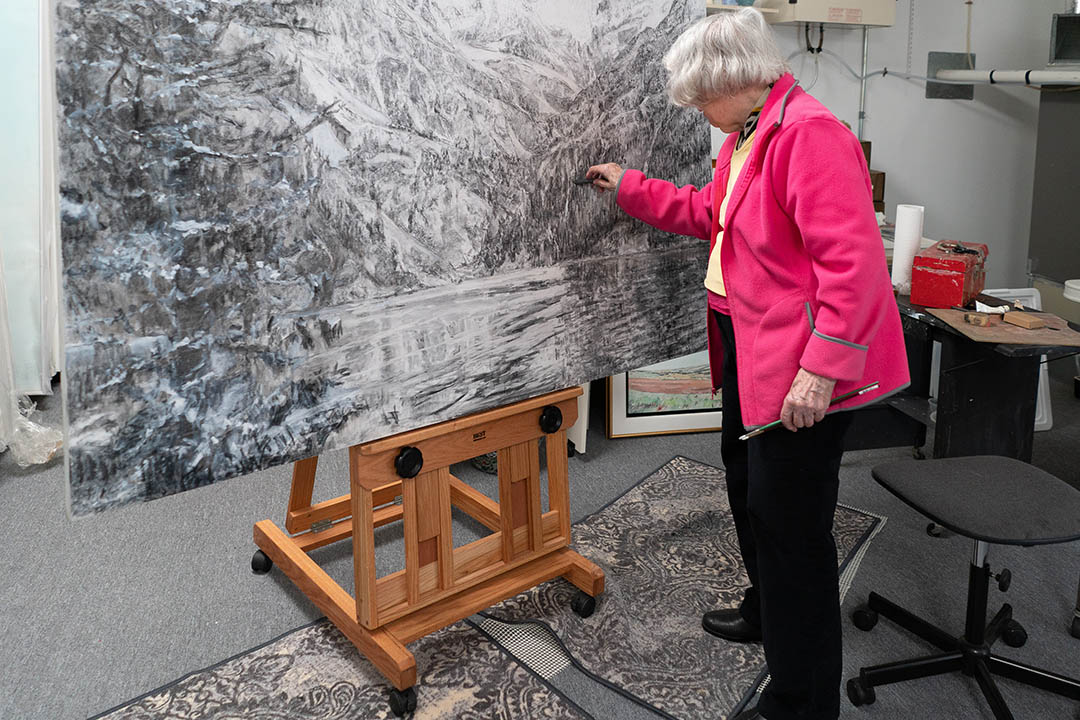 Throughout her seven decades as an artist, Knowles received many honours and awards, including the Saskatchewan Order of Merit in 1987. In 2004, she was named a member of the Order of Canada, and in 2006 Canada Post commemorated her work by issuing two stamps. In 2009, Knowles was named one of the 100 Alumni of Influence by the College of Arts and Science. Her artwork continues to adorn the walls of USask, and her paintings have been shown at Remai Modern. In 2019, USask celebrated Knowles as one of five Alumni Achievement Award recipients.
"For many decades, Dorothy Knowles contributed so much to the arts ecology in Saskatchewan, and in Canada and far beyond. We are grateful for her many valuable contributions to our university, and to communities and artists on and off campus," said Professor Airini, USask's provost and vice-president academic.
"October is Women's History Month in Canada. We have been fortunate throughout this month to have opportunities to recognize and celebrate many inspiring women, including our esteemed USask alumni such as Dorothy Knowles."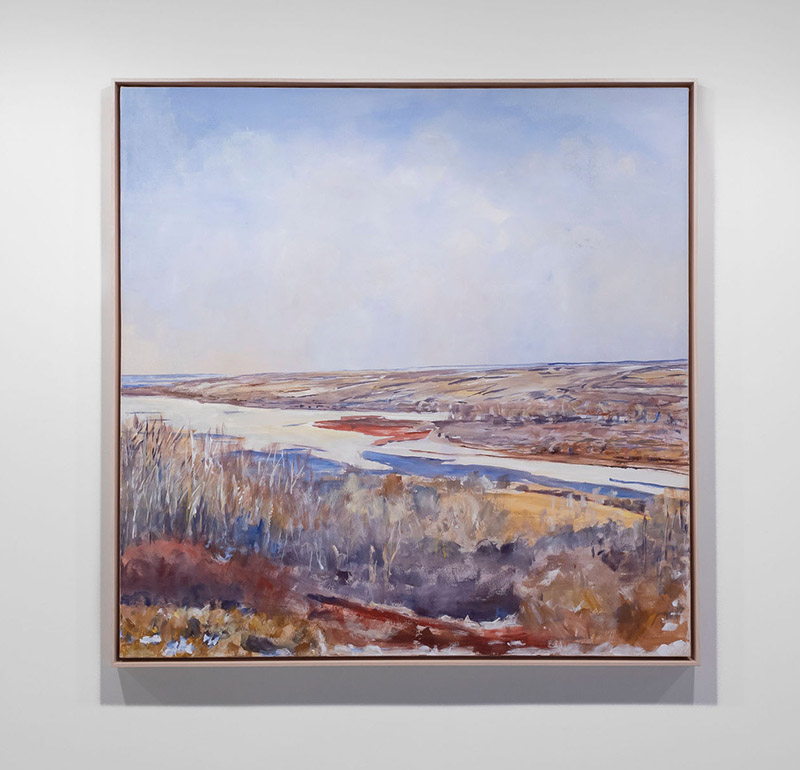 When Taylor first began looking through Knowles' artworks in preparation for the Kenderdine exhibition, she became most intrigued with the paintings that depicted water. Despite living in a part of the world that is often considered landlocked, Taylor realized that Saskatchewan people spend much time near water—whether it's walking by the river in the city or sitting near the lake at the cottage—and Knowles' paintings illustrate that.
"I felt as though she had captured moments in Saskatchewan that we all experience," said Taylor, who intentionally selected artworks for the show to reflect all four seasons.
"You can see the changing seasons—whether it is ice breaking up on the river or golden hour at the lake at a cottage, watching the sun go down. She was able to get that whole essence."
Taylor said Knowles was enthusiastic about the theme for the show, and Taylor was able to speak with Knowles several times about the exhibition before the artist passed away in May 2023 at the age of 96. While by the water is now on display after Knowles' death, Taylor noted that the show "was never meant to be a retrospective or a commemoration to her passing, because we had planned it together."
"However, it was always meant to highlight the prolific career that she's had to date—and I think it does that," Taylor added.
In preparing for the exhibition, Taylor connected with Knowles' daughters, who attended the opening of the show at USask on Sept. 15. Knowles' daughters told Taylor that their mother spent a lot of time painting near water, and that she had an intimate connection with the natural world.
"Maybe, in a way, I sort of intuitively understood her interconnectedness to water in the landscape," Taylor said. "I think that some of the works that come the most alive for me, from her body of work, have water in them."
While Knowles painted for 70 years, the new exhibition reflects about 50 years of her practice—ranging from the 1960s to the 2000s. Some of the pieces are from her studio holdings, while others are from Remai Modern's collection, the University of Saskatchewan Art Collection, and Art Placement's holdings.
Taylor said many Saskatchewan landscape painters have been influenced by Knowles' style of painting over the years—such as her loose brush work, the charcoal sketch under-drawing that sometimes shows through her paintings, and the way Knowles captures Saskatchewan's skies and the different points of lights throughout the day and the seasons.
Knowles's daughter, Catherine Perehudoff Fowler, told The StarPhoenix in September that her mother continued to paint throughout her life, and in 2022 Knowles still sat in the living room painting from photographs.
"She was a consummate artist, right to the end," Perehudoff Fowler said.
Together we will create inspired places for people to address the challenges of the future. We invite you to join by supporting visionary spaces at USask.