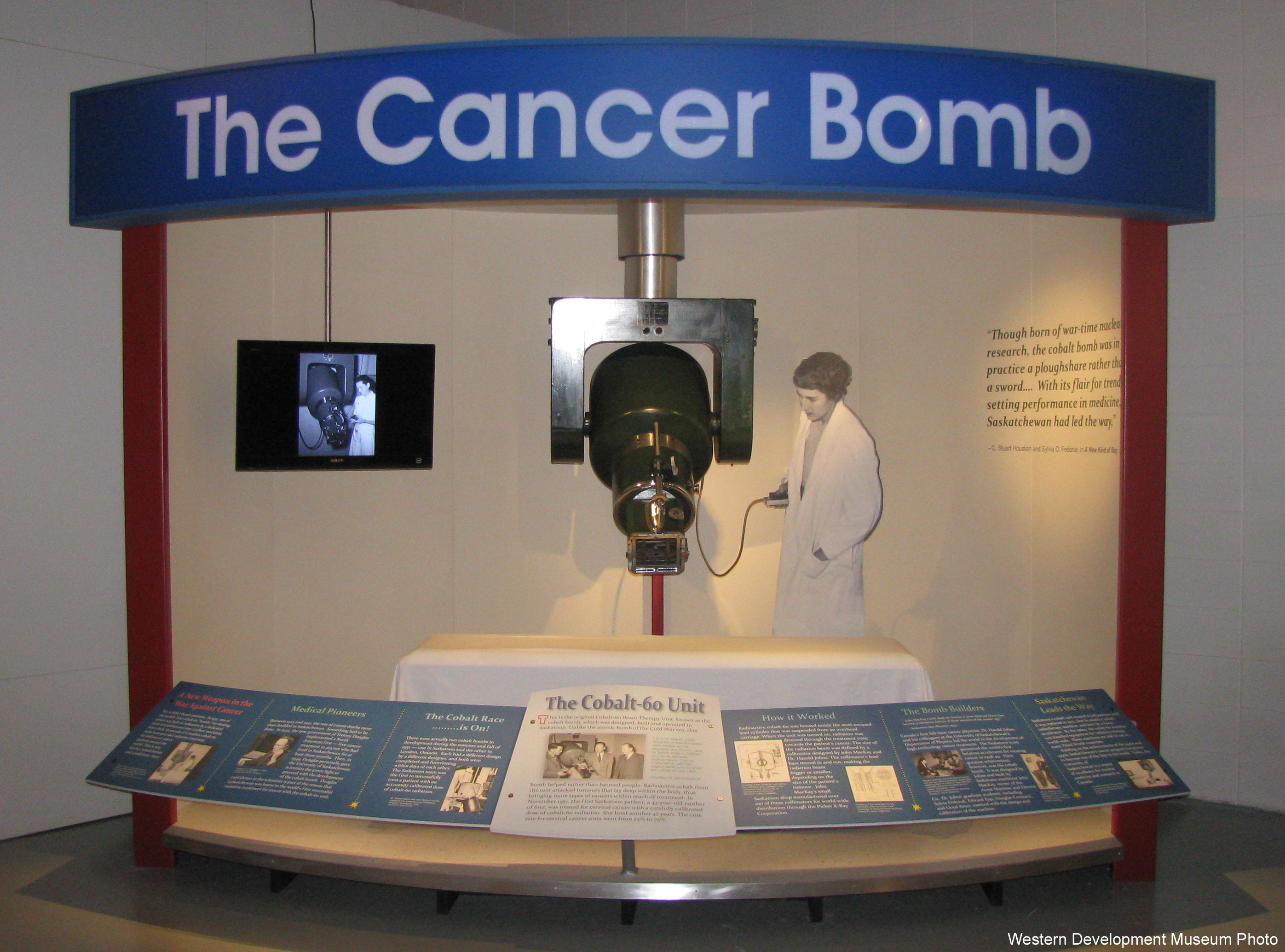 Campbell, one of the early patients to be treated with the cobalt-60 therapy unit, was expressing her gratitude to Harold Johns, a University of Saskatchewan medical physicist who developed the cobalt-60 machine back in 1951 and became known as "the father of medical physics in Canada."
Johns and his team of graduate students, one of whom was Sylvia Fedoruk who later served as U of S chancellor, became the first in the world to successfully treat a cancer patient using cobalt-60 radiation therapy. This innovative technology—dubbed the cobalt bomb—revolutionized cancer treatment and saved the lives of millions of cancer patients around the world.  The precisely calibrated radiation machine bombarded cancers deep in the body where previous therapies had been ineffective. In effect, it dropped a bomb on cancer.
By the 1960s, the cobalt-60 machine—about the size of a small cement mixer—was standard equipment for radiation therapy worldwide and soon had a dramatic impact on the cancer survival rate.  The cure rate for cancer of the cervix, for example, soon climbed from 25 per cent to 75 per cent. The original technology is still used in many developing countries.
The 60th anniversary of this historic advance in cancer treatment is being celebrated Dec. 4 with the opening of an exhibit at Saskatoon's Western Development Museum (WDM) where the original cobalt-60 machine used to treat more than 6,700 patients is now permanently accessible for the public and school groups to view.
The event will be attended by Fedoruk and other dignitaries, and will feature the
Cobalt-60 at 60
video launch with a panel of experts from the U of S and the Canada Science and Technology Museum. They will discuss the legacy of the U of S pioneering nuclear medicine work, which also includes developing the world's first betatron used in a cancer treatment program in 1948.
That legacy now includes the Bio-Medical Imaging and Therapy (BMIT) beamlines and Medical Isotope Project at the Canadian Light Source synchrotron, as well as the planned Canadian Centre for Nuclear Innovation and U of S cyclotron for research as well as production of isotopes for the province's first PET-CT scanner.
"The U of S has built on its long history of excellence in medical physics and accelerator technology to become a powerhouse for nuclear medicine innovation," said Dean Chapman, Canada Research Chair in X-Ray Imaging and BMIT leader.  "I think we will attract a new class of researchers and turn this into a place where cutting-edge things are done like during the cobalt therapy days where it all started. I can guarantee that because of what is here."
In collaboration with the WDM and University Archives, a cobalt-60 at 60 website has been created and can be viewed at 
www.usask.ca/cobalt60
.
University Archives has also set up an exhibit in the display case outside of Convocation Hall in the College Building.