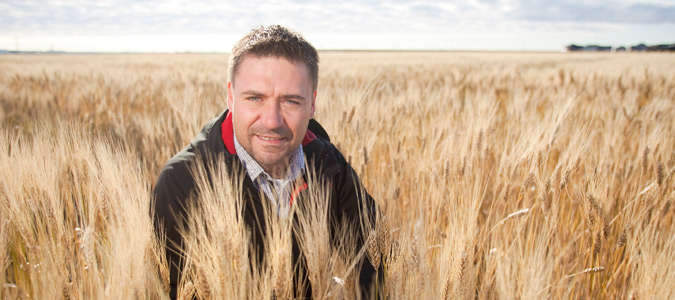 "Agriculture research is a top priority for our government and we are pleased to fund this important project," said Rob Norris, Saskatchewan Minister of Advanced Education, Employment and Immigration. "This research will result in new varieties of wheat that will benefit our producers and the entire agriculture industry."

The Canadian Triticum Advancement through Genomics Project (CTAG) is funded through $4.5 million from Genome Canada, $1.5 million from the Saskatchewan Ministry of Agriculture, $1.1 million from the Western Grains Research Foundation and $1 million from India's National Agri-Food Biotechnology Institute. Six other Canadian and international organizations are contributing the balance of the funds. The project is managed by Genome Prairie, based in Saskatoon.

"This research is timely and necessary, and supports other international efforts in providing Canadian wheat breeders with tools and resources to accelerate wheat improvement to meet the global challenge of increased food production," said Wilf Keller, President and CEO of Genome Prairie.

"For more than 100 years, agricultural research has helped define our university by creating and sharing knowledge to support our agriculture and food industries. Indeed, it is one of our signature areas," said Karen Chad, U of S Vice-President Research. "Today's investment allows us to maintain this leading position and contribute on the international stage as we strive to feed a hungry world."

"The Western Grains Research Foundation contributes substantial funding to plant breeding and research at the Crop Development Centre," said Keith Degenhardt, Chair of WGRF. "We are delighted to be a partner in this cutting-edge project, and we look forward to what it will do to put improved varieties into the hands of western Canadian farmers."

CTAG is led by Curtis Pozniak and Pierre Hucl, both based at the CDC in the U of S College of Agriculture and Bioresources. Pozniak, who joined the CDC in 2003, has already released two varieties, the most notable being CDC Verona, released in 2008 and which has already secured significant market share in Western Canada. Hucl has a long history of success with Canadian farmers, with more than 30 varieties in five different species to his credit, including CDC Osler and CDC Go red spring wheat.

CTAG is devoted to developing the tools of genomics to their full potential, to allow plant breeders to help growers meet increasing demands for high quality food and feed, produced in an environmentally sensitive, sustainable, and profitable manner.

To do this, the U of S team will help sequence the wheat genome as part of an effort coordinated by the International Wheat Genome Sequencing Consortium. It's a monumental task: the wheat genome is five times the size of the human genome. The specific target of the U of S researchers – chromosome 6D – is in itself larger than the rice genome.

The team will also develop tools to perform targeted sequencing of Canada's best wheat cultivars. This will allow them to identify gene sequences that produce desirable traits. This knowledge will in turn provide precise, powerful tools for plant breeders to develop the next generations of superior wheat varieties.

Finally, part of the CTAG project will be to examine the role of public-private partnerships in wheat genomics and breeding research, resulting in development strategies to maximize return on research investment.

CTAG, managed by Genome Prairie, is the latest success for the U of S Crop Development Centre, which was formed as a partnership with the Saskatchewan Ministry of Agriculture in 1971. Today, the "CDC" prefix on varieties of most crops grown in Western Canada is well known to producers, industry, and customers as a mark of quality and performance.