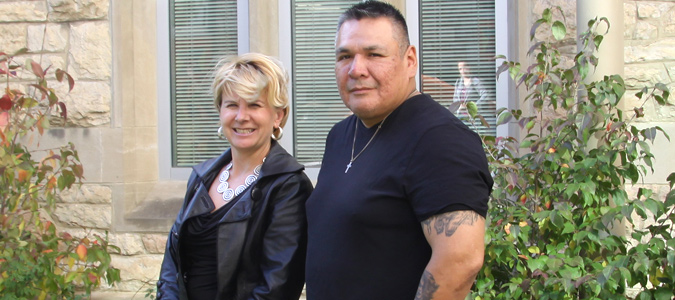 "Our child welfare system is broken, and we need to fix it." Tait says. "We need to begin to by ensuring that our child welfare system is ethical, that the system does not cause even more harm to vulnerable children and families."

Tait's recently completed film, "Child Welfare: The State as Parent," will kick off the event. The documentary is part of an "ethical toolkit" project funded by the Mental Health Commission of Canada and is directed by Douglas Cuthand, an award-winning Indigenous filmmaker from Saskatoon. Through the stories of survivors, it describes a child welfare system in crisis.

Following the screening will be a panel discussion with national and community partners sharing their expertise on child welfare. This will include representatives of STR8-UP, an innovative program run through the John Howard Society of Saskatchewan that works directly with and through community members on gang prevention. STR8-UP has been instrumental in helping Saskatoon gang members leave their colours and exit the gang life. Program founder Father Andrè Poulievre was awarded the Governor General's Award in 2009 in part for this work.

"Gangs have a persistent influence over many vulnerable young people in our community," Tait says. "Addressing this issue is not about harsher punishments and enforcement. It takes building connections with families and with communities, and addressing issues of poverty, racism and social exclusion."

"Our kids are dying and we need to do something to keep them out of gangs," says STR8-UP member Emil Brandon. "Those aren't the government's kids – those are our kids. STR8-UP is trying but we need more resources to do our work."

Despite its success, STR8-UP urgently needs funding and is seeking $150,000 in donations to continue its work for the next year. A silent auction featuring local artists' work and other donated items will be part of this fundraising drive. Donations earmarked for STR8-UP can also be made to the John Howard Society.

The documentary, panel discussion and fundraiser are a collaborative effort among the community, service providers and university. Event sponsors include the Saskatoon Foster Families Association, the Indigenous Peoples' Health Research Centre, the John Howard Society of Saskatoon and the U of S Women's Studies Research Unit, along with the Department of Native Studies and the College of Arts and Sciences at the University of Saskatchewan. Other donors include WestJet, Amigos Cantina, Canadian Tire, DLP Software, Dutch Growers, Earl's Restaurant, Escape Sports, Fabutan, Hot Yoga on 20th, Mint Clothing, Moxie's Classic Grill, Salon Guru, Turning the Tide and Wanuskewin Heritage Park.

This free public event begins at 6:30 p.m. on October 7th at the Neatby-Timlin Theatre, Arts Building 241 at the University of Saskatchewan campus. All are welcome.