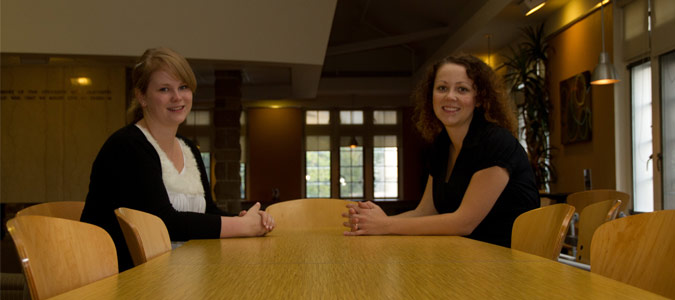 The University of Saskatchewan student initiative is run by students for students. Colleen Dell, a research chair in substance abuse and associate professor of sociology at the U of S, and Dr. Peter Butt of the College of Medicine and the Saskatchewan Ministry of Health, act as mentors, and the student committee receives support from the Canadian Centre on Substance Abuse, and the Saskatchewan Team for Research and Evaluation of Addictions Treatment and Mental Health Services.
Dani Robertson-Boersma and Katelyn Selanders are two of four students who are heavily involved in the initiative, which aims to create a binge-drinking prevention campaign.
"We don't want it to just be a poster campaign," said Selanders. "We really want to expand it as much as possible. Use social media, create events, give alternatives."
The acceptance and encouragement of drinking in campus culture is apparent to anyone who's spent time at a university: from fundraisers to student society events to sports games to recreation sports leagues. One survey of the prairie provinces in 2007-08 showed that about half of the respondents drank in the last year with risky drinking happening monthly, and one in five respondents reported risky drinking once a week. Risky drinking is when there are severe consequences as the result of the drinking, such as injuring yourself or others, having unprotected sex, or drinking and driving.
"In first year (students), binge drinking occurs in excessive amounts across the country and we need to bring that to light, to have those discussions," said Dell. "The initiative is looking at increasing awareness and knowledge, to have an understanding of what binge drinking is."
Unfortunately, understanding binge drinking is more complicated than one might think.
Selanders and Robertson-Boersma use the definition of five or more drinks within two hours for men, and four or more drinks within two hours for women "but that definition is really technical and it doesn't mean a lot," said Robertson-Boersma. Four drinks in two hours for one woman could be nothing, but another woman might be engaging in risky drinking after two drinks. "That's why we're doing the research and asking students what binge drinking is to them because we want to create a definition that fits our campus."
Definitions aside, most people know when they're getting to that point where their behaviour is getting out of control. "We're trying to work with students to find out what are the feelings and behaviours you notice in yourself when drinking is getting risky," said Selanders.
The students said they don't want to blame the individual, lecture, use scare tactics or suggest abstinence is the only answer. They want to focus on the positive aspects of moderation and control, such as maintaining healthy relationships and doing better in school. Most importantly, they don't want to come up with a campaign without involving students.
Their research for the campaign includes focus groups with students, and each focus group brainstorms campaign ideas, they explained. Once the campaign starts, students will have directly informed its shape. Some ideas that have come out of the first focus group include printing cartoons in
the Sheaf
, creating YouTube videos, instigating flash mobs, using Twitter and Facebook, and providing free water and cheap snacks at events where alcohol is served.
"This is a student issue or behaviour practice, so it's the students that are most aptly able to address it," said Dell. "I'm not a student, I'm not binge drinking, so they're best positioned to be dealing with that and addressing it. We know peer to peer works."
The intiative was created out of a senior-level sociology class about addictions in society that Dell teaches. Students created mock prevention campaigns, with groups in the class each focusing on some sort of addiction on campus. Robertson-Boersma was in one of the groups that chose binge drinking as a topic. Through their presentations and discussions in class, Dell suggested taking the mock campaign one step further. She offered paid summer positions to start working on the campaign, and four students stepped up.
Originally, the project was to be completed over the summer, with the campaign launching this fall, but the committee quickly realized they needed to do a lot more work if they wanted to make a difference.
"There has to be a culture of change and a culture of moderation, not just a one off kind of thing," said Dell. "It's a big job. You can see how it quickly becomes more than a one-year initiative."
The project has now grown in scope with a three-year research and implementation plan, a long-term goal of creating a how-to guide for other universities to create their own campaigns, and plans to share their research with policy-makers and other groups on campus.
This summer was spent writing a proposal, and now the students are conducting focus groups, quick surveys, and interviews with health co-ordinators, student representatives, and the managers of Browsers and Louis', where alcohol is served.
"It looks overwhelming and it feels overwhelming, but I think we'll get stuff done as long as we set up a base and foundation," said Robertson-Boersma.
Any student-led, long-term project has high turnover, but they've made a thorough proposal and kept logs of their work throughout the summer, knowing that someone is going to have to pick up where they left off. They are also hoping to start a campus club, which means they will have a constitution and elect executive members, giving the initiative that much more stability.
But it's not just about changing students' behaviour when it comes to binge drinking; the environmental aspect of the research is another important component.
"We need to get the administration on board in order for changes to happen," said Robertson-Boersma. "We want to create a healthy campus."
So far, the students have met with five different colleges, the USSU, a few different student societies, and the peer health educators, with more meetings planned throughout September.
In these early stages of the initiative, they are looking for administrative partners and 15 student volunteers who will be paid an honorarium for their help. Anyone interested in volunteering or learning more can contact the committee at bdprevention@gmail.com.