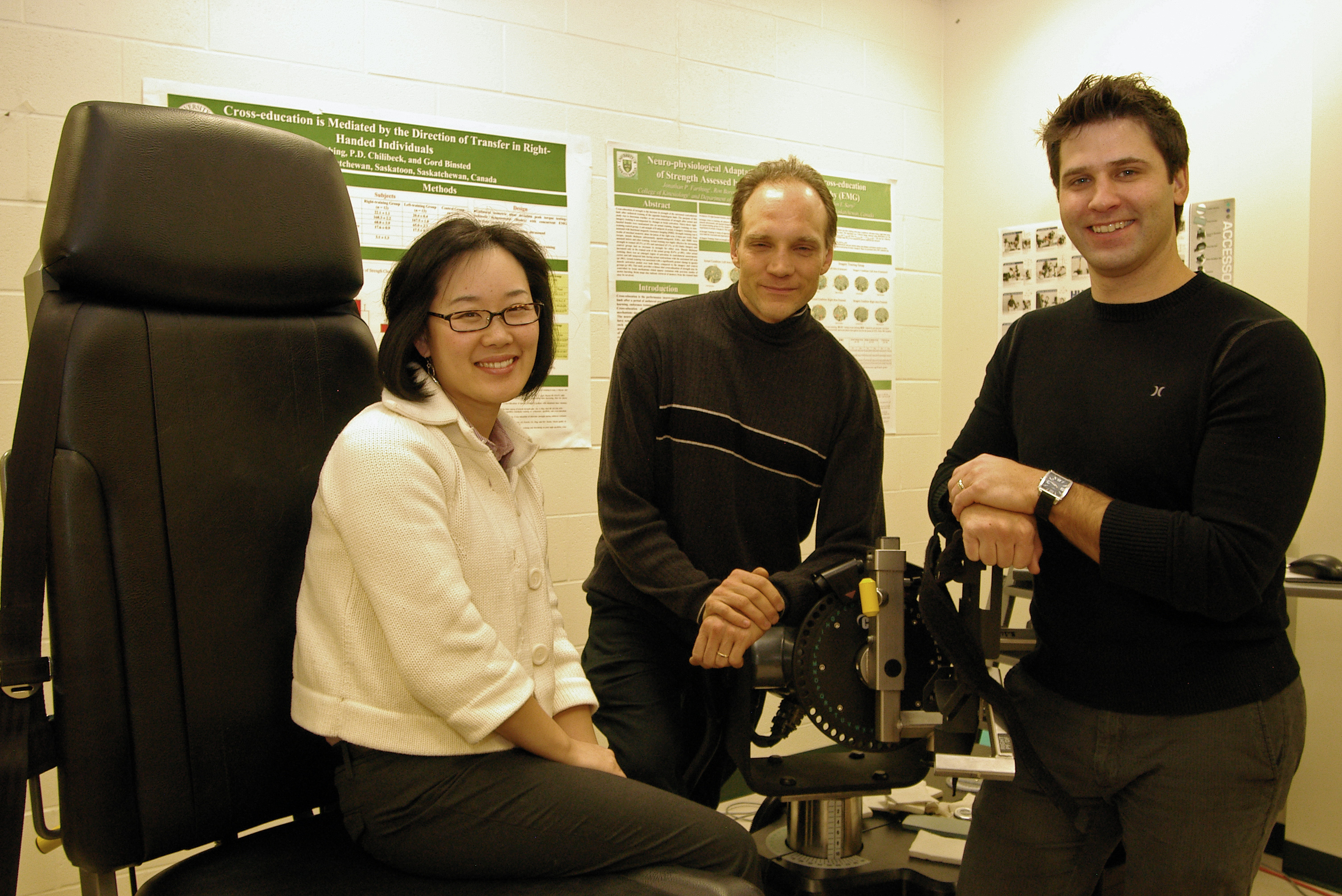 "This investment will provide the tools our researchers need to make an impact on our health and the health of our environment, the food that sustains us, and the shared cultural heritage that enriches our lives," said U of S Vice-President Research Karen Chad.
"Our government is investing in science and technology to create jobs, strengthen the economy, ensure that our scientists have the tools they need to be successful, and help Canada develop, attract and retain the world's best researchers," said Brad Trost, MP for Saskatoon-Humboldt. "I congratulate the University of Saskatchewan on its continued excellence in its research and development."
The successful recipients are:



Deborah Anderson
(Saskatoon Cancer Centre) and
Erique Lukong
(biochemistry) are studying protein movement and signaling processes in breast cancer cells. The goal is to better understand the molecular causes of breast cancers and identify promising cellular targets for new therapies.






Mary Buhr
(agriculture and bioresources) is trying to accurately predict a bull's fertility by understanding which proteins in sperm are most critical for successful fertilization.  This builds upon her recent work, which identified an enzyme that stimulates changes in sperm necessary for it to be able to fertilize an egg. Buhr's efforts contribute to increased efficiency in dairy and beef production.






Phil Chilibeck
(kinesiology),
Jon Farthing
(kinesiology),
and
Soo Kim
(physical therapy) are investigating weight training and nutrition to help older adults stay strong, preserve muscle mass, recover from injuries, and prevent osteoporosis. Using imaging technologies to assess muscle mass and hip bone properties, the team has found that creatine monohydrate – a widely used nutritional supplement – increases muscle mass and strength in older people and may also preserve bone density.






Anthony Kimaro
(agriculture and bioresources) is working with Prairie farmers to diversify their income and productivity by growing willows as a biomass crop on marginal farmland.  Biomass crops, used to produce energy, also offer promise as a way to sequester carbon in the soil. Once developed, these crops and associated industry could help farmers remain profitable through difficult seasons.






Darren Korber
(food and bioproduct sciences)
studies the impact and ecology of bacterial biofilms in food, industrial and environmental systems. Biofilms – multi-species communities of bacteria – are hard to control as they are resistant to sanitizers and disinfectants. However, these tough and resilient biofilms also play a crucial role in breaking down complex chemical compounds, making them useful in cleaning up environmental contamination. Better knowledge in this area will help improve safety and shelf life of food and help minimize the impact of mining activities on the environment.






Peter Robinson
(English),
Frank Klaassen
(history),
and
Brent Nelson
(English) are harnessing computer technology to develop online communities of scholars to allow access to a wide range of literary texts for study. There are, for example, 84 manuscripts and early printed texts of Chaucer's
Canterbury Tales, more than 800 manuscripts of Dante's
Commedia, and 5,000 of the Greek
New Testament. The initiative will create a new model of research partnership among scholars in universities everywhere.



The CFI is an independent corporation created by the federal government to fund research infrastructure.  This includes state-of-the-art equipment, buildings, laboratories, databases and other advanced tools.
The grants are provided through CFI's Leaders Opportunity Fund, which provides infrastructure support to Canadian institutions so they can attract and retain leading researchers at a time of intense international competition for knowledge workers.
For a complete list of the projects awarded, visit
www.innovation.ca
.