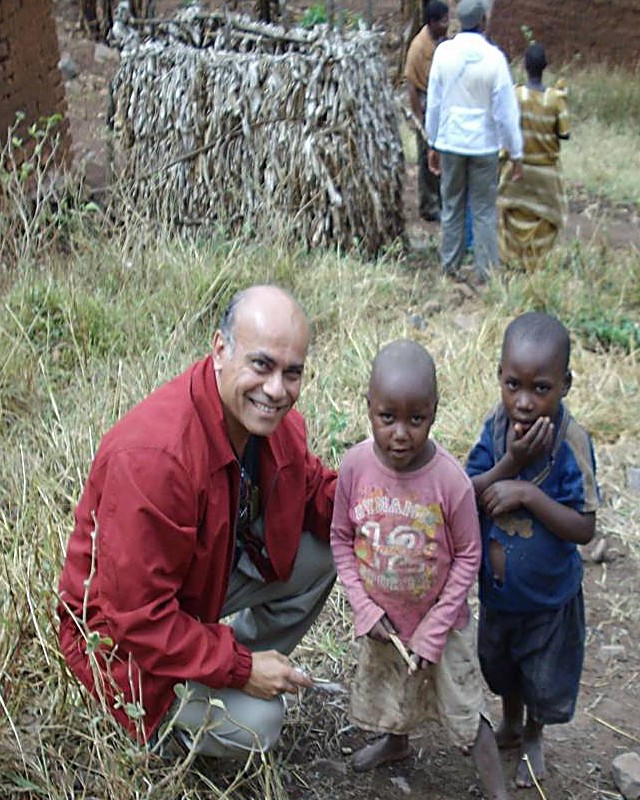 "Last time I was in Uganda, something amazing happened," says Adil Nazarali, professor of pharmacy. "I wanted to explore possible collaborations with the Mbarara University of Science and Technology (MUST) and was surprised to learn that the president of the university, Frederick Kayanja, is a U of S alumnus."
Nazarali has been travelling to his native Uganda with graduate students Rick Lorenz and Eisha Grant to work with the Foundation for AIDS Orphaned Children along with veterinary medicine professor, Dr. Claire Card, and associate professor of nutrition and dietetics, Carol Henry. Backed by funding from the university's Global Partners II (GPII) program, the team is assessing the needs and challenges faced by the roughly 1.2 million Ugandan children orphaned by AIDS.
In an area where the need for medical professionals is vast, Nazarali and Mbarara University are now developing an interprofessional course that will see U of S students spend six weeks in Uganda visiting a health site where they will learn about the Ugandan health care system and health management, and develop leadership skills.
GPII began in 2008 as a partnership between the U of S Office of the Vice-President Research and the International Development Research Centre (IDRC), which provided just over $212,000 of the nearly $400,000 budget.  The remaining funds were raised within the university.  The program has funded 33 projects, including nine graduate students.
Laurel O'Connor, assistant director of research services in the International Research Office, says that while many grant programs are highly competitive and involve large amounts of money for research already underway, GPII provided grants of up to $10,000 in "seed money" – small amounts needed by researchers to start the relationships that help get things off the ground.
This program, hosted and managed by the U of S, is serving as a pilot for the IDRC. The U of S is the only university to participate in this program to date.
Funding recipient Dr. Ron Siemens, a clinical assistant professor of pediatrics, appreciates the flexibility offered by the program.
"The joy of the funding is that we were able to do what we needed to do when we got on the ground in Africa.  You can't anticipate everything and this funding allowed us the necessary flexibility," he says.  Siemens is helping a new university in Mozambique develop community-based curricula and training in research principles for medical students.
Another recipient of GPII funding, Donna Rennie, professor in the College of Nursing, travelled with Josh Lawson, assistant professor of medicine, to Poland, Belarus and Ukraine where they are conducting asthma research.  For them, the GPII funding led to further in-kind donations in support of their research. The opportunity to take these preliminary steps in international research can lead to meetings that would not have happened without travelling, said Rennie.
Lisa Buchanan is a graduate student intern in the U of S Office of Research Communications.