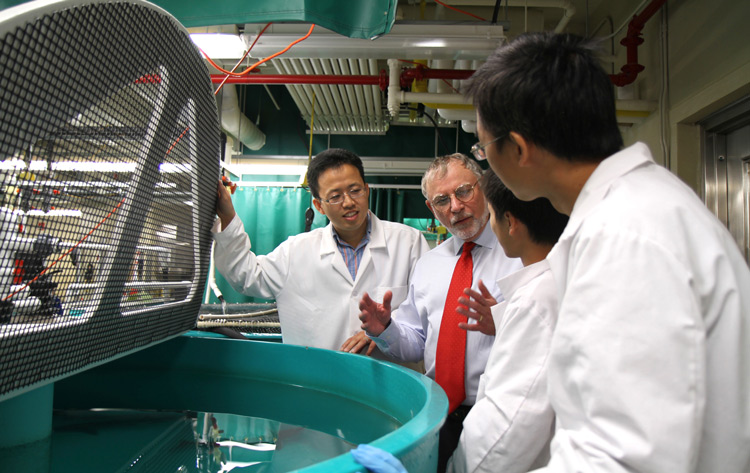 "Environmental stewardship is at the core of several of our signature areas of research at the University of Saskatchewan, particularly water security," said Vice-President Research Karen Chad. "The knowledge generated by Professor Giesy's work has a continuing impact on the health of millions of people around the world. This latest honour is extraordinarily well-deserved."

Giesy, based at the U of S Toxicology Centre, is one of the world's most prominent environmental toxicologists. In addition to his post at the U of S, he is an emeritus distinguished professor of Zoology with Michigan State University. He holds several honorary and active professor positions with universities in Hong Kong and mainland China, where he travels frequently to teach and lead active research programs.

Giesy's SCOPE-Zhongyu Lifetime Achievement Award was presented at the Annual SCOPE meeting in TaiYuan, China, October 18-21.

Giesy has published more than 840 peer-reviewed articles and is the second-most cited author worldwide in the combined fields of ecology and environmental science.

Among his many contributions, Giesy and his team developed a screening test for hormone disruptors in the environment. The test has been approved for use by the U.S. Environmental Protection Agency and is being adopted as a world standard.

His citation reads, in part: "John Giesy is among the world's most innovative and influential environmental toxicologists whose work in ecological risk assessment, including aquatic, wildlife, and avian toxicology, has had global impact. He has made tremendous contributions towards improving our environment through his exceptional scientific work and his commitment to promoting positive and tangible change in government policy and industry practice."

The SCOPE-Zhongyu Environmental Awards, established in 2010, recognize outstanding scientists who contribute to the improvement of the world environment through promotion of environmental sciences, technological advances, and research on best management practices.  Giesy is the first Canadian researcher to receive the distinction.

Founded in 1969, SCOPE is recognized as a source of authoritative, independent and influential scientific analyses and assessments of emerging environmental issues caused by or having an impact upon on humans and the environment.

SCOPE works with the United Nations Environment Program and the Food and Agriculture Organization of the United Nations to address a range of environmental issues.