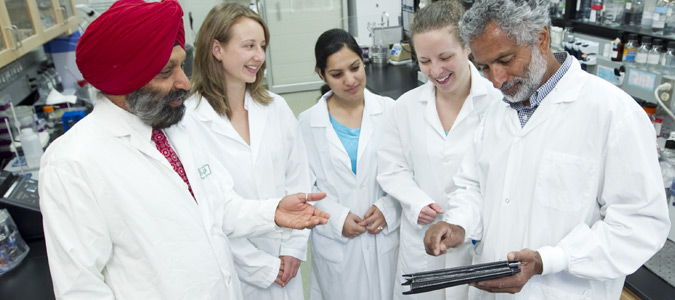 "This unique, forward-thinking program is the ideal fit for the U of S. We can link our infrastructure with our intellectual resources in one of our signature areas and put them to work directly for the benefit of people and animals around the world," " said U of S Vice-President of Research Karen Chad. The signature research area of "One Health" targets health solutions at the human-animal-environment interface.
The U of S will top up the NSERC contribution with $2.76 million in matching funds to create the integrated training program in infectious disease, food safety and public policy. Over the next six years, it will prepare more than 55 graduates for diverse careers in government, industry and academia.
The initiative specifically targets the private and public sectors' urgent need for highly qualified professionals to manage complex public health threats such as emerging zoonotic diseases (transmissible between animals and humans) and food-borne illnesses.
"When we consulted members of industry and government, they identified the need for people who are trained in infectious disease, microbiology or immunology but also have a clear understanding of food safety and public policy," said Baljit Singh, project leader and associate dean of research at the Western College of Veterinary Medicine (WCVM) at the U of S.
The program will be aimed at undergraduate and graduate students and postdoctoral fellows from Canada and abroad. The program's development team includes experts in epidemiology, infectious disease, vaccine development, immunology, microbiology, public health and public policy. Many will also serve as mentors for the program's students.
"Through this program, we will use integrated, experiential learning to train students in multiple disciplines so they can use their diverse knowledge to be creative in solving public health and food safety issues," Singh said. "We'll also develop a new set of courses that encourage students to think more globally when they tackle their own research projects."
Besides the WCVM, the program involves representatives from the U of S College of Medicine, School of Public Health, the Johnson-Shoyama School of Public Policy, the Vaccine and Infectious Disease Organization-International Vaccine Centre (VIDO-InterVac), and the Canadian Food Inspection Agency's National Centre for Foreign Animal Disease. Other public sector agencies and industrial partners will contribute to the program through work experiences and research collaborations.
The U of S is also collaborating with the Free University of Berlin in Germany and the Guru Angad Dev Veterinary and Animal Sciences University (GADVAS) in Punjab, India, to provide graduates of the program exposure to international research environments.
The program's first students will begin training in September 2012. Qualified applicants can enter the program as undergraduate students, or they can enrol in existing, thesis-based MSc, PhD or postdoctoral programs at the U of S and at partnering universities in Germany and India.
The federal CREATE program is designed to improve the mentoring and training environment for Canada's future researchers by improving communication, collaboration and professional skills, as well as experience in academic and non-academic environments.
For more on this story and research at the U of S, visit the
Research Communications website