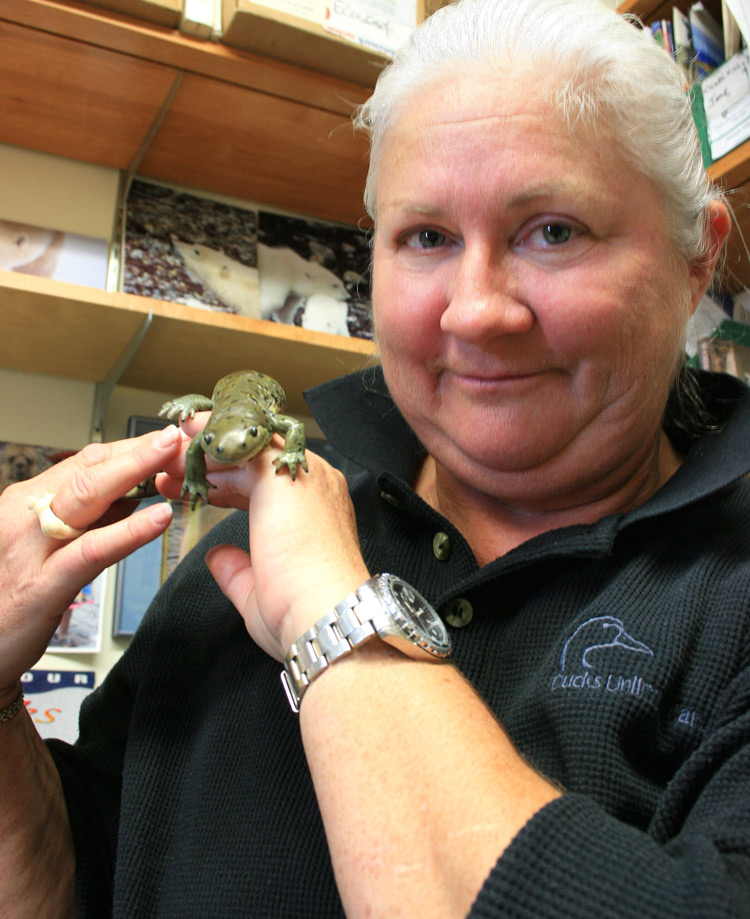 "We need to show our young people the role innovation can play in their futures, encouraging more young people to consider careers in science and engineering, making these grants an investment in Canada's future," said Gary Goodyear, federal Minister of State for Science and Technology.
"We welcome and applaud NSERC's support for these programs, which not only share research knowledge, but help create a thirst for education and discovery among young Canadians," said Karen Chad, U of S vice-president research.
The NSERC PromoScience program, which supports organizations that promote science and engineering with young Canadians, is providing $73,500 for the two U of S programs, part of $2.4 million awarded to 49 organizations across the country.
The Science Ambassadors program was established in 2006 by U of S computer scientist Julita Vassileva during her term as the NSERC/Cameco Chair for Women in Science and Engineering. The program provides practical, hands-on support for science teachers in Aboriginal communities, both in the classroom and with extra-curricular activities. Since its inception, the program has reached more than 3,000 students.
The ambassadors spend a month to six weeks in Aboriginal communities across the Prairie provinces. This year, 10 ambassadors are working in seven communities in Saskatchewan and Manitoba, taking advantage of a rich two-way learning opportunity that allows U of S students to experience life in the North and engage with Aboriginal culture and community.
Science ambassadors are senior undergraduate or graduate U of S students from the colleges of Arts and Science, Agriculture and Bioresources, Engineering, Education and Kinesiology.
They help science teachers by providing fun and accessible activities tailored to the interests of students. Highlights from 2012 include exploring 'the particle physics of popcorn,' concocting polymeric slimes and magnetically responsive fluids, investigating the effects of acids and bases on human teeth, building sound cannons that 'shoot' plastic cups, and exploring forces and geometry through hockey physics.
NSERC PromoScience will provide $50,100 over the next three years to augment funds from Cameco, (sponsor for the Science Ambassadors program since 2009) and the Saskatchewan provincial government. The program is currently under the leadership of Peta Bonham-Smith, vice-dean of science in the U of S College of Arts and Science.
Ecology Camps for Kids, now approaching its 20
th
year of operation, is a not-for-profit charitable organization that reaches more than 2,400 students annually, ranging from pre-school to college-aged groups. The program is led by Melanie Elliott from the Centre for Continuing and Distance Education.
"The idea is to get them outside and get them learning," says Elliott, who recently received the Queen's Jubilee Medal for community service. "It feels like summer camp, but all our programs are educational. Of course at that age, their curiosity is so great that everything becomes a teachable moment."
The popular summer program – typically fully booked by March – is offered to children eight to 12 years old, with one "junior leader" program for ages 13 to 17. Campers live an environmentally-friendly lifestyle, composting or recycling their lunch leftovers and hiking to their outdoor class locations in Saskatoon's Meewasin Valley, while learning about species diversity and endangered landscapes such as Saskatchewan's wetlands and grasslands.
In addition to the eight week-long camps offered each summer, the program offers grassland and wetland field trips in the spring and fall and ecology-based workshops all year round. The program employs upper-level university students in biology and education to help deliver its programming. NSERC PromoScience will provide $23,400 over the next three years to augment funds raised through program fees and in-kind donations.