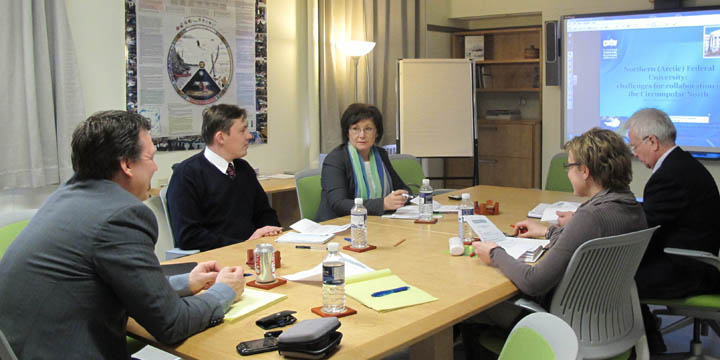 "This series of meetings was the start of what we hope will be a lifelong partnership," said Greg Poelzer, director of the International Centre for Northern Governance and Development (ICNGD). "Students and researchers in Arctic and northern studies can only stand to gain from cross-institution relationships that grant access to data, course options and opportunities that wouldn't otherwise be available to them."
After being identified as a national leader in Arctic research initiatives, the U of S was one of only a handful of Canadian universities selected as a stop for the visiting delegation of top Arctic researchers from NArFU, based out of Arkhangelsk, Russia. The group was on campus March 4-6.
The delegation, which included NArFU's vice-rector of international co-operation and lead of the University of the Arctic (UArctic) Research Office, were interested in exploring research and program collaboration in the areas of high technologies; science intensive sectors and industry; development of local infrastructure in the Arctic region; bioresources; northern (Arctic) medicine and health protection; environmental protection; and socio-humanitarian issues in the European north and the Arctic.
"We've already opened a dialogue on a few topics that affect both of our regions and where we can definitely learn from one another," continued Poelzer. "We see room to work together on issues like maximizing regional returns from new technologies in northern non-metropolitan communities and identifying new economic and social opportunities."
NArFU has joined the ICNGD-led UArctic Thematic Network on Northern Governance and Development and expressed its intention to send a few of its top graduate students to the U of S to enroll in the international stream of the ICNGD's master's program.
The visitors also said that visiting professorship opportunities exist at NArFU and that U of S professors are welcome to apply, said Poelzer. Interested faculty members should visit the
ICNGD website
.
Colleen Cameron is communications co-ordinator for the International Centre for Northern Governance and Development