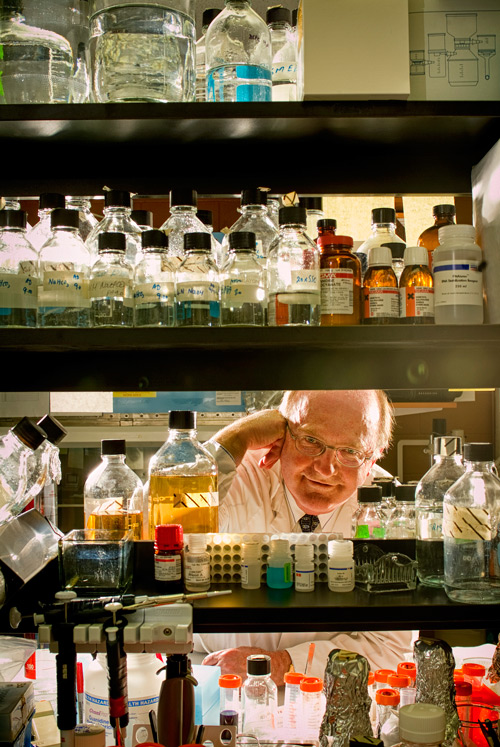 Next to the Nobel Prizes, Canada Gairdner Awards are considered the most important international biomedical honours. In fact, one in four past recipients has gone on to receive a Nobel Prize. Babiuk, currently vice-president research at the University of Alberta, has been honoured with the $100,000 Canada Gairdner Wightman award, a special award to a Canadian who demonstrates "outstanding leadership in medicine and medical science through his/her career."
Babiuk, who earned three of his four degrees from the U of S and served as a U of S Canada Research Chair, is cited for "extraordinary national and international leadership in vaccine development and research on human and veterinary infectious disease control."
"Lorne's creative and resourceful leadership—the hallmark of University of Saskatchewan research—has led to many vaccine and infectious disease discoveries that will have an impact on improving animal and human health for decades to come," said Karen Chad, U of S vice-president research. "His work and its continuing legacy are helping to put the University of Saskatchewan—already home to veterinary, agricultural and medical schools—at the forefront of integrating human, animal and ecosystem health to address threats to the 'one health' we all share."
With 36 issued patents and 13 pending, Babiuk led a VIDO team that developed six livestock vaccines that were world firsts, including the world's first genetically engineered vaccine for an animal species. Known for applying animal research to human diseases, he created a vaccine against rotavirus in calves that enabled researchers to later develop a vaccine against the viral bowel infection in children.
Babiuk was lead investigator on a $5.6-million (U.S.) Bill and Melinda Gates Grand Challenge in Global Health grant to develop a single dose, needle-free vaccine against whooping cough in infants and young children. U of S research is now underway to apply this new vaccine delivery technology to other diseases.
In 2005, Babiuk spearheaded a $19.4-million expansion of VIDO. Prior to leaving VIDO in 2007, he created the vision for the International Vaccine Centre (InterVac), a $140-million level three biocontainment facility—one of the largest of its kind in the world—that will advance the next generation of vaccines to protect animal and human health in Canada and around the world.
Part of VIDO, InterVac was officially opened in September 2011 by Prime Minister Stephen Harper, Premier Brad Wall and Mayor Don Atchison. InterVac targets many emerging and re-emerging diseases, the majority of which originate in animals, including pandemic influenza, West Nile virus and tuberculosis.  More than 30 diseases have newly emerged or re-emerged over the last 30 years, and 70 per cent of them have been transmitted from animals to humans.
Babiuk chairs the board of PREVENT (Pan-Provincial Vaccine Enterprise Inc.), a national centre of excellence located at VIDO that fast-tracks vaccine development for diseases of major public health concern.
Gairdner awardees will travel across Canada this fall giving a series of public lectures.  An awards presentation gala event will take place Oct. 25 in Toronto.
"Being recognized by the Gairdner Foundation is a tremendous honour because I consider it to be one of the top awards in the world," said Babiuk. "It really is very elite company. It's hugely humbling and very rewarding to be able to receive this recognition."
For more information about the Canada Gairdner Awards, visit:
http://www.gairdner.org/
  For more information about U of S VIDO-InterVac, visit:
http://www.vido.org/
  Watch InterVac videos at:
http://www.usask.ca/research/communications/multimedia/videos.php