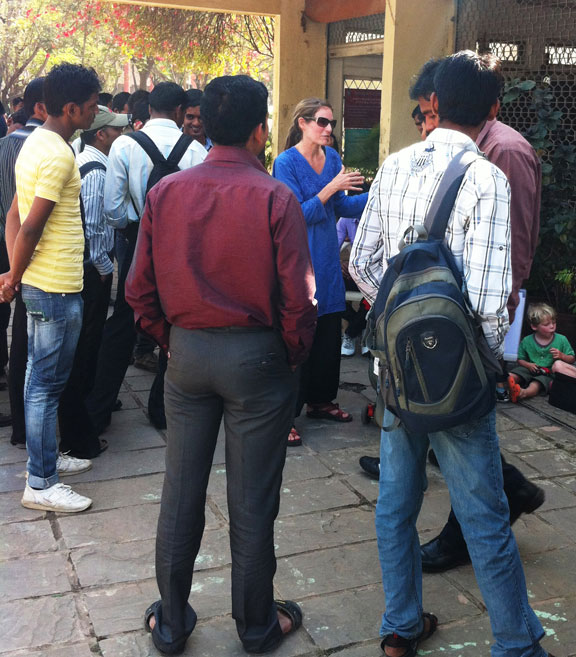 Study after study has shown that immigrants arriving in Canada with academic credentials are doing worse compared to earlier immigrants in terms of income and levels of satisfaction, explained Walsworth, assistant professor and Hanlon Scholar in International Business in the Edwards School of Business. "We've all seen the cab driver with a PhD. They come here with the expectation of earning a lot of money, expecting the streets are paved with gold and they end up driving a damn cab, cleaning rooms, bussing tables."
Skilled immigrants are often the first in their family to come to Canada, and they come alone, said Walsworth. "They're incredibly brave" but they appear not to be communicating the realities of life, including the challenge of finding employment in their chosen field, with friends and family in their home country.
In an effort to get to the root of why they appear so unprepared, Walsworth and his colleague and wife Somerville, an assistant professor of sociology and associate member in the Johnson-Shoyama Graduate School of Public Policy, devised a study to survey university students in India. The survey explored what they know about life in Canada, how long they expect finding a job will take, what they expect to earn and even if they would ever see themselves taking a lesser job.
For Walsworth, whose research centres on labour markets, and Somerville, who explores identity across borders, "this issue is the meeting place of our work."
After three years of planning, Walsworth, Somerville and their four boys aged 18 months to seven years left for south India last December. Their plan was to make their way north visiting universities and surveying 200 of the best students in the country, those most likely to immigrate. By the end of the trip three months later, they had stopped at more than 15 campuses in Trivandrum, Bangalore, Margoa, Mumbai and Delhi, and had mastered the art of conducting their survey.
The first hurdle was getting onto Indian campuses, said Walsworth, but identifying themselves as professors from Canada opened many doors. Then it was a matter of "hanging out in front of buildings and approaching students" but that didn't prove to be too successful.
"At first I'd go alone but I guess I'm not that approachable. Then we tried all of us going together. Essentially we used the kids as bait," he said, "because blond-haired, blue-eye children hold something of a fascination in India. They really broke down borders and gave us a chance to say a few lines."
The combination of children and white university professors was almost irresistible, and Walsworth and Somerville found themselves warmly welcomed. They specifically targeted schools where the students' degrees made them relatively mobile – agriculture, business, engineering and social science schools – and ended up completing 500 surveys "although the students would do the survey with the understanding we could talk a bit afterward."
The survey data is not yet compiled but Walsworth and Somerville did make some initial observations. The students were fascinated by western culture, he said, "by the MuchMusic culture and the stories of wealth, but the thought they'll come to Canada and drive a cab or clean hotel rooms is absurd."
And while many of the students were communicating with people in Canada "there's some weird black box around the economic information." Immigrants are often viewed as the winners who are able to leave home for a better place and Walsworth suspects there is an element of family pride and personal shame that prevents them from sharing the realities of their situation.
Some blame can also be laid at the feet of the immigration consultant industry in India – "they're the ones feeding people with these ridiculous expectations."
Another issue related to the economic success of immigrants could be that Indian university degrees are not well respected in Canada. Walsworth is curious as to whether the data will show that a better strategy for the students might be to earn their degree here.
Walsworth expects three journal papers to come out of the research, with findings that may eventually influence policies and programs that address issues like foreign credential recognition. "In some ways, this is a very satisfying area of research, seeing others who can take that intellectual leadership and put it to use." That said, he believes the U of S could do more to support out-of-country research that holds so much potential back home.
The India trip was difficult to organize, largely because India shares Canada's academic calendar so the two had to be away from their teaching responsibilities to conduct their research.
"I recognize it's a challenge for the department but there needs to be more support, more flexibility. We were privileged to be able to go and do this research but it also comes with tremendous responsibility in the form of meaningful papers in peer-review journals. It's worth it for the university to have its faculty out there travelling. It's the only way we're going to truly internationalize the university."
Research travel with kids
Scott Walsworth has some advice for researchers considering travelling with their children: "Just do it. It seems scary but once you get out there, it's a wonderful experience."
Even though Walsworth and Kara Somerville, who took their four young sons to India with them, are experienced travellers in the developing world, "there were parts of every day that were difficult – finding food for the kids, or a green space where they could run and play." And it was certainly no holiday when all four children were sick early in the trip.
Their philosophy, explained Walsworth, "was to put the kids in positions where they would ask questions." That meant visiting non-governmental organizations and slums "where the kids saw people who were happy, who were having relationships with each other but were certainly poor by our standards. The message for the kids was that money and happiness are separate."