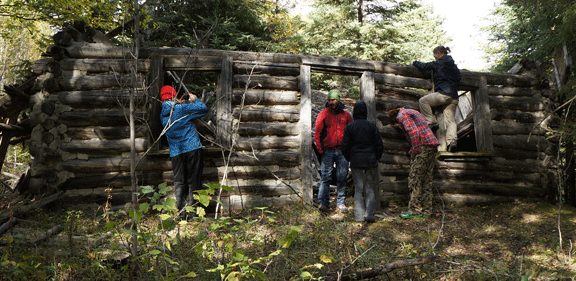 "This year, we overhauled the course content for our class Human Dimensions of Environmental Change to include a trip where students are immersed in a place and learn from local residents what environmental issues they are facing," explained Merle Massie, a SENS post-doctoral fellow and course instructor. Massie co-teaches the class with Douglas Clark, assistant professor and Centennial Chair in Human Dimensions of Environment and Sustainability.
"We chose to take the students to the Kenderdine Campus and the boreal forest region of northern Saskatchewan to learn the history of the area from many different perspectives," said Massie. "Rather than reading from a textbook, it creates a much richer learning environment when a student has been to a place and can understand from experience what it looks like, and can really feel what it is like to be there. It creates a sense of place."
The students draw from the field trip experience to develop what is called a resilience assessment of the region, explained Massie. A resilience assessment looks at the ability of a place or community to withstand stress like forest fires or development pressures. The field trip helped the students determine what pressures are of particular importance in the local view.
The group toured the Prince Albert Historical Society Museum, a fur trade-era freight trail, a First Nations heritage site and an abandoned homestead from the 1930s. They also walked the Kenderdine Campus trails at Emma Lake. A local person or
U of S expert led each excursion.
"Students were presented with different present and past human interactions with the region. We encouraged alternative ways of experiencing nature and the environment. For one trail exercise, led by Kenderdine Campus Director Paul Trottier, the students walked blindfolded through the forest to gain a different awareness of their surroundings," Massie said.
Other excursion leaders included Allan Casey, an Emma Lake resident and Governor General's award-winning author; Brian Lee, a Métis elder; award-winning author and
U of S professor Bill Waiser; and Gord Vaadeland, a rancher and sidekick on the popular wilderness survival show
Mantracker
.
Rather than traditional data collection methods, students kept field diaries, and were encouraged to take photos, video and audio recordings to capture and document the weekend.
"We hope to have the final resilience assessment available for viewing online and include the field trip videos, photos and stories to give a complete picture of the research that went into the project," said Massie. "A paper report that sits on a dusty shelf somewhere is not helpful to anyone. We want this research to be accessible and useful for the community."
Meagan Hinther is communications specialist in the School of Environment and Sustainability and the Global Institute for Water Security