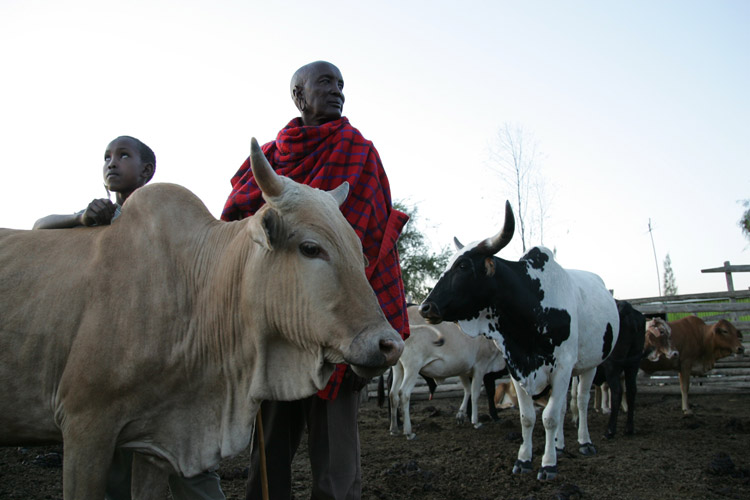 One project, led by VIDO-InterVac, is a 30-month initiative aimed at developing a vaccine for contagious bovine pleuropneumonia (CBPP), one of the most economically important livestock and trade diseases in sub-Saharan Africa. More than 24 million people are at risk from its effects and the economic impact has been estimated to be $2 billion per year.
"This grant will further VIDO-InterVac's long-standing contribution to food safety and security and increase the sustainability and economic competitiveness of the livestock sector," said Andrew Potter, VIDO-InterVac's director.
The project has recently been awarded a total of $3.4 million from the Canadian International Food Security Research Fund with financial support from the International Development Research Centre and the Canadian International Development Agency. Kenyan partners include the Kenya Agricultural Research Institute (KARI) and the International Livestock Research Institute (ILRI).
By developing a subunit vaccine for CBPP, researchers hope to control the cattle disease. Subunit vaccines use only those parts of the microbe (the antigens) that stimulate the immune system, thereby causing fewer adverse reactions.
"This is an exciting opportunity to leverage the similar mandates of VIDO-InterVac, ILRI, and KARI," said Dr. Ephraim Mukisira, director of KARI. "We look forward to this collaboration in helping control this devastating infectious disease and increase food security in Africa."
The Kenya event also marks the launch of a $3.1-million project led by Lorne Babiuk at the University of Alberta with partners at VIDO-InterVac, the Agricultural Research Council in South Africa, and the National Centre for Foreign Animal Disease in Winnipeg.
The goal is to develop an inexpensive, heat-resistant vaccine to protect cattle, sheep and goats from five major infectious diseases. A second vaccine to combat a highly contagious disease, African swine fever, is also being developed. Infectious diseases are the single most important cause of economic loss in the agricultural livestock sector worldwide.
"Finding vaccines to keep livestock protected against infectious diseases is vital for food security in Africa, particularly at a community level," Babiuk said. Much of the research will be done at VIDO-InterVac where Babiuk maintains a lab and collaborates with many researchers.
Volker Gerdts, associate director of research at VIDO-InterVac, said, "These collaborative approaches to vaccine development increase our potential for success and this in turn will have a great impact on improving the economic potential of many farmers."
Canadian students will have an opportunity to work at KARI and ILRI where they will gain a deeper understanding of challenges facing the livestock industry in developing countries and a better perspective on research capabilities and possibilities in the developing world.
About VIDO-InterVac
: Created in 1975, VIDO-InterVac is a research organization of the University of Saskatchewan with operating support from provincial and federal governments, as well as industry grants. VIDO-InterVac holds numerous patents, has developed eight commercial vaccines, and
held two NSERC Research Chairs in food safety. With c
ontainment Level 2 and 3 facilities and a 160-acre research station, VIDO-InterVac is well positioned
to enable scientists to get one step closer to finding solutions to some of the world's most dangerous infectious disease threats.