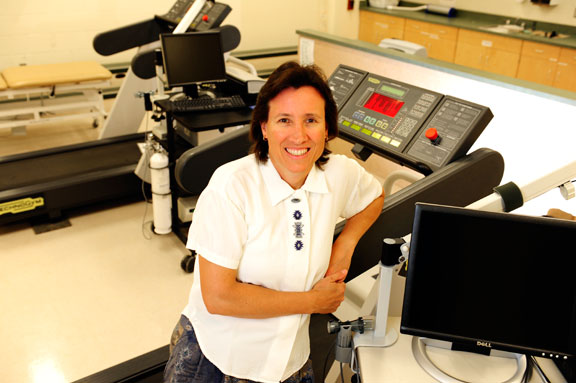 Sandra Webber, assistant professor in the School of Physical Therapy, is researching various methods of rehabilitation to improve mobility and minimize pain for those who have undergone joint replacement surgery that results from arthritis. "We want to make sure that the current surgical and rehab procedures are meeting the needs," explained Webber, who, with funding from the Saskatchewan Health Research Foundation, is now testing the effectiveness of an AlterG positive pressure treadmill.

"This treadmill is quite new. It's only been around for about three years and there are only five in all of Canada. It is more common in the U.S. where it is used for rehab for athletes," she explained.

What sets the AlterG apart from other treadmills is the air pressure chamber that encloses it, explained Webber. "This allows you to adjust the pressure around the treadmill and the lower half of the body. This means you can have less than full body weight while using it."

This is important for "lower extremity surgeries, so people can walk and run while still in the healing phase because it provides weight support and reduces joint force and muscle requirement." This is a step forward from pool rehabilitation or harness systems "that are uncomfortable and don't allow for the ability to so accurately adjust weight changes during the rehab process."

The first study Webber has planned is focusing on total knee replacement surgery patients.  "There are about 38,000 knee replacement surgeries each year in Canada (and) those numbers, partly related to the aging population, are on the rise in Canada and Saskatchewan."

Patients participating in the study will have three sessions with Webber and the AlterG. "This is the first controlled study to measure cardiovascular and metabolic responses in patients aged 50 to 80 under positive pressure conditions. We want to determine the safety and effectiveness of the treadmill."

At the end of the three visits, Webber and her team will have information on heart rate, blood pressure, metabolic rate, the distance and duration patients can walk, the amount of pain experienced and how changes in weight conditions affect all of this.

Webber thinks this treadmill may help increase activity levels post-surgery as well. "I am not convinced we are doing enough to change lifestyle after the surgery. We are reducing pain but are they any more active? I hope this research will lead to new protocols to promote activity sooner after surgery."

Webber also hopes to "show that these air pressure conditions are not only safe to use with older patients, but also beneficial.  Next we can determine if it is an appropriate rehabilitation tool for use in other patients groups, for example after hip fracture or in people with neurological impairments that affect balance."