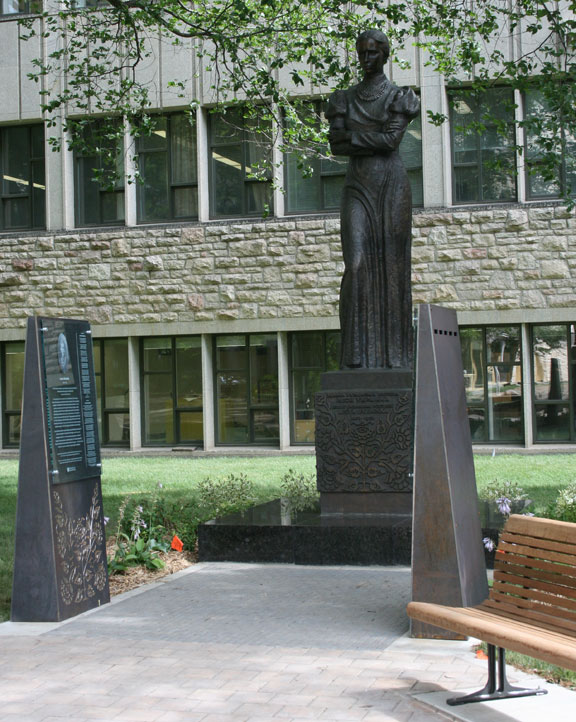 Born Larysa Petrivna Kosach-Kvitka in 1871, Ukrainka was one of Ukraine's best-known poets and writers and the foremost female writer of Ukrainian literature. As a feminist in the late 19th and early 20th century, she was concerned in her works with the role of women in family and society.
Originally unveiled in October 1976, the statue was a gift to the U of S from the Association for Cultural Relations with Ukrainians Abroad in the USSR. The group also donated 500 Ukrainian books to the Murray Library. The statue, an important marker of Ukrainian heritage and culture on campus, stood just west of the Murray Library until its relocation to the garden in early June.
Today's event featured remarks by Ken Ladd, acting dean of the University Library, Andriy Hladyshevsky, Q.C., president of the Ukrainian Canadian Foundation of Taras Shevchenko, and a recitation in English and Ukrainian of Ukrainka's well-known poem
Contra Spem Spero
.  Features of the garden include bench seating, the extension of Wi-Fi from the main library, as well as donor and historical plaques contextualizing the statue and the development of the garden space.
"Through the generous support of our donors, we have developed a new and welcoming entrance to the Murray Library," said Ladd. "It is one that preserves and showcases an important part of the university's history and Ukrainian heritage."
The statue's move and  the creation of the new garden was funded by a number of donors, including Victor Buyniak, former head of the U of S Department of Slavic Studies, and the Winnipeg-based Shevchenko Foundation. The project is part of the continuing transformation of the University Library and is endorsed by the Ukrainian Canadian Congress (Saskatchewan Branch).
As part of the garden project, the statue underwent a much-needed restoration. Professional conservator Sharon Deason provided careful cleaning, detailing and waxing prior to the statue's installation in its new location.