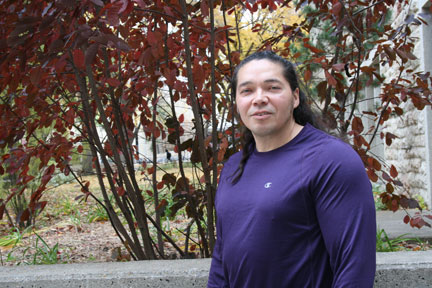 "I see great potential for many different research opportunities," said Hansen, an assistant professor in the Department of Sociology. "In fact, since I've been here, I've applied for and I've received four different internal research grants."

Hansen is one of the first beneficiaries of a formalized research mentorship program aimed at fostering the research success of new tenure-track faculty at the U of S. The program was developed with the leadership of Jim Thornhill, under the auspices of the Office of the Vice-President Research and Office of the Provost and Vice-President Academic.

Rolled out in July 2012, the program matches new faculty members with a mentorship team of more experienced researchers who provide advice, guidance and support. The program offers twice-a-year workshops for new and established faculty on various topics, plus an annual workshop to train mentors. Mentorship teams are personalized for each new faculty member who help them create and implement a five-year research plan.

Colleen Dell is a professor and Research Chair in Substance Abuse. When she was approached by sociology department head Terry Wotherspoon to be on Hansen's mentorship team, she embraced the chance to pass on some of her hard-won knowledge as a researcher.

"I didn't really have anyone mentoring me then (at the beginning)," Dell said. "I think there are a lot of things that I would do differently, so I passed them along to him."

She saw the relationship as a good fit, professionally and personally, as her research areas of Aboriginal justice, health and addictions intersect with Hansen's interests and experience. On a personal level, he was filling a position left open by her friend and colleague professor Patricia Monture, who passed away in 2010.

Dell explained that as opportunities came up to apply for grants, she would pass them along to Hansen, together with examples of her own successful grant proposals to agencies like the Canadian Institutes for Health Research.

"I'm very fortunate in that I have this great faculty, this great mentorship team," Hansen said. "They give me excellent advice on how to go about approaching grants, they give me concrete examples of successful grants, and I'm able to devise my own by them showing me and taking the time to walk me through it."

In addition to his internal grants, Hansen has co-authored a paper with Wotherspoon on the Idle No More movement.

Dell also cautions the mentorship team's protégé to be wary of success. Every grant is a project that must be completed within a specific time frame, and too many projects can quickly overwhelm a new researcher.

"Put in a grant proposal or two and keep them exploratory while you put your time into assembling your teams," Dell advised. "Consider whether you should be putting your time into writing an article for a publication rather than a grant. You can always adapt that material for a future proposal."

Administration, hiring research assistants, establishing and maintaining contacts with community partners, maintaining teaching commitments – these are the nuts and bolts of building a research program that aren't taught in school, Dell explained.

"If you get a bad hire and you have too many grants, your life gets out of balance and that's not good," she said. "You're not happy in your job and you're not productive in your work."

Hansen is already looking at future research directions, exploring questions like overrepresentation of Aboriginal people in jails, bias in the criminal justice system, addictions among Aboriginal people, and historical issues such as residential schools and government policies.

"Many different things inspire me," Hansen said. "Sometimes I see there's something not right going on in the world and then I just have an interest to research, 'Why is that happening?' 'What can we do to change it, and how can we stop it from happening again?'"

Dell explained that formal mentorship may be all the more important with community based research, which builds crucial connections but often takes faculty out of the office and away from their colleagues. This means the "coffee chat" and other natural spaces for mentorship no longer exist to the extent they once did. Connecting experienced researchers with new faculty helps fill this void.

"It's very fulfilling to be able to share with them (protégés) and protect them from some of the hardship, struggles and frustrations that I went through and didn't necessarily have to.

"I don't know if we realize how fulfilling it is. I mean, we're all here to be teachers, and with mentoring, you get to do it to help your colleagues."