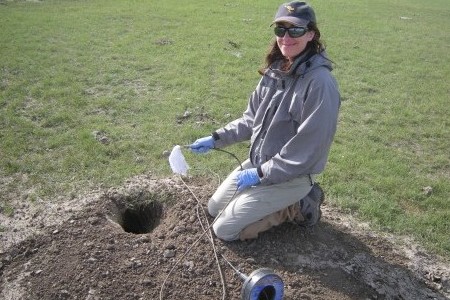 Most people don't realize plague is still around. Humans can contract the disease by being bitten by infected fleas, but plague today is easily treated with antibiotics.
In the U.S., there have been roughly seven human cases per year over the past decade. In Canada, there have been no confirmed cases since the last human death from plague in 1939. In my work in the park's prairie dog colonies, rattlesnakes and black-widow spiders are more of a hazard than plague.
Though the fleas that spread plague can live on other species, they prefer black-tailed prairie dogs whose only Canadian habitat is in Grasslands National Park. My job is to catch and count the fleas.
I thread a square of white flannel clipped to the end of a plumber's snake into a burrow.  Known as "burrow swabbing", this is an inexpensive and efficient way to capture a relatively large number of the insects.
The fleas are sub-merged in saline solution, frozen and sent to the National Microbiology Laboratory in Winnipeg where they're sorted and tested for
Yersinia pestis
— the plague-causing bacteria.
Focusing on the fleas makes it easier to look at year-to-year variations and the prevalence of plague on these prairie dog colonies.
"It gives a pretty good snapshot of whether plague is out there in the environment," says my research supervisor and Parks Canada veterinarian Dr. Todd Shury.
In the U.S., plague is a problem among prairie dog communities, with 95 to 100 per cent of animals dying within two to three weeks of the initial infection.
In 2010, researchers with the Calgary Zoo's Centre for Conservation Research were conducting research on the Grasslands park's prairie dog colonies when they came across an unusual sight—a dead prairie dog.
When U of S veterinary pathologists examined the remains, they found the animal had died of plague – the first finding of plague in rodents in Canada since 1988. Parks Canada staff sprayed an insecticide into burrows on roughly a third of the prairie dogs' habitat—a preventive measure that is repeated annually.
No further cases of plague have been discovered in Canadian prairie dogs. "It's still unclear how much of an effect plague is having on the population of prairie dogs in the park," says Shury.
It is possible that plague has always been present in low levels in the park and for some reason --such as insufficient numbers of fleas—it doesn't cause widespread outbreaks here.
We do know that if the prairie dogs were to die off from plague, the endangered black-footed ferret, which depends upon prairie dogs for food and upon their burrows for shelter, would also disappear from Canada.
While more research is needed on the potential threat to prairie dogs, people can still safely come out to the park to see the prairie dogs and enjoy the park. But to prevent the spread of fleas, Shury recommends using a DEET-based bug repellent and leaving pets at home.
Funding partners for my work include the Western College of Veterinary Medicine's  interprovincial undergraduate student summer research program, Parks Canada, and the Calgary Zoo's Centre for Conservation Research. Visit explore.org to see remote footage of the prairie dogs' colonies.
Sarah Champagne is a fourth year veterinary student working this summer with the U of S SPARK (Students Promoting Awareness of Research Knowledge) program. This article first ran as part of the 2013 Young Innovators series, an initiative of the U of S Research Profile office in partnership with the
 StarPhoenix.