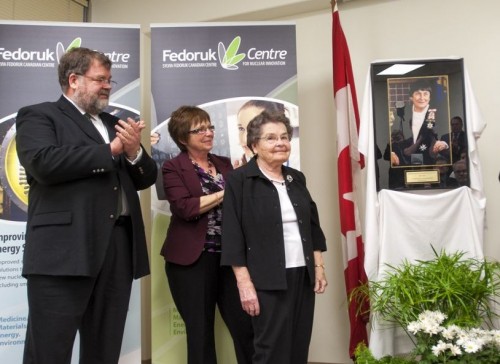 "The Fedoruk Centre is pleased to be providing support to these talented research leaders, who stepped forward with their ideas to advance our knowledge in nuclear medicine, materials research, energy research and the social environment as it relates to nuclear issues," said John Root, the Fedoruk Centre's interim executive director, at a funding announcement Jan. 15.
The event included the unveiling of the centre's new logo and a portrait of Fedoruk, former lieutenant governor of Saskatchewan and nuclear medicine pioneer at the U of S who died last September
Five research projects, four from the U of S and one from the University of Regina, will receive $485,000 from the Fedoruk Centre over the next two years. This funding leveraged an additional $773,000 in cash and in-kind contributions from the research teams and partner organizations, bringing the total value of the research projects to over $1.2 million.
The grant recipients are:


Paul Babyn, head of medical imaging at Royal University Hospital and the University of Saskatchewan's College of Medicine. He and co-applicant Carl Wesolowksi are developing a new technique to better assess kidney function using medical isotopes, for earlier detection and better treatment of kidney disease as well as more precise use of chemotherapy;


Zisis Papandreou, Department of Physics, University of Regina. Papandreou and his research team are working with scientists from Jefferson National Laboratory in the U.S. to improve a radiation detector called a Silicon Photomultiplier to make it more effective for a variety of medical, industrial, transportation and security applications;


Scott Bell, Department of Geography and Planning, U of S, along with Loleen Berdahl of the U of S Department of Political Studies.  Bell and Berdahl will establish a Nuclear Industry Policy Research Unit to examine the opinions and attitudes of business and the public regarding nuclear research and development;


Ian Burgess, Department of Chemistry, U of S. Burgess is teaming up with researchers from the National Research Council's Canadian Neutron Beam Centre and the University of Guelph to use neutrons to study electrified surfaces ranging from cell membranes to batteries; and


Chijin Xiao, Department of Physics and Engineering Physics, U of S, and Canada Research Chair Akira Hirose. Their project focuses on developing new fuel delivery technology for future nuclear fusion reactors.