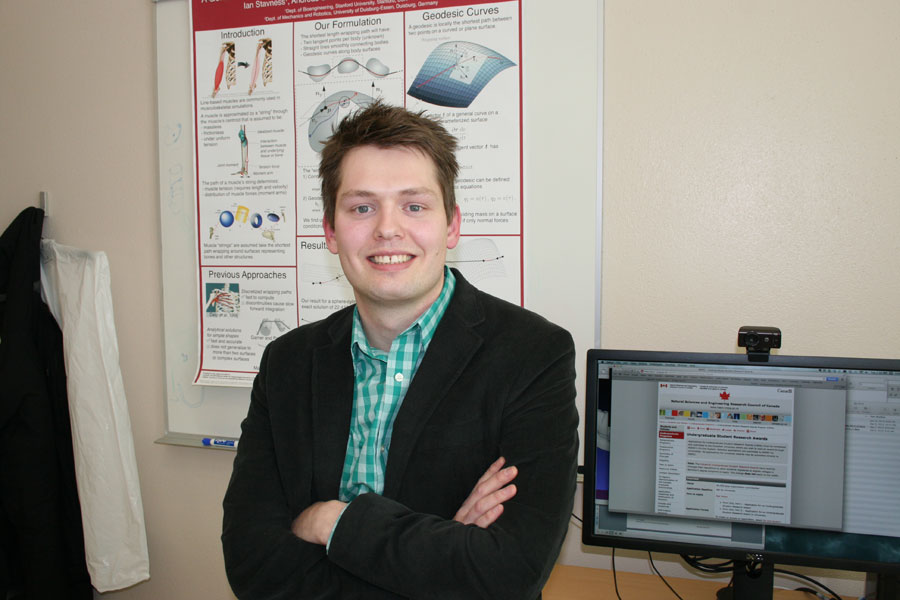 Stavness, an assistant professor of computer science, is working with colleagues in medicine and kinesiology to build a facility at the U of S that will produce digital representations of human bodies including computer simulations and 3D visual displays. The goal is to develop biomedical applications to help with the detection, diagnosis and treatment of movement disorders.

"There are a lot of very advanced imaging techniques available now but in an MRI, for example, you have to be very still," explained Stavness who earned a degree in electrical engineering from the U of S before completing advanced degrees in computer and bioengineering at UBC and Stanford. "An MRI gives you a nice 3D image but it doesn't show the moving whole. We want to make those static pictures move."

Using computers, cameras and sensors combined with extremely accurate measurements from conventional imaging techniques, Stavness is able to generate simulations or animations of the moving human body. "With these, we can make predictions about how movement is generated" and what causes movement problems.

Stavness' particular area of interest is movement issues in the head and neck. "From an engineering perspective, this is a very complex area of the body with a lot of soft tissue and muscle. There are also some very compelling medical problems like swallowing disorders and speech deficits. With swallowing problems, we can do video fluoroscopy and CT scans but again, they're static so we use simulations or animations to fill in the blanks."

The facility under development in the Thorvaldson Building, called the Laboratory for Computational Synthesis of Humans and Objects or Computational Synthesis Lab for short, will include hardware and software that can be used to model body movement based on data collected about individual patients. Stavness has funding for the project from a number of sources including the province and the Canada Foundation for Innovation, and expects the facility will be operating within a year.

And thinking it all sounds like something straight out of a sci-fi movie is not far wrong.

"We do take a lot of cutting-edge techniques from video games and movie special effects but for us, the bar is much higher. The people who make games and movies want them to look good; we have to make sure what we produce is sufficiently accurate that we can give them to a doctor."

Interest in the area of movement science is growing, Stavness said, and the community of researchers is well connected. "All of the software we develop is completely open source and we share data and software internationally. We're really trying to make progress on these goals without reinventing the wheel."