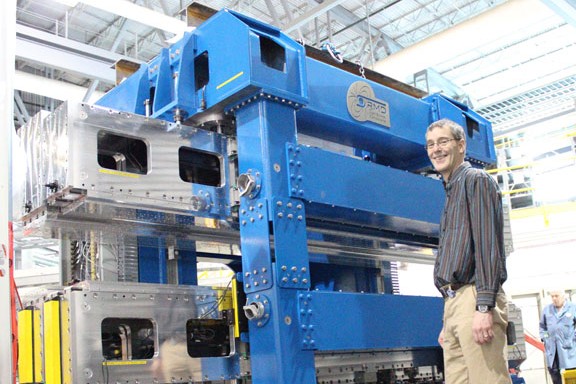 "The new elliptical polarizing undulator is the largest of its kind in the world," said Mike McKibben, CLS director of technical support. "The EPU uses powerful magnets to cause the electron beam of the synchrotron to generate X-rays of controllable polarization."

The CLS has two EPUs in operation; however the structure built by RMD is unique, added McKibben, "as this EPU can switch between high-energy and low-energy experiments. This allows researchers using the synchrotron to study and develop state-of-the art technology, from superconductors to car batteries."

RMD Engineering owner Jim Boire said that turning the design of the EPU into a state-of-the art machine was a considerable challenge, but one that his company was ready for.

"We have the capability to compete with anyone in the world on these projects," said Boire. "We have the people, the ingenuity and the determination to compete for these kinds of projects and we hope to continue manufacturing for the CLS and synchrotrons around the world."



Boire said his company spent over 9,500 work-hours of engineering, machining and assembly to put together the nearly 1,100 parts, including 865 manufactured components.



Now that the RMD-built structure has arrived at the synchrotron, CLS engineers will calibrate the machine and position 1,560 rare earth magnets onto the EPU. Once testing and calibration is complete, the EPU will be moved into the storage ring area of the synchrotron for use in experiments on a new beamline called QMSC, an experimental station that will be operational in 2015.

The EPU has dimensions of 4170mmx2685mmx2800mm and weighs approximately 13,500 kg. It can produce anywhere from 15-200 eV (low energy) to 200 – 1000 eV (high energy).