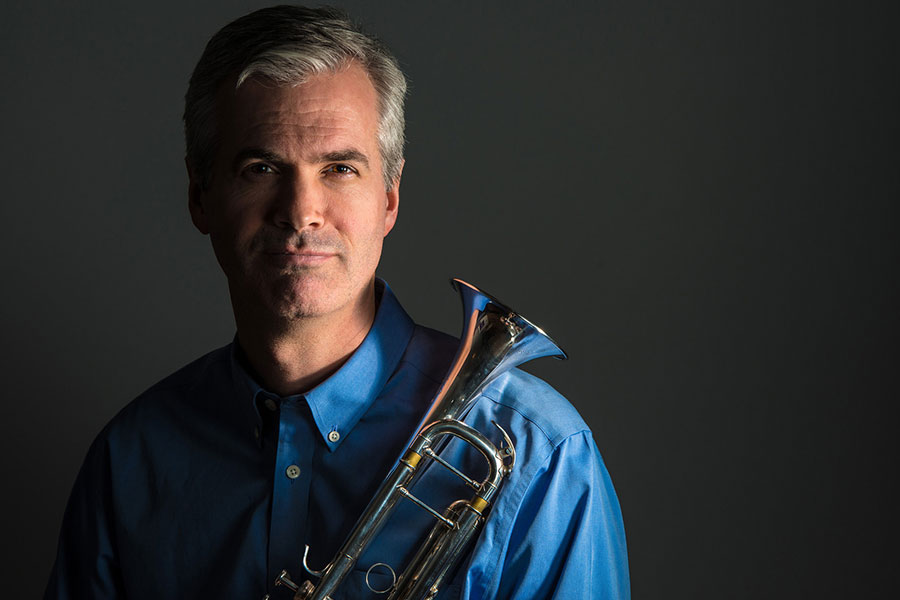 These questions are top of mind for Tim Nowlin, head of the Department of Art and Art History, and are a big reason he signed on to the Research, Scholarly, and Artistic Works (RSAW) committee of University Council.
"Most people think that somehow research must be science related; that is, scientists do research; artists don't," he said. "But that doesn't say what artists do do. The reason I'm on (RSAW) is I want to make sure this university has a clear understanding about what research in the fine arts means, supports it, and actually tries to support funding for research in the arts."
Nowlin explained that the place of artists at the university is still being defined, not only at the institutional level but that of funding as well. For example, he said Canada Council grants are almost exclusively geared to artists outside of university, where tri-agency money is geared to a more "gather the data, report the conclusions" approach. Neither is a good fit for the academic artist.
For Nowlin, one option is for artists to flex their creativity in ways that pique tri-agency interest. An example is his own work in digital printmaking and collage. He explained he envisioned a project exploring and expressing the concept of humankind's collective memory as housed in the World Wide Web, with all its gems of knowledge buried among reams of "irrelevance and schlock."
His proposed collaboration with the Department of Computer Science had him bringing in his artistic vision and expertise to share with graduate students, whom he enlisted to both collaborate and teach him the necessary technical skills.
"I think they (Social Sciences and Humanities Research Council of Canada, or SSHRC) really liked the reciprocity of teaching between me and the students, as well as the interdisciplinarity of the project," he said.

Tim Nowlin
Nowlin shows off a stack of beautiful collages borne of the collaboration that reflect both the subject of the work as well as the personality of the artist. He explained he developed new technical skills, the students gained a valuable artistic perspective, and a suite of software tools were created for other artists to use to explore further.
Some fine art contributions to the research agenda are familiar to any academic: do the research, publish in journals, teach and apply for grants to do more. Depending on their discipline, faculty in the fine arts may also follow this model, but quite often include a different tack.
Pamela Haig Bartley, actor, director and professor in the Department of Drama, explained that U of S theatre historians like Moira Day and Dwayne Brenna take the traditional route of writing books, publishing articles, and presenting papers at conferences (Brenna also acts and directs). Others, like herself, hold Master of Fine Arts degrees (equivalent to a PhD), which dictates another path.

Pamela Haig Bartley
"The emphasis is on being a practicing artist, and this is similar in visual art and music," she said. "We have to create, or research, or develop, or work on in some capacity, artistic productions of one sort or another."
This can mean having two different jobs at different times of the year. When university is in session, Haig Bartley is teaching, guiding and directing students, including in productions at the Greystone Theatre on campus. During university summer breaks and sabbaticals, she is either directing or treading the boards as a professional actor, as she did in
My Chernobyl
at Persephone Theatre's season opener in 2013. Such professional productions always require six-day-a-week rehearsals, which preclude any other work.
"'Life isn't a support system for art; it's the other way around,'" said Haig Bartley, quoting American novelist Stephen King. "I come from a long line of ministers and teachers and scientists too, so it's not that I don't value science—but we have to take care of our souls. It's at our peril, I think, if we don't."
She explained that one of the functions of art is to help people interpret a constantly changing world, and it provides past wisdom that can be adapted.
"Even if you use an old script such as Shakespeare, if you use some of the classics, there is something universal and something timeless about those various canons that we can apply to modern thinking and to modern life."
Such values can be difficult to put across, particularly in a funding environment that favours scientific research rather than artistic work.
"People can get upset about it, but that is the reality," said Dean McNeill, trumpet player, jazz composer and professor in the Department of Music. "The fine arts often fall between the cracks. A very significant proportion of fine arts scholarship does not neatly fall into tri-council funding parameters. It's certainly an issue for a lot of fine arts-oriented academics across Canada to deal with."
McNeill gave the example of a research proposal he submitted three consecutive times to SSHRC. The project, designed to explore the creative process from the perspective of a practicing jazz composer and academic, promised to deliver a set of 10 original compositions on a professionally produced, internationally distributed CD. The plan also included a jazz composition conference, bringing together high-profile music professionals from across the country, as well as a CBC national radio broadcast recorded at the U of S.
While SSHRC rejected the proposal as "lacking a research methodology," part of the project was eventually funded by the Saskatchewan Arts Board (SAB) through an individual artist grant to McNeill of $20,000, SAB's largest.
However, there was no way to set up a formal reporting mechanism for the grant so it would show up in the university's financial reporting.
"From the (budgeting) perspective, this project was invisible within the university," McNeill said. "In the fine arts realm, this $20,000 grant was very significant. In tri-council terms, however, this amount of money was really not a very big deal."
McNeill used the same example to emphasize another crucial point: a modest investment in the fine arts can go a long way in producing works with significance. His concern is that his colleagues' collective work "will not show up in terms of (budgeting) measurables, even though many of our faculty are doing fantastic work."
So how does one measure the value of work in the fine arts? McNeill said it is a complicated question without a clean and straight-forward answer. He cautioned it cannot simply be about popularity or chasing public interest in certain types of art work.
"If it was just about just popularity, Shania Twain would be one of the greatest scholars on earth," he said. "I mean, just look at the concert tickets she sells."
He said fine arts faculty are evaluated through the familiar peer-reviewed publication route, but other factors like impact and dissemination are measured. Invitations to perform from credible external organizations such as other universities, music conferences or CBC TV and radio are all considered measurables, as are success at the Juno and Western Canada Music Awards. Teaching and mentoring of students is also included, up to and including performance, recording and launch into prestigious schools like Julliard.
"It's not a popularity contest—you don't do it to gain popularity," McNeill said. "The fine arts often play a critical role in a healthy democracy and in this regard, it's great when a fine arts faculty's work gets noticed. The fine arts can be political commentary, satire. They can be pensive, esoteric, reflective, emotive, controversial; the fine arts can be leading agent in a society's ability to heal itself. The list goes on and on."