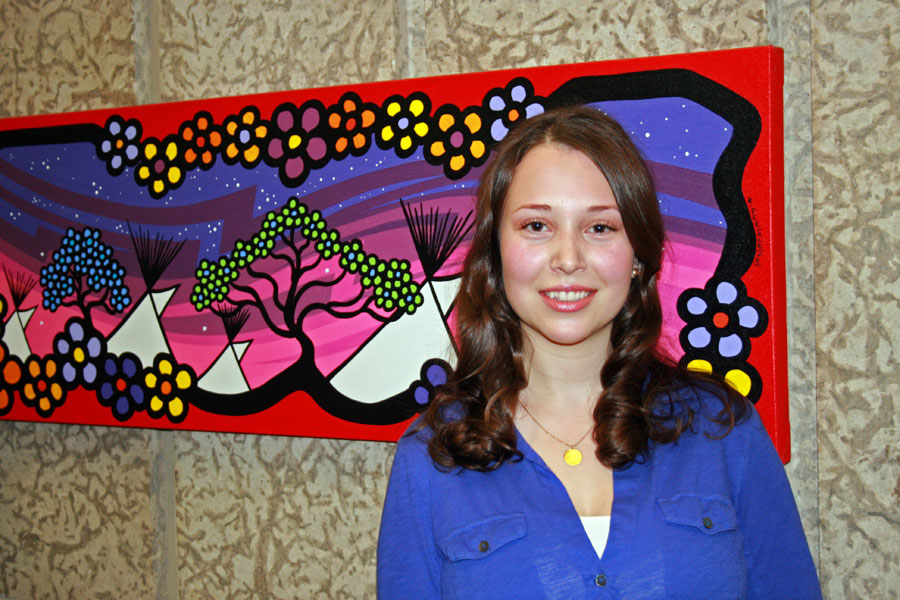 "It was a little nerve wracking," said Kocdag, now a research assistant with the Johnson-Shoyama Graduate School of Public Policy (JSGS). "I don't have master's-level research to present, so it was a little intimidating being in that environment, seeing people who've really dedicated years of their lives to this."
Her topic, synthetic biology, was one she was initially reluctant to tackle. It was the last item left on her list during a summer job at the JSGS in 2013 under the supervision of Professor Peter Phillips.
"I put off synthetic biology to the end, because I couldn't quite figure out what it was," she said. "Then I realized that's generally the issue with it: no one can figure out what it is, exactly. Then I started reading what we could gain from it and I got really motivated."
The U of S is one of very few universities that offer an undergraduate program in public administration, Kocdag explained. She received her bachelor's degree with honours in public administration from the U of S this spring.
Kocdag grew up in Saskatoon, in a home where service to the community is held in high regard. This guided pursuits such as studying law and participating in the debate team at Walter Murray Collegiate before she came to the U of S, drawn by attractive scholarships and opportunities to study public policy.
"My family has always been really big on volunteering and public service, recognizing where you've been lucky and contributing," she said. "As I got older and learned more nuances about how government works, I thought, 'I really want to be one of those people that fixes things and prevents things,' and I really like the idea of that as part of citizenship and making a better Canada."
Kocdag said advances in science depend not only on discovery but on public policy that allows them to be developed into products people can use.
"Synthetic biology is a really good opportunity right now because so much of the research is being done in Canada," she said. "But it's being held back by us not really having a designated regulatory framework to help commercialize outputs."
Kocdag cited an example of a Calgary team working to isolate the active compounds in opium with the goal of producing common painkillers such as codeine without the need – or ethical problems – of opium poppies. Another team in Toronto is looking at reducing the allergenicity of peanuts. Closer to home, U of S and National Research Council researchers were part of an
international team
that developed a new way to produce the key antimalarial drug artemisinin faster and more cheaply using yeast.
"These are huge value addition to lives of Canadians," she said. "I think you'll see a lot of public benefit if we can commercialize these outputs."