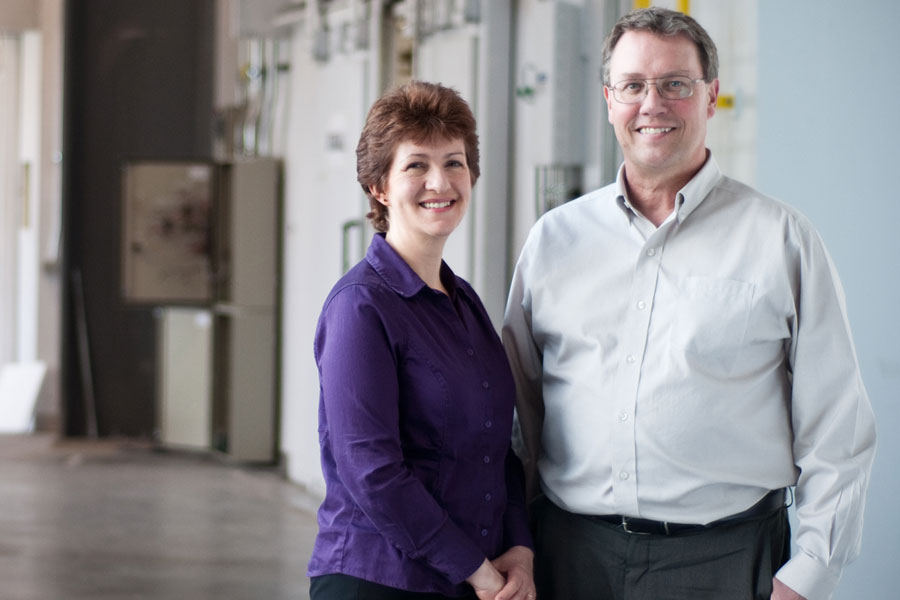 "Nearly three quarters of a billion people on Earth lack access to clean, safe drinking water," said Karen Chad, U of S vice-president research, citing United Nations figures. "These projects aim to empower local people with solutions they can implement themselves, and are examples of how research in University of Saskatchewan signature areas of water security and synchrotron sciences can have impact around the globe."
Mohamed H. Mohamed and Lee Wilson from the Department of Chemistry have been awarded $112,000 to help them come up with a low-cost treatment technology to remove trace organics—for example pesticides, consumer products, and industrial pollutants—from drinking water.

Lee Wilson and Mohamed H. Mohamed
Wilson and Mohamed specialize in high-performance synthetic biomaterials that can be tailored to capture trace organics from water. In early December, Mohamed travelled to Kenya to begin testing a variety of these biomaterials against real-world conditions in the Nairobi and Athi Rivers. Wilson explained that eventual goal is to develop an absorbent material that can be integrated into existing water treatment technologies, such as biosand filters currently in use in more 63 countries, including Kenya.
"Current systems such as biosand filters don't remove trace organics," Wilson said. "We hope to fill this gap with a cheap, easily replicated point-of-use treatment technology, and integrate it into communities using an innovative social entrepreneurship approach."
Contaminated water is also the focus for Canada Research Chairs Graham George and Ingrid Pickering from the Department of Geological Sciences. They were awarded $112,000 to support clinical trials of selenium dietary supplements to protect people from high levels of naturally occurring arsenic in Bangladeshi well water. This is augmented by $25,000 from the Global Institute for Water Security at the U of S.
"To scale up, we propose using an already accepted pathway, rather than providing tablets or costly and variable whole food solutions," George said. "Fortified salt is well-established in Bangladesh as a remedy for a low-iodine diet. The table salt is produced locally and fortification equipment is used in most factories."
George and Pickering are part of a large international team working on the problem, which is estimated to threaten more than 57 million people in Bangladesh. Their analysis at the Canadian Light Source and other synchrotrons revealed selenium binds with arsenic in the body, which suggested dietary selenium supplements as a possible solution.
Grand Challenges Canada backs "bold ideas with big impact in global health" that integrate science and technology, social and business innovation to find sustainable solutions to health challenges. Funded by the Government of Canada, the organization supports innovators in low- and middle-income countries and Canada.