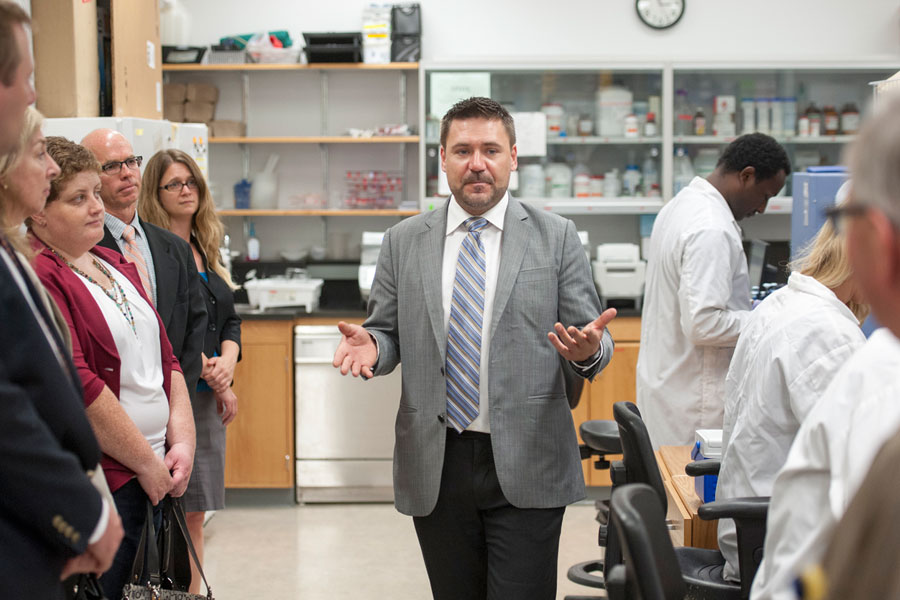 Genome Canada announced July 21 that four projects led by or involving U of S researchers would receive a total of $33.6 million as part of its Genomics and Feeding the Future competition. That competition called on researchers to use the study of genes and their functions to address challenges and opportunities related to global food safety, security and production. The results are also expected to contribute to Canada's bioeconomy.

In the U of S College of Agriculture and Bioresources, plant science professors Kirstin Bett and Albert Vandenberg will head an $7.9-million project designed to determine the genetics underlying the ability of lentils to grow in different environments around the world. They will also look to build a strategy to increase Canadian lentil production by three per cent, which equates to a $550-million increase in export revenues for Canada.

Looking at another major Canadian crop—wheat—will be Curtis Pozniak, also a professor of plant sciences. He is co-leading an effort to develop tools to help plant breeders design wheat strains that are more productive and resistant to disease, pests, heat and drought. Pozniak's project received $8.5 million.

With an eye to increasing the international competitiveness of Canada's pork industry, John Harding, professor of swine production medicine at the Western College of Veterinary Medicine, will co-lead a $9.8-million project with colleagues in Alberta to create genomics tools to select pigs that are more tolerant of, or resistant, to multiple diseases. Those tools will also allow producers to manage the nutritional content of feed to optimize pig's health, resulting in reduced use of antibiotics.

Andrew Potter, director of VIDO-InterVac, is co-leading the fourth project, a $7.4-million effort to develop vaccines against two infectious diseases in cattle—Johne's disease and bovine tuberculosis. The research will involve using genomic technology to identify proteins that can stimulate an immune response to the diseases in cattle. There will also be a new diagnostic developed that will differentiate vaccinated from infected animals.

The funding was announced at an event on the U of S campus involving federal and provincial government officials, U of S representatives and industry partners.