"I am looking for opportunities to build my skills and resume for the next time the Canadian Space Agency puts out a call for astronauts," said the master's student in biomedical engineering.
His two-week mission simulation at the Mars Desert Research Station ranges from growing his own food to doing outdoor explorations in a spacesuit.
Campbell has been selected to join a two-year scientist-astronaut training program based in the United States that will help him prepare for venturing into outer space research, once space flight becomes more accessible. The simulation at the research station is one of the last steps before completing his training in August.
He works in a landscape that is an actual geologic Mars analog — minus the dangerous atmosphere. The station is owned by the Mars Society, which supports Earth-based research for human space exploration, and has received some funding from the Musk Foundation.
Along with 19 other candidates from around the world, Campbell has also been through sea and land survival, high-gravity flight training, and hypoxia training (adapting to perform with reduced oxygen). The training is funded by the non-profit educational organization SeaSpace Exploration & Research Society through its PHEnOM (Physiological, Health, and Environmental Observations in Microgravity) project.
The "full Mars" experience in the Utah desert tests Campbell and his four fellow crew members on teamwork, and on research and interpersonal skills in a stressful environment. A mix of Americans and Canadians, the crew includes experts in health, geology, and engineering.
"We have to be entirely self-sufficient for two weeks, rationing our own food, water and supplies," said Campbell. "But we can contact mission control off-site if we need to do so."  
As the science officer on the mission, Campbell oversees the crew's science work, ensuring that projects move along and that data are collected.
Campbell has invented and is currently testing a waterless dishwasher as a special part of his space simulation. His device holds promise for making astronauts' lives easier when space travelling.
"We take water for granted on Earth," he said. "Dishwashing is a luxury crews on Mars would likely not have because there is no water available."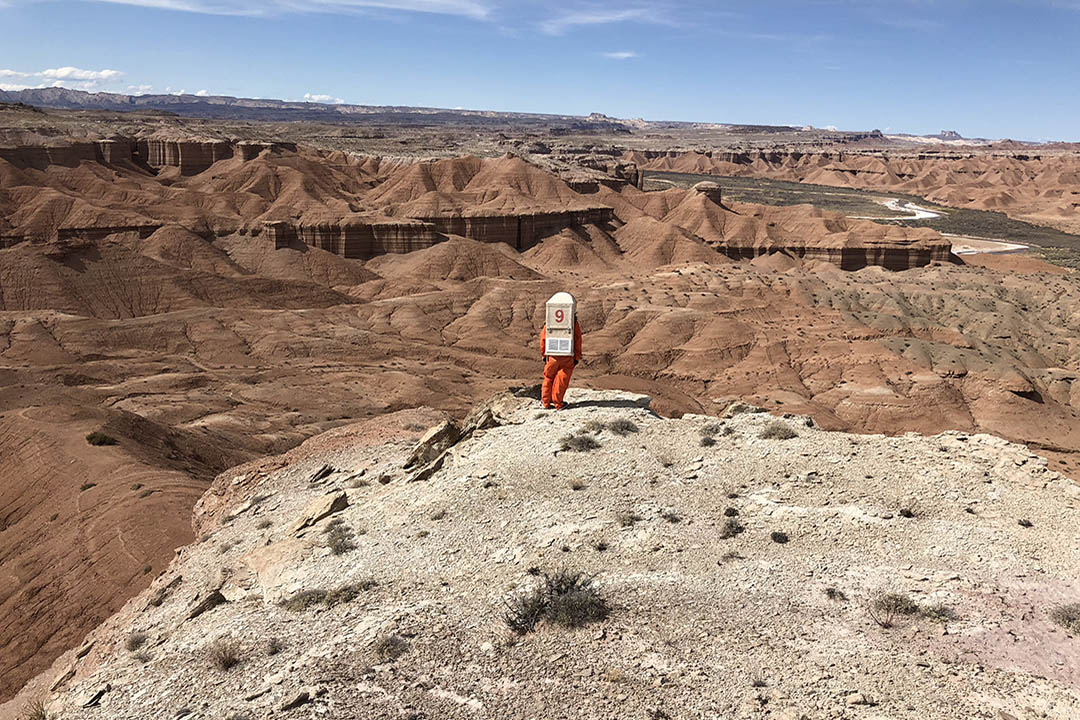 Campbell's early results show that the device works at cleaning plates. After removing debris from dirty plates, these can go into the dishwasher, which uses ultraviolet (UV) light for 15 minutes to kill bacteria. He has found the bacteria count is similar to that on plates washed with soap and water.
In a world where water resources are getting scarcer and scarcer, a waterless dishwasher could also make a difference on Earth.
"It is just a prototype, but there is a chance that it could drastically reduce the amount of water we use as a society."
A typical day at the Mars site starts early. The crew takes shifts watering plants in the greenhouse (the GreenHab) and doing work at their living facility (the Habitat). Depending on their assigned roles, they work on engineering issues, astronomy or other science-related tasks.
"We go outside once a day for about three or four hours to explore the environment — essentially a walk on Mars!" he said. "I have enjoyed scouting for emergency shelter locations and documenting views around the station."
The crew is only allowed to go outside in spacesuits that simulate the more expensive suit that astronauts would use on a real Mars mission.
"In case of emergency, I am happy that we could just ditch our spacesuits," said Campbell. "I will be safe no matter what, and that's not necessarily a feeling I would have on Mars."
Campbell plans on applying for grants that will help him build his reputation in the space research community, while continuing his studies at the U of S and keeping his day job at the Saskatchewan Health Quality Council.
"My career is in healthcare quality improvement, and space research is a side passion I pursue on my own time."
Federica Giannelli is a graduate student intern in the U of S research profile and impact unit. 
This article first ran as part of the 2018 Young Innovators series, an initiative of the U of S Research Profile and Impact office in partnership with the Saskatoon StarPhoenix.