"The national industry's commitment to establishing this chair is a vote of confidence in professor Seddon's team and shows that our university is on the leading edge of industry relevant research that will optimize swine welfare," said Vice-President Research Karen Chad.
"This exciting research program provides our students with hands-on science and industry-related experience, and underscores the importance of sustainable and ethical practices in food production."
NSERC provided $837,750 for the program. With Canada's swine industry providing a matching $837,750 along with in-kind support, and the U of S committing funding over the five-year term of the chair, Seddon's project totals almost $2 million. The research and training program will involve up to 10 undergraduate students, five graduate students, and two post-doctoral fellows.
"This program will help place Canada at the forefront of progressive swine management that accommodates animal welfare, while supporting efficient and ethical food production and providing students a unique opportunity to broaden their scientific knowledge in pursuing careers in animal welfare," said Seddon, an assistant professor at the Western College of Veterinary Medicine (WCVM).
The 14 industry partners include pig producers and processors — OlymelS.E.C/L.P., Maple Leaf Foods, HyLife Ltd, Conestoga Meat Packers, Sunterra Farms, BC Pork Producers Association, Alberta Pork, Saskatchewan Pork Development Board (Sask Pork), Manitoba Pork Council, Ontario Pork Producers Marketing Board, Porcima Inc. a company of Les Éleveurs de Porcs du Québec, PEI Hog Commodity Marketing Board, and New Brunswick Pork—as well as a genetics company, PIC North America.
As a specialist in animal behaviour and welfare, Seddon is working with the swine industry coast to coast to develop robust and resilient pigs to improve their health and welfare.
"The industry takes care of millions of pigs, and it's right to be considering how we raise these animals," said Seddon.
"This chair is an opportunity to contribute science to advance sustainable production systems that operate in a way consumers regard as acceptable," she said. "This work is important to sustainable and ethical food production that promotes global food security."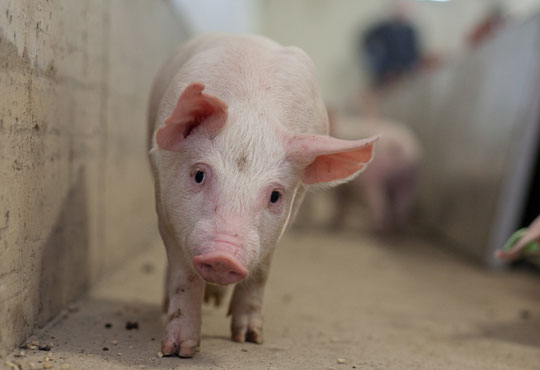 Seddon's research will contribute to the scientific understanding of methods to improve animal welfare and identify progressive management approaches. The results could support changes to the industry's current codes of practice that establish the required and recommended practices of animal care.
Specific goals of the research program are to:
Contribute to understanding early life influences on the growing pig in the development of sociability, resilience and welfare outcomes.
Understand the role of play to enhance pig welfare and promote beneficial production characteristics.
Identify and validate biological markers that can indicate pig welfare, including those that indicate longer-term welfare states and enable industry to monitor animal welfare on farms.
Assess the value of welfare indicators observed from carcasses during abattoir meat inspection to yield accurate information about the welfare that pigs experience on farms.
By exploring some of the most promising concepts under controlled research conditions, the researchers and producers will gain valuable experience in applying and testing these strategies on commercial farms so that productive findings can be incorporated into partner facilities.
Seddon did her PhD with renowned swine expert Sandra Edwards at Newcastle University in the U.K. where she was exposed to cutting-edge, multi-stakeholder European research projects on pig welfare.
She took up a position as a post-doctoral fellow in 2012 at the U of S Prairie Swine Centre in Saskatoon, where she spent four years before joining the WCVM as a  faculty member in her specialty area, swine behaviour and welfare. Seddon is among the youngest to hold an NSERC IRC, and her number of industry partners is among the largest in the NSERC program.
Sarath Peiris is Assistant Director Research Profile and Impact at the U of S.