The Foundation for Food and Agriculture Research (FFAR) announced today that Perera, whose Research and Professional Development Fellowship will provide $50,000 US annually for three years, is among 17 recipients awarded its inaugural fellowships. The awards are jointly funded by FFAR and industry partners.
"This is an exciting opportunity to get my PhD and fulfil my dream. With funding for three years, I can fully dedicate my time to research," said Perera. "And I really like the opportunity to develop leadership and interpersonal and communication skills I will need."
FFAR was created under the 2014 U.S. Farm Bill to support food and agriculture research, and foster collaborations that enhance sustainable food production to meet the needs of a growing global population that will reach 9.7 billion within 30 years.
"We want to develop value-added applications for canary seed, which right now is mostly used for bird seed," said Perera. "We are trying to take it to the next level."
Research at the U of S Crop Development Centre was instrumental in having hairless canary seed (hairs on the bird seed variety causes itching in humans) approved for human consumption by Health Canada in 2016.
Perera's academic supervisor in food and bioproduct sciences at the U of S College of Agriculture and Bioresources is Michael Nickerson, who said the FFAR fellowship offers many benefits.
"Something that's really great is that the investment all goes directly to Suneru. Not only are they recognizing his excellence as a student, but they are also providing him with a lot of skills that make him more marketable at graduation," Nickerson said.
As well, he said, the fellowship is a huge win for the province and the university.
"It speaks to the excellence of the students coming into our programs, whose work is going to be internationally recognized."
Perera and Nickerson are working on separating the fractions—starch and protein—and optimizing the market value of these products.
"As ingredients, these will be a lot more valuable than the crop as a whole," Nickerson explained. "From our end we do the innovations around the ingredients, and once we understand their properties, we look to partners such as the Saskatchewan Food Industry Development Centre to actually start integrating them into products."
POS Bio-Sciences in Saskatoon, a bioprocessing, research, development and commercialization company that employs Perera as a scientist in its protein and carbohydrates division, supported his decision to pursue a PhD and agreed to be his industry partner for the fellowship.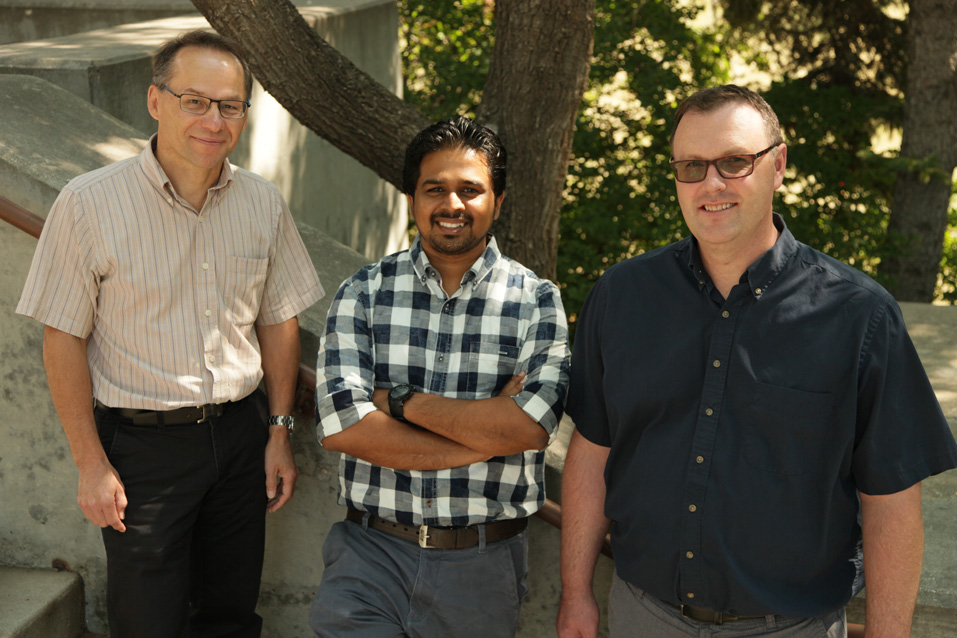 FFAR fellowships provide a tremendous opportunity to promote collaboration throughout North America in applied research to advance the agrifood industry, said Rick Green, POS President of Intellectual Capital.
As the industry mentor, Green said his role is to help Perera understand the potential of canary seed research and link it to possible commercial applications in the industry. There's a such a growing demand for protein that the canary seed research is very timely, he said.
"This is a great opportunity for the university and POS," he said. "The benefit is in helping develop Saskatchewan-based and Canadian-based technology that we can use to advance crops. Not only can we breed and grow a crop, which we are excellent at, but we can process it to produce ingredients here."
Perera's government mentor under the FFAR program is Janitha Wanasundara at Agriculture and Agri-Food Canada in Saskatoon.