The $38 million centre, which held its grand opening on Oct. 9, 2018, is a partnership between USask, the livestock and forage industries, and the Saskatchewan and federal governments. The largest and most comprehensive centre of its kind in Canada, the LFCE provides researchers from a variety of backgrounds the unique opportunity to work together within one organizational "roof."
Dr. Kris Ringwall (PhD), director of the LFCE, said the first year is characterized by hard work.  
"I think it's coming along very well," said Ringwall. "Each part takes time, and we're looking at probably another good year of unboxing boxes, but we're happy with the development so far."
Ringwall breaks down the development of the LFCE into three phases: development, growth, and operation. The team is currently working on phase two, growth, which Ringwall estimates will take another year to complete.
Ringwall said the goal of the centre is to provide a new approach to forage and livestock research in Canada.
"We're really trying to bring together all aspects of beef cattle research into one entity from the ground up," said Ringwall, who moved from North Dakota to work at the LFCE. "It's really quite unique."
The centre is composed of three units. The Beef Cattle Research and Teaching Unit, which includes an environmentally monitored 1,500 head capacity feedlot, along with the Forage and Cow-Calf Research and Teaching Unit including more than 400 breeding cows, are located south of Clavet, Sask.  The Goodale Farm which includes bulls and horses as well as specialized livestock such as bison, is near the community of Floral, southeast of Saskatoon.
From soil science, agriculture studies, veterinary medicine, and animal science, there are a wide variety of fields involved in research at the LFCE. The centre prides itself on being a leader in developing research, teaching, and technology transfer programs that help enhance the health and sustainability of the lifestock and forage industries in Western Canada.
The LFCE is able to provide new research that will benefit producers from providing consumer feedback, exploring new environmental practices and cost-effective herd management research.
Ringwall said the response of faculty has been positive, though the change required some adjustment.
"It's just like road construction. You've driven this road for 20 years, and then all of a sudden they decide to build it new and you have to detour ten miles," said Ringwall. "When you approach a detour, it can be frustrating, but once you sit down and say, 'at the end I'm going to have a better road,' it's easier to manage."
Like staff, the centre also provides a new learning opportunity for students. Many of the projects carried out at the LFCE involve graduate and undergraduate researchers who now have easy access to state-of-the-art equipment and facilities. 
"We're looking at expanded opportunities for students through the use of our facilities," said Ringwall. "It's certainly likely to draw students as we continue to enhance the opportunities available out there."
With a blend of both science and field laboratories, Ringwall said the LFCE provides everyone a better learning environment.
"There's no question that the capacity to do research in livestock and forage has been enhanced."
Dr. Jeff Schoenau, Precision manure spreading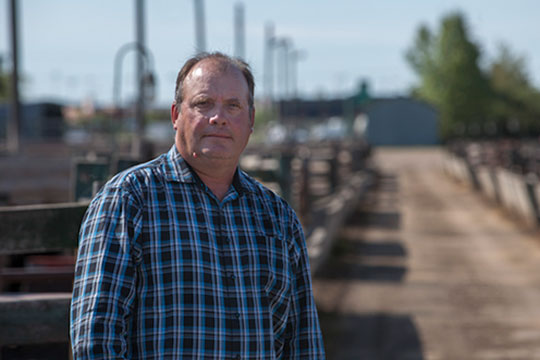 Dr. Jeff Schoenau (PhD) is leading a research project evaluating the effects of precisely managed manure spreading to traditional constant rate spreading and commercial fertilizers. The five-year project is multidisciplinary and involves researchers from soil science, the College of Engineering, animal science, the Global Institute of Water Security, and the National Water Research Institute.
"We've come to recognize that we can't really work in isolation," said Schoenau. "You really need to consider all of the different components [of research] and how they fit together, so the interdisciplinary and collaborative effort is very, very important."
Schoenau said the LFCE has allowed him to conduct research he couldn't before. The short 20-minute drive from the University of Saskatchewan to the LFCE, provides Schoenau and his team the ability to increase their measurement frequencies. Schoenau said this is more convenient than working exclusively from the Western Beef Development Centre in Lanigan, Sask., approximately 90 minutes from Saskatoon.
"[The] facility really resembles very much what producers and the livestock industry are doing, at a close distance [to USask] and with a lot of support," said Schoenau.
The LFCE's state-of-the-art facility also benefits students. "The LFCE gives [the students] exposure to people working in lots of different fields" said Schoenau. "It brings everything together in one place."
Kathy Larson, Agricultural economics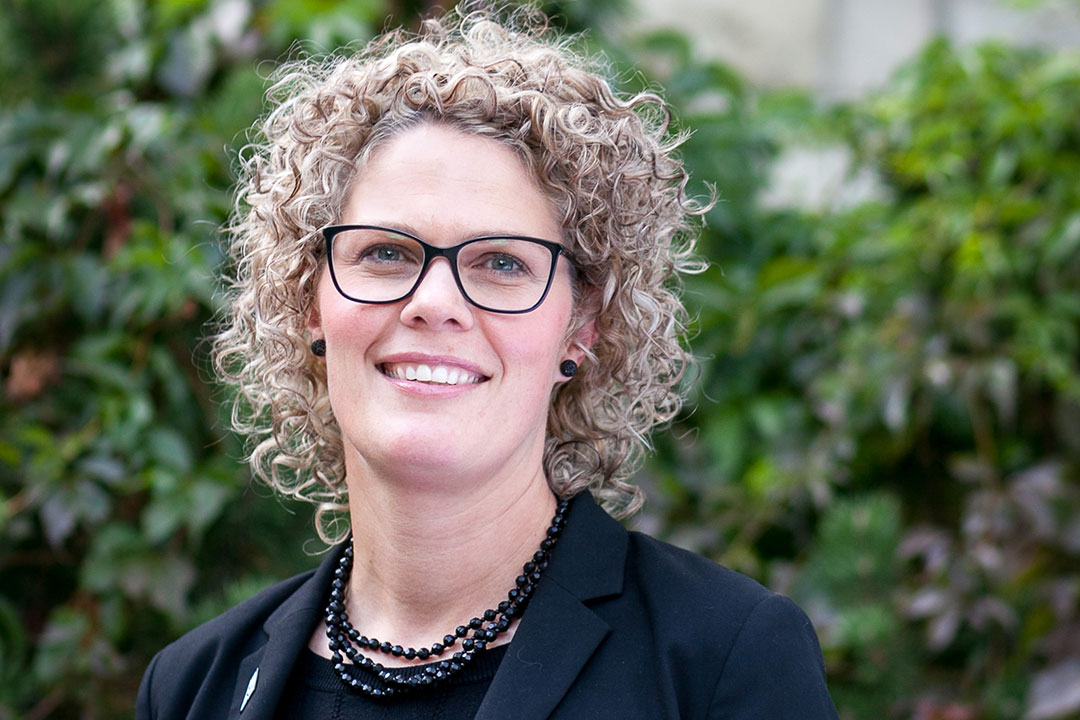 Kathy Larson is trained in agricultural economics. Her work at the LFCE is based on collaboration with researchers from the College of Agriculture and Bioresources and Western College of Veterinary Medicine (WCVM). Larson also served as the interim director of the LFCE from February to October 2018. She also worked at the Western Beef Development Centre before it was rolled into the the LFCE in 2018.
Larson bring economic expertise to the centre. "Researchers often want to have an economic component to their projects so I'm in a unique position where I get tagged onto a lot of different projects."Larson's contributions have a practical focus. "What a new practice or technology is going to cost, save, or do for a producer is generally where my interest lies," she explained.
Some of her current research includes working with Dr. Bart Lardner (PhD), a professor of animal and poultry science at the College of Agriculture and Bioresources, comparing annual and perennial forages and how they fit into a grazing system. Larson also works alongside WCVM researchers Drs. John Campbell and Cheryl Waldner. Her research with WCVM faculty includes providing economic analysis to Campbell's Canadian Cow-Calf Surveillance Network project and Waldner's project focused on developing an assessment tool for Johne's disease.
Larson believes collaboration is front and centre to this research. "[The research] is required to be multidisciplinary and multi-researcher, so you need to be able to pull everyone together," Larson said. "The LFCE is where we get to all interconnect to make sure we're looking at research questions from all relevant angles."
Story from Agknowledge, Fall 2019.