"These stellar scholars will contribute to cutting-edge research that will help improve our health and environment and position them as the research leaders of tomorrow," said USask Vice-President Research Karen Chad.
The Vanier Canada Graduate Scholarship recognizes top-tier doctoral students who demonstrate excellence in academia, research impact and leadership at Canadian universities. Biomedical engineering student Adam McInnes has been awarded a Vanier Scholarship of $150,000 over three years to develop a new gel to promote tissue growth for 3D printing of artificial organs that may one day be used for transplants.
The Banting Fellowship is awarded to post-doctoral researchers, both nationally and internationally, who work on projects that will contribute to Canada's economic and social growth.
Toxicology researcher Jonathan Challis and sociology researcher Holly McKenzie were each awarded Banting Postdoctoral Fellowships worth $140,000 over two years. Challis will identify new contaminants that may affect water sources, including in Indigenous communities. McKenzie will study how therapy dogs can help women's well-being. 
Adam McInnes, Vanier Canada Graduate Scholarship
Developing a new gel for growing 3D-printed organs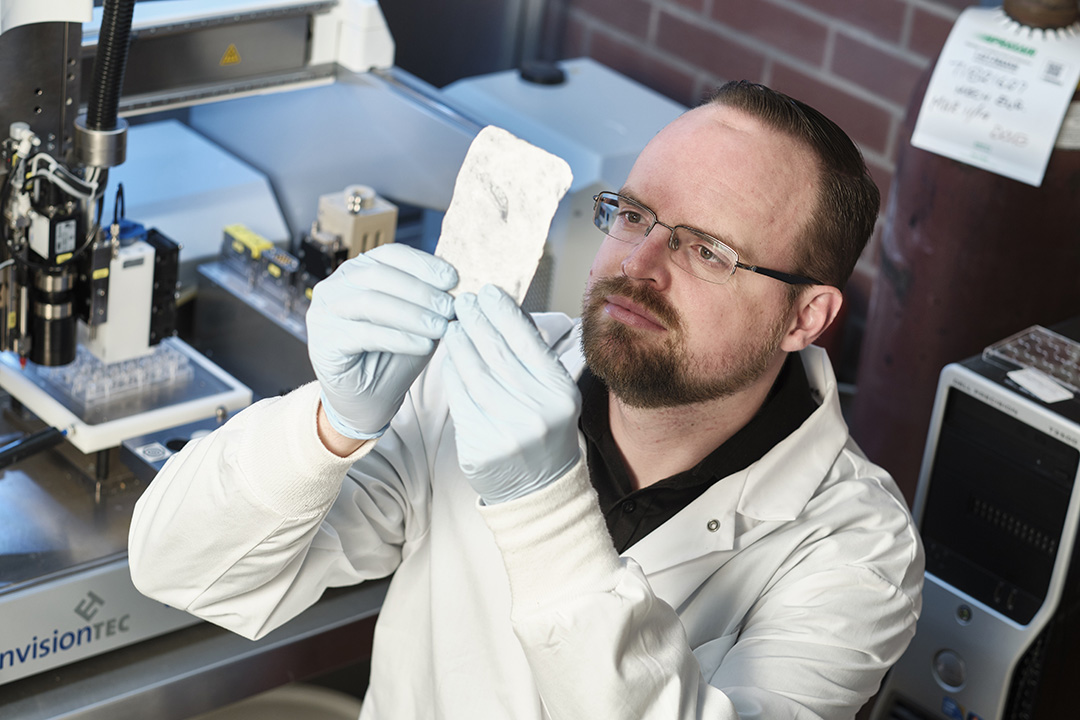 Potentially a multi-billion-dollar industry, regenerative medicine and tissue engineering involve growing new organs using patients' own cells to decrease the chance of the body rejecting the organs.
But cells cannot function outside the body for a long time and it is difficult to ensure a continuous blood supply into the tissues. McInnes' new water-based gel helps stabilize cells and improve their ability to grow in the lab.
"My research holds promise for advancing regenerative medicine, especially for people who need organ replacements," said McInnes, a Métis student. His co-supervisors are Daniel Chen and Mike Moser.
McInnes' next step is to use his material to 3D print structures called scaffolds for growing artificial tissues, a first step to growing organs such as kidneys and livers. Around 5,000 Canadians are on the wait list for transplants and one in three people will die before organs become available.
"Adam's research will have a big impact on people's health," said Chen, a biomedical engineering professor and McInnes' co-supervisor.  
Moser, a general surgery professor and McInnes' other supervisor, noted that this research will be very important for future management of chronic organ failure.
Jonathan Challis, Banting Fellowship
Identifying unknown contaminants for better water quality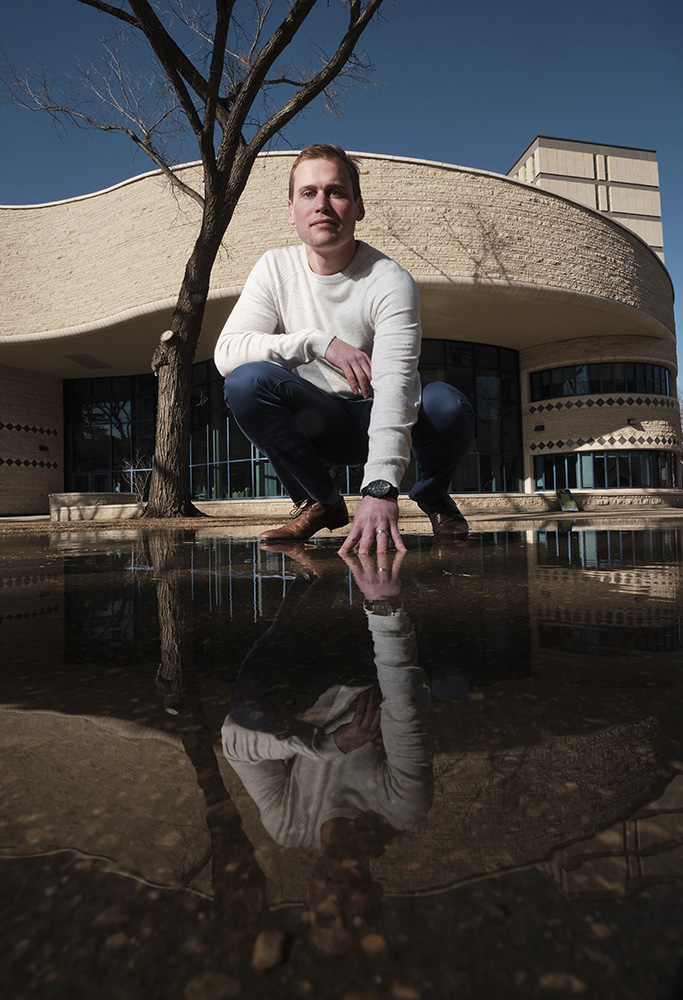 Jonathan Challis will develop new techniques at the USask Toxicology Centre to detect and study unknown surface and drinking water contaminants that result from agriculture and industrial or municipal waste.
Supervised by USask researchers Paul Jones and John Giesy, Challis will look at contaminants in water worldwide, including Indigenous communities in Canada with current drinking water advisories in place or those that have had advisories lifted.
"As there are more than 100,000 chemicals in production worldwide, current techniques barely scratch the surface. These chemicals interact with the environment in ways we don't fully understand and the impact on the ecosystem is unknown," said Challis.
By establishing a list of new emerging contaminants, this work will help inform effective treatment of these chemicals within water and will aid monitoring and management programs for better regulation and protection of source waters.
"At the USask toxicology program, we are dedicated to improving the environment for all Canadians and educating the next generation of researchers," said toxicology professor Giesy. "With the Banting Fellowship, we are able to make use of our world-class equipment to assist communities in the North."
Holly McKenzie, Banting Fellowship
Working with therapy dogs to support women's well-being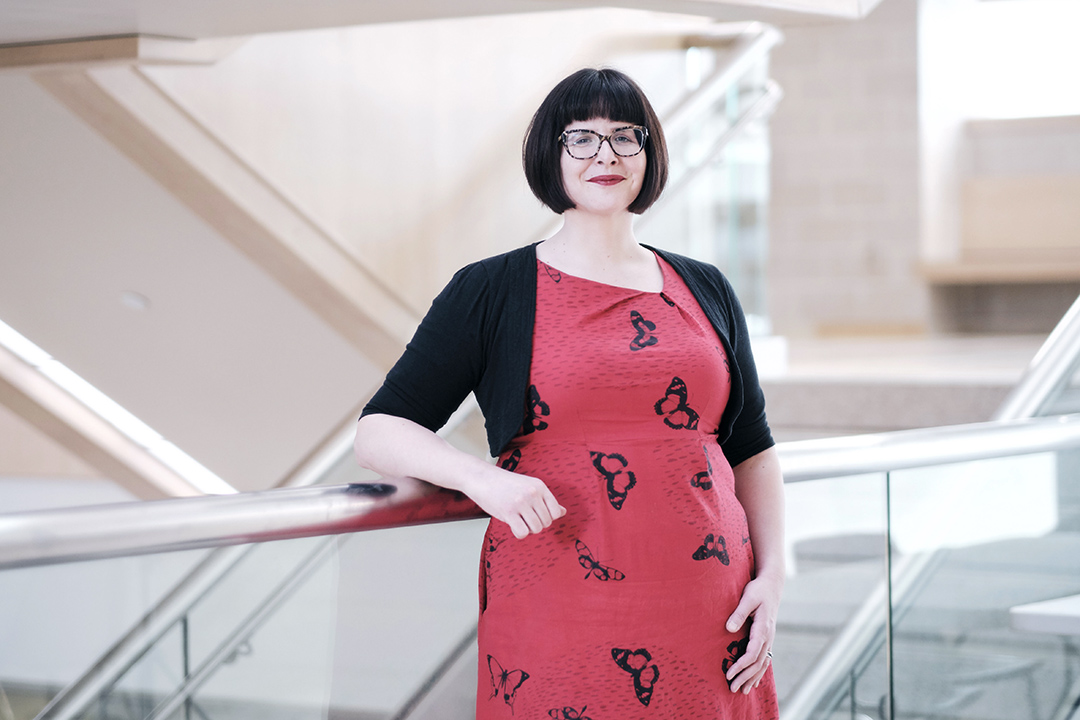 McKenzie will study how St. John Ambulance therapy dog-handler teams can support and provide comfort to women, including Indigenous women, who seek assistance for mental health issues and substance use at Saskatoon's Royal University Hospital (RUH) Emergency Department (ED). The hospital was the first in Canada in 2016 to introduce pet therapy dogs to support people waiting for these services.
"Women who deal with mental health issues and addictions often face stigma and isolation when seeking services, so we want to understand whether dog-handler teams can improve women's experience at the ED," said McKenzie, who will work in the USask sociology department.
McKenzie will ask women about their experiences with the dog-handler teams, and observe how they interact with the dogs. She will also ask health-care practitioners about their impressions of the program. Her goal is to inform therapy dog policies and practices.
McKenzie's research will build on a pilot study led by USask researchers Colleen Anne Dell and James Stempien, in which patients reported increased comfort levels and diminished distress after visiting with a therapy dog at the RUH ED.
"Holly has an important opportunity to contribute to further understanding the benefits of human-animal interaction," said Dell, Centennial Enhancement Chair in One Health and Wellness and McKenzie's main supervisor.
"Her attention to Indigenous perspectives of wellness, which account for the interaction among animals, humans and environment, will be a unique contribution to the field.
Federica Giannelli is a graduate student intern in the University of Saskatchewan research profile and impact unit.